Private Tour of Versailles Palace With Garden Access
---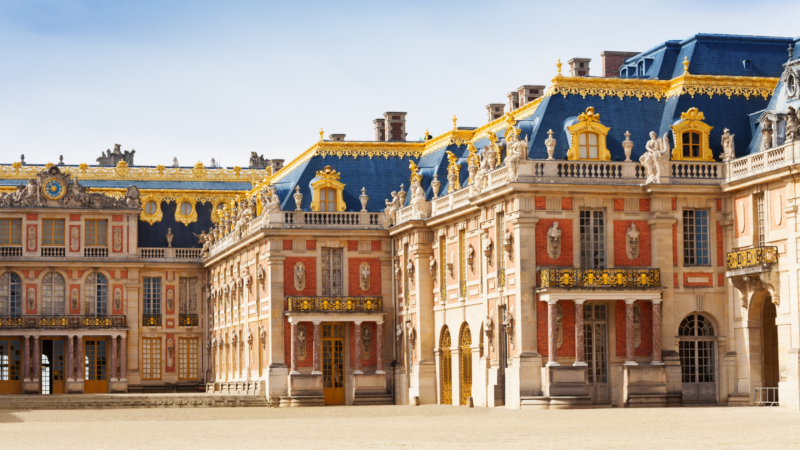 ---
A private tour of the opulent Palace of Versailles allows you to go at your own pace while you discover the history, legends, and decadence of 17th century court life.
BOOK NOW
---
Visit one of the world's most splendid royal palaces

Walk through the glittering Hall of Mirrors

Visit the State Apartments of the French King

See the Royal Chapel
BOOK NOW
Exclusive private Tours and Experiences. Also offered in Spanish, French, Portuguese, Swedish and Russian
Our prices always include tickets and reservations fees (no waiting in lines!)
Our tour guides and staff are selected experts and speak perfect English
Easy to book and prepay your tours with our secure payment system
Eco-sustainable tourism, designed to respect and support local culture, art and traditions
---
Your Private Tour of Versailles Palace begins at the shining Golden Gates. Your guide will be waiting for you with your pre-booked tickets, ready to accompany you directly into the palace.
Inside the Palace of Versailles
You'll find it hard to believe that Versailles was just a hunting lodge until Louis XIV transformed it into one of the world's largest royal residences. You'll see the halls of the palace, famed for their decadence, like the glittering Hall of Mirrors and the State Apartments of the King; you'll visit the private areas of the royal bed chambers and hear stories of the kings and queens who lived here.
Scandal and debauchery
Your guide will tell you all about the self-absorbed 'Sun King' Louis XIV, called 'the vainest man ever' by his courtiers and the young Austrian princess, Marie Antoinette, who was eventually forced to flee from the palace. Stories of scandalous love affairs, royal mistresses, and gambling will come to life as you walk through the palace. How did the poor French people react to the rumors of extravagance and debauchery? After little more than 100 years, Revolution brought an end to the parties of Versailles.
Your tour of the palace ends as you step into the amazing gardens of Versailles. Your guide will tell you about some points of interest before saying goodbye, leaving you free to explore and enjoy the incredible fountains at your leisure.
BOOK NOW
---
Palace of Versailles

The Golden Gates

The Hall of Mirrors

Royal Chapel

State Apartments

The Queen's Apartment

Access to Versailles gardens
BOOK NOW
---
LivTours' group size of max 6 participants is and always has been based on sustainable travel, and we are proud to be at the forefront of change and innovation in the industry.  LivTours is committed to providing travelers with truly sustainable tours with the lowest possible environmental impact, all while supporting the local industries and people of each unique destination. To learn more about how you can actively support sustainable tourism  and how LivTours is contributing, click here.
BOOK NOW
---
When you book a LivTours Private Tour or Experience, you are guaranteed a dedicated, expert guide that allows you the flexibility to start your tour at a time which is convenient for you, making planning easy. Our private tours ensure that you will get a tailored experience to meet all your needs so we go at your pace, perfect for families with younger children, elderly, or individuals with accessibility needs. Please be advised that all private tours begin at a base price starting at two people*. Prices are inclusive of entry tickets where applicable. *Some Ferrari private experiences are inclusive of one person only.
BOOK NOW
---
Make your day even more unique and comfortable by upgrading your tour with a customizable LivTours optional add on!
Round trip from Paris to Versailles with private chauffeur
275 €
478.50 A$
255.75 £
324.50 $
BOOK NOW
---
Fun Versailles tour
"We all LOVED Ferit, what a great guide. Smart, interesting, funny, kind. We will definitely do a LIV tour again."
Lisa B. - USA
---
BOOK NOW
---
By selecting Choose Dates Later / Buy as Gift at booking, any tour can be purchased without fixed dates. This is the perfect option if you want to purchase your tour as a gift for a loved one, or if you are in the pre-planning phase of your vacation. After booking, you will receive a Travel Voucher Code and full instructions on how to schedule your tours when ready. Once your travel plans are confirmed, you can easily use the Travel Voucher Code on the LivTours website to formally schedule your tours. You can find out more here.
BOOK NOW