Private Versailles & Giverny Experience | Royal Palace & Monet's Gardens
---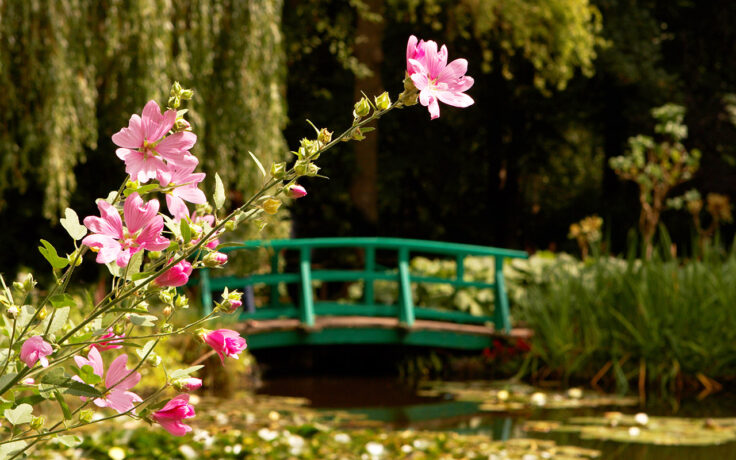 ---
Your LivTours Private Full Day Versailles And Giverny Experience will take you on a once-in-a-lifetime visit to the majestic gardens and home of one the world's most renowned Impressionist painters, Claude Monet, and then whisk you away to the royal opulence of Versailles. All in just one day! This tour includes a private chauffeur to make your day even more comfortable.
This LivTours private experience is an ideal way to tour the Royal Palace and visit Monet's Gardens in one day. This is an ideal experience for history buffs and art lovers alike. Your private chauffuer will pick you up directly from your hotel in Paris and drive you comfortably and safely to Giverny, a small town northwest of Paris. With skip-the-line tickets, you will visit the famous garden, known as the inspiration for Monet's Water Lily paintings. Tickets will also include access to Monet's house.
This double highlight experience also includes a guided visit to the magnificent palace of Versailles, and its famous gardens, accompanied by golf cart. With all-inclusive tickets and your personal 5-star guide, you will be able to enjoy the stories of the Royal Palace's interiors and its impressively manicured gardens. You will get skip-the-line access to the Palace and go even deeper into the opulence and history of France's monarchs.
BOOK NOW
---
Explore Claude Monet's Giverny home and garden & personal collection of paintings

Step into one of Monet's Water Lily paintings on a stroll through his Giverny garden

Relax in the comfort of a private chauffeured car with hotel pick up and drop off

Enjoy a guided visit of Versailles Gardens by golf cart & the royal palace

Enjoy skip-the-line privileges at Versailles Palace & its most impressive rooms
BOOK NOW
Exclusive private Tours and Experiences. Also offered in Spanish, French, Portuguese, Swedish and Russian
Our prices always include tickets and reservations fees (no waiting in lines!)
Our tour guides and staff are selected experts and speak perfect English
Easy to book and prepay your tours with our secure payment system
Eco-sustainable tourism, designed to respect and support local culture, art and traditions
---
Your day will begin with a private luxury chauffeur who will pick you up from your hotel and drive you out to the quiet village of Giverny. Here you will have an intimate and inspiring time in the Impressionist Claude Monet's former home. This is the Norman town where Impressionist Claude Monet drew inspiration for many of his best-known paintings like the Water Lily and Haystacks series.
A few rooms you'll get to see in your visit include Monet's bedroom, dining room, and living room. Each of these rooms has been meticulously detailed to look just as it did when Monet and his family lived here. You'll also get to see Monet's kitchen where the great artist would cook his favorite food every morning: omelets! The Monet family was so egg-crazy that they had a chicken yard near their home. Don't be surprised if you spot a few hens frolicking near Monet's house today.
Throughout Monet's house, you're bound to see many canvasses, Japanese woodblock prints, and rare artifacts. After your visit to Monet's home, it's time to take a relaxing stroll through his Eastern-inspired garden. As you walk over the romantic Japanese bridge, you will see the exact locations where Monet painted his extensive catalog of Water Lily paintings. Called Nymphéas in French, Monet's Water Lily series consists of hundreds of paintings depicting Giverny garden at different times. This idea of "serial displays" went on to inspire modern artists like Andy Warhol who also showcased many paintings of the same subject with interesting variations.
At the end, you will have time to visit Monet's tomb nearby his past residence. Pay attention as you leave his former home and you will see the inspiration for another one of Monet's celebrated series – haystacks. Like the water lilies, Monet was intrigued at how light affected the haystacks in different weather conditions. Both of these series also highlighted Monet's preference for painting outdoors.
Giverny is also famous for its cuisine! You will be given time to get lunch before getting back in your luxury chauffeured vehicle for the second part of the day at Versailles!
Your LivTours' Full Day Giverny & Versailles Experience continues with a trip to Versailles and its famously vast gardens. Upon arrival, you will meet your private local guide guide who will first accompany you on an exploration of the Versailles gardens by golf cart. Travelling by golf cart will allow you to fully appreciate all of the major garden attractions without breaking a sweat. Your 5 star guide will show you they key highlights of this magnificent garden, and if you are lucky, you might get to see a seasonal water show at the garden's central fountains.
When you are finished exploring the garden grounds, your guide will sweep you inside Versailles Palace with priority entrance tickets, meaning you will not waste a minute in the usual entrance queues that often stretch for hours or more. Your guide will be sure to show you all the highlights, but of all the 2,300 rooms in this palace, the most famous has to be the 240-foot long Hall of Mirrors, complete with 357 mirrors. Imagine what it must have felt like back in the 17th century when visitors saw themselves for the very first time in a full-length mirror! Throughout the centuries, this hall was used for more than just vanity. It has witnessed many prominent historical events, including the signing of the Treaty of Versailles after WWI.
After visiting the marvelous Hall of Mirrors, your top rated private guide will lead you to the 18th century Royal Chapel, which is actually one of five churches on the property. Modeled on both Ancient and Gothic designs, the Royal Chapel is best known for its colorful ceiling paintings and its historic organ. Afterwards, moving from the sacred to the secular, you will visit the sumptuous State Apartment where the king would meet with various dignitaries every day. Finally, you will also have access to the more intimate areas of Versailles, including the king and queen's former apartments and bed chambers.
At the end of your Versailles adventure, your guide will lead you back to your private chauffeur, who will whisk you back to your hotel in Paris.
BOOK NOW
---
Entrance tickets to Monets Giverney gardens

Guided visit of Versailles

Guided visit of Versailles gardens by golf cart

Entrance tickets for Versailles Palace

Versailles garden and fountains tickets

Hotel pick up and drop off service

Chauffeured service between sites
BOOK NOW
---
While the Versailles tour is fully guided, the Giverny portion of the tour is unguided, unless you opt to add-on a full day guide

Comfortable walking shoes recommended.

Golf carts are 4-seaters, therefore when your party exceeds 3 people, please be ready to need to drive your own golf cart. You must bring your driver's license.
While the golf cart experience part of the tour is extremely safe, LivTours (LivItaly Tours LLC) and our tour guides are released by any responsibility from any damage to personal belonging or people. The client is fully responsible of his/her well-being and the well-being of other personal belonging and people.
BOOK NOW
---
LivTours' group size of max 6 participants is and always has been based on sustainable travel, and we are proud to be at the forefront of change and innovation in the industry.  LivTours is committed to providing travelers with truly sustainable tours with the lowest possible environmental impact, all while supporting the local industries and people of each unique destination. To learn more about how you can actively support sustainable tourism  and how LivTours is contributing, click here.
BOOK NOW
---
When you book a LivTours Private Tour or Experience, you are guaranteed a dedicated, expert guide that allows you the flexibility to start your tour at a time which is convenient for you, making planning easy. Our private tours ensure that you will get a tailored experience to meet all your needs so we go at your pace, perfect for families with younger children, elderly, or individuals with accessibility needs. Please be advised that all private tours begin at a base price starting at two people*. Prices are inclusive of entry tickets where applicable. *Some Ferrari private experiences are inclusive of one person only.
BOOK NOW
---
Make your day even more unique and comfortable by upgrading your tour with a customizable LivTours optional add on!
350 €
609 A$
325.50 £
413 $
BOOK NOW
---
Very enjoyable day
"My husband and I decided to book this tour for our first visit to both Giverny and to Versailles. We were very impressed with the organization of the tour and very happy with our guide, Josie, who was a lovely person and very well prepared. I'm a Monet fan so seeing Giverny was a dream come true. Versailles was more interesting to my husband, with all of its splendor and history. Seeing the royal gardens on a golf cart was very unique and made it an especially enjoyable experience. We have given this tour 5 stars and will certainly recommend it to all of our friends."
Frieda - Belgium
---
Versailles and Giverny
"We are so glad we booked this tour with LivParis (LivTours)! Both Versailles and Giverny merit a visit and doing so with one of the LivParis professionals really makes the trip worthwhile. Definitely worth the price."
MaryLee - USA
---
A must-do tour
"We were comfortably transported in a private car to Giverny where we enjoyed seeing Monet's home and the gardens that so inspired him. Then on to Versailles for the royal tour of the palace and a fun golf cart ride around the gardens there. It was a great day and something we will fondly remember. Strongly recommend!"
Wallis - UK
---
BOOK NOW
---
By selecting Choose Dates Later / Buy as Gift at booking, any tour can be purchased without fixed dates. This is the perfect option if you want to purchase your tour as a gift for a loved one, or if you are in the pre-planning phase of your vacation. After booking, you will receive a Travel Voucher Code and full instructions on how to schedule your tours when ready. Once your travel plans are confirmed, you can easily use the Travel Voucher Code on the LivTours website to formally schedule your tours. You can find out more here.
BOOK NOW