Private Versailles & Giverny Tour | Royal Palace & Monet's Gardens
---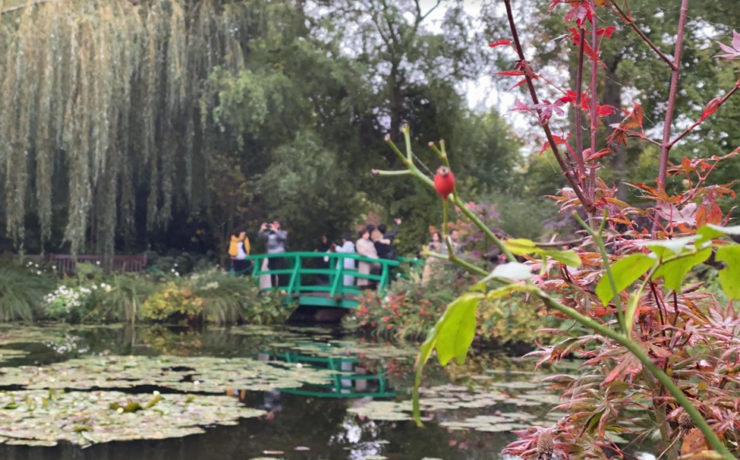 ---
Your LivTours Private Full Day Versailles And Giverny Tour will take you on a whirlwind tour of the majestic gardens and home of one the world's most renowned Impressionist painter, Claude Monet, and then whisk you away to the royal opulence of Versailles. All in just one day! This tour includes a private chauffeur to make your day even more comfortable.
This LivTours private tour is an ideal way to tour the Royal Palace and Monet's Gardens in one day. This is an ideal tour for history buffs and art lovers alike. Your private expert guide will whisk you through the Royal Versailles Gardens via none other than a golf cart so you cover as much of the greenery as possible. Sit back, relax, and enjoy stories of Marie Antoinette and her favorite place in the gardens. Hear tales of Louis XIV, the Sun King who took the throne at the age of four! You will get skip-the-line access to the Palace and go even deeper into the opulence and history of France's monarch rule.
This double highlight tour also includes a visit to another famous garden, one known for as the inspiration for Monet's Water Lily paintings. You and your guide will tour Monet's gardens in Giverny, a small town northwest of Paris. This is where the famous Impressionist artist Monet spent his days painting. Visit the home and gardens of the artist and learn all about his life and inspiration.
This is the perfect tour for those who want to see sights in the surrounding areas of Paris.
BOOK NOW
---
Explore Claude Monet's Giverny home and garden & personal collection of paintings

Step into one of Monet's Water Lily paintings on a stroll through his Giverny garden

Relax in the comfort of a private chauffeured car with hotel pick up and drop off

See a notable amount of Versailles Gardens in a comfortable four-seat golf cart

Enjoy skip-the-line privileges into Versailles Palace & its most impressive rooms
BOOK NOW
Exclusive private Tours and Experiences. Also offered in Spanish, French, Portuguese, Swedish and Russian
Our prices always include tickets and reservations fees (no waiting in lines!)
Our tour guides and staff are selected experts and speak perfect English
Easy to book and prepay your tours with our secure payment system
Eco-sustainable tourism, designed to respect and support local culture, art and traditions
---
Your LivTours' Private Full Day Versailles and Giverny Tour will take you on a whirlwind tour of the majestic gardens and home of one the world's most renowned Impressionist painter, Claude Monet, and then whisk you away to the royal opulence of Versailles. All in just one day! This tour includes a private chauffeur to make your day even more comfortable.
Giverny, Monet's House & Gardens
Your tour will begin in the quiet village of Giverny for an intimate tour of Impressionist Claude Monet's former home. This is the Norman town where Impressionist Claude Monet drew inspiration for many of his best-known paintings like the Water Lily and Haystacks series.
A few rooms you'll get to see on your tour include Monet's bedroom, dining room, and living room. Each of these rooms has been meticulously detailed to look just as it did when Monet and his family lived here. You'll also get to see Monet's kitchen where the great artist would cook his favorite food every morning: omelets! The Monet family was so egg-crazy that they had a chicken yard near their home. Don't be surprised if you spot a few hens frolicking near Monet's house today.
Throughout Monet's house, you're bound to see many canvasses, Japanese woodblock prints, and rare artifacts. It's essential to tour Giverny with an expert guide who can draw your attention to authentic artworks inside this home. Your guide will take the time to explain how Japanese aesthetics played a key role in shaping Giverny garden's design and Monet's later work. You'll also learn incredible stories of how Monet continued to paint huge Water Lily canvasses even while suffering from cataracts.
After your tour of Monet's home, it's time to take a relaxing stroll through his Eastern-inspired garden. As you walk over the romantic Japanese bridge, you will see the exact locations where Monet painted his extensive catalog of Water Lily paintings. Called Nymphéas in French, Monet's Water Lily series consists of hundreds of paintings depicting Giverny garden at different times. This idea of "serial displays" went on to inspire modern artists like Andy Warhol who also showcased many paintings of the same subject with interesting variations.
Your tour will end with a visit to Monet's legacy at his tomb just near his past residence. As you leave his former home, you will see the inspiration for another one of Monet's celebrated series – haystacks. Like the water lilies, Monet was intrigued at how light affected the haystacks in different weather conditions. Both of these series also highlighted Monet's preference for painting outdoors.
Versailles Palace & Gardens
Your LivTours' Full Day Giverny & Versailles Tour continues with a trip through the famous vast Versailles Gardens. But don't worry about wearing out your walking shoes—your LivTours package includes access to a comfortable four-seat golf cart. By using a golf cart, you will be able to fully appreciate all of the major garden attractions without breaking a sweat. A few highlights include Louis XIV's private retreat "The Grand Trianon" and Marie Antoinette's former estate. If you are lucky, you might get to see a seasonal water show at the garden's central fountains.
When you are finished exploring the garden grounds, it's time to skip-the-line and head inside Versailles Palace. Of all the 2,300 rooms in this palace, the most famous has to be the 240-foot long Galerie des Glaces. Imagine what it must have felt like back in the 17th century when visitors saw themselves for the very first time in a full-length mirror, something never experiences before. This hall has 357 mirrors to be exact, a true sight for sore eyes. Throughout the centuries, this hall was used for more than just vanity. It has witnessed many prominent historical events, including the signing of the Treaty of Versailles after WWI.
After touring the marvelous Hall of Mirrors, you will have the opportunity to visit the 18th century Royal Chapel, which is actually the fifth church on the property. Modeled on both Ancient and Gothic designs, the Royal Chapel is best known for its colorful ceiling paintings and its historic organ. From the sacred to the secular, your tour guide will then lead you to the sumptuous State Apartment where the king would meet with various dignitaries every day.
Later in your tour, you will see the more intimate areas of Versailles Palace including the king and queen's former apartments and bed chambers. Here you'll learn fascinating stories about the hundreds of servants who would scramble to attend the king and queen's every need… including taking off their clothes and accompanying them to the toilet! In the queen's former chambers, you will also gain a greater appreciation for Marie Antoinette's profound influence on the evolution of French fashion.
BOOK NOW
---
Monets Giverney gardens

Versailles palace

Versailles gardens and fountains

Hotel pick up and drop off service

Chauffeured service between sites
BOOK NOW
---
Comfortable walking shoes recommended.

Due to these unprecedented times and ongoing safety and regulation changes, some sites may have limited accessibility if the venue can not guarantee social distancing which may lead to unforeseen tour modifications. Thank you for your understanding.

LivTours' is and always has been based on sustainable travel and especially in these new times, we are proud to be at the forefront of innovation, change, and challenges that are presented to us during this post-pandemic time. At the moment, due to Covid-19 safety regulations, museums and sites visited on this tour require wearing a mask while on site. Please bring one for every participant over 6 years of age.
BOOK NOW
---
When you book a LivTours Private Tour or Experience, you are guaranteed a dedicated, expert guide that allows you the flexibility to start your tour at a time which is convenient for you, making planning easy. Our private tours ensure that you will get a tailored experience to meet all your needs so we go at your pace, perfect for families with younger children, elderly, or individuals with accessibility needs. Please be advised that all private tours begin at a base price starting at two people. Prices are inclusive of entry tickets where applicable.
BOOK NOW
---
Wonderful tour!
"My friend and I had a wonderful time on this tour. We were driven to Giverny where we saw Monet's gardens and the museum of his works and then to Versailles to see the Palace and the gardens there. Our guide Marie was very knowledgeable and shared very interesting insights about Monet and the Impressionistic movement as well as about the fascinating history of Versailles. We loved every minute of our day trip and highly recommend it as the best way to see these beautiful places outside of Paris."
JoAnn and Beth - USA
---
BOOK NOW