Private Family Experiences: Venice Tour for Kids of Doge's & St Mark's
---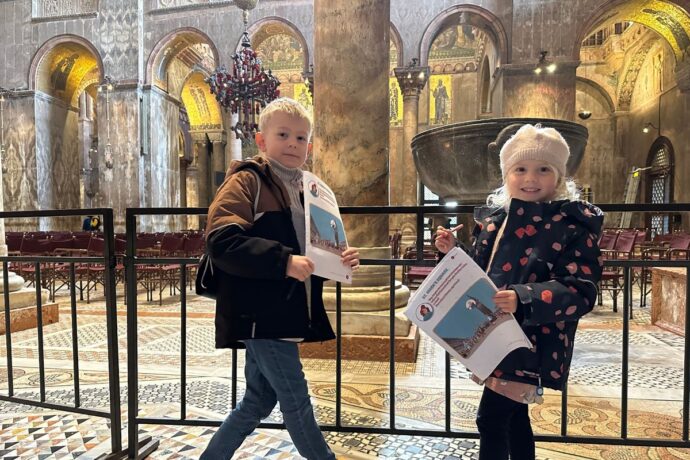 ---
LivTours' Venice Tour for Kids is an exciting journey through the most important landmarks in Venice with a private, kid-friendly guide and interactive activity booklet!  You and your family will see the highlights and learn the secrets of this city of islands.   This tour includes visits to St Mark's Basilica and the Doge's Palace with LivTours priority access, so no need to wait in lines – perfect when traveling with potentially impatient little ones!
For this Venice tour for kids, your private guide will fill you with entertaining stories, fun facts, and centuries-old mysteries. This tour is perfect for adults and kids alike and focuses on learning while having fun!  Every child will get an exclusive LivTours activity booklet, colorful pens, and riddles to solve, as well as a prize at the end of the tour.   Listen carefully and keep your eyes open to find the clues and solve the riddles on this family-friendly tour!
BOOK NOW
---
Enjoy interactive activities that are fun for the whole family on a private tour

See the two main highlights of Venice on a fun half day family friendly tour

Make all the family happy with LivTours priority access to two highlights of Venice

Admire the 85,000 square feet of golden mosaics inside of St Mark's Basilica

Visit the opulent Doge's Palace - home to over 120 self-elected aristocratic rules
BOOK NOW
Exclusive private Tours and Experiences. Also offered in Spanish, French, Portuguese, Swedish and Russian
Our prices always include tickets and reservations fees (no waiting in lines!)
Our tour guides and staff are selected experts and speak perfect English
Easy to book and prepay your tours with our secure payment system
Eco-sustainable tourism, designed to respect and support local culture, art and traditions
---
Your LivTours Venice Tour for Kids starts next to St Mark's Basilica in the heart of Venice where you will meet your private tour guide.  Your guide will start by going over the plan for your tour and give each child their own activity booklet complete with quizzes and colorful pens. Once you are acquainted, you will enter Saint Mark's Basilica, known as the Golden Basilica for its golden mosaics which cover the ceilings, walls, and floors!  With skip-the-line access, you will not need to wait in line, but can jump right into your tour.   Traveling with a Harry Potter fan? Then you will be pleased to know that the first clue is a Griffon.
As you continue your visit through the Basilica and afterwards in Saint Mark's Square make sure you are listening carefully to your guide, as the answers to the riddles will be revealed in the vibrant descriptions and their animated storytelling. This is a fantastic way for everyone in the family to engage and learn about the history of Venice!
Next, it is on to the Doge's Palace. The Doge was a type of duke or ruler that was elected by a committee of wealthy merchants and the Doge's Palace is a reflection of the importance of the post and the wealth of Venice. Home to over 120 Doges, the Palace has a lot of history and stories to be shared, so stay alert for clues while the guide shares the family-friendly facts about the powerful Doges who used to live here. Visit the grand courtrooms with its massive thrones and learn how to recognize the Doge. The adventure continues past old-fashioned cannon balls and through the infamous interrogation rooms before we cross the notorious Bridge of Sighs, ending the tour and completing the activities.
Now it is time to check your answers! Every child gets a prize at the end of the tour.
BOOK NOW
---
LivTour's exclusive activity booklet and prizes

Skip-the-line access to Doge's Palace

Skip-the-line access to St Mark's Basilica

Major Halls and paintings of the Doge's Palace

Armory of the Doge's Palace

Prison of the Doge's Palace

Bridge of Sighs

Saint Mark's Basilica main floor
BOOK NOW
---
Please note that tour starting times are subject to change based on ticket availability
This activity booklet is designed for children from ages 5 – 10 years old and is perfect for mixed age families; i

f older children are also present, our guides are capable and ready to adapt material and the tour's content

Offered in: English, French, Spanish, Portuguese, and Italian. Please specify under "Additional notes" if you wish to book the tour in a language other than English. Please note, the accompanying tour material is only available in English.

Places of worship have strict dress code requirements for entry. All participants are required to have shoulders and knees covered (no tank tops or short dresses) to enter.
BOOK NOW
---
LivTours' group size of max 6 participants is and always has been based on sustainable travel, and we are proud to be at the forefront of change and innovation in the industry.  LivTours is committed to providing travelers with truly sustainable tours with the lowest possible environmental impact, all while supporting the local industries and people of each unique destination. To learn more about how you can actively support sustainable tourism  and how LivTours is contributing, click here.
BOOK NOW
---
When you book a LivTours Private Tour or Experience, you are guaranteed a dedicated, expert guide that allows you the flexibility to start your tour at a time which is convenient for you, making planning easy. Our private tours ensure that you will get a tailored experience to meet all your needs so we go at your pace, perfect for families with younger children, elderly, or individuals with accessibility needs. Please be advised that all private tours begin at a base price starting at two people*. Prices are inclusive of entry tickets where applicable. *Some Ferrari private experiences are inclusive of one person only.
BOOK NOW
---
Make your day even more unique and comfortable by upgrading your tour with a customizable LivTours optional add on!
Select your Mask Making Workshop
180 €
313.20 A$
167.40 £
212.40 $
Guide Pickup from Central Hotel (Transport Excluded)
55 €
95.70 A$
51.15 £
64.90 $
BOOK NOW
---
Mask Making workshop a real hit
"Our tour in Venice, was excellent. The mask making arrangements at the end were a real hit with the boys who loved their creations."
Sunil
---
Awesome for everyone in the family!
"Everyone in our family really enjoyed this tour and my husband and I are convinced that our Venice experience wouldn't have been nearly as good (with 3 children in tow) had we not taken this tour! We had a super guide named Sara who was awesome with the kids. She had all sorts of projects to keep them engaged and interested throughout and had our undivided attention not just with her fantastic stories but with her comunication/storytelling style. Just any old tour wouldn't have been successful with the kids so if you are traveling with the whole family, consider this company's many family-oriented activities and experiences. It's REALLY worth it!"
Annie - Canada
---
Venice with the kids
"We did the Family tour in Venice with Monica. Monica did a great job keeping the kids (ages 8 and 10) and us completely entertained during the 2 hr tour. The kids were very interested and they loved the "I spy" games and playing (and winning) against their parents. All in all, we would recommend this tour for kids in the age group like ours."
Marcy and Bill - USA
---
BOOK NOW
---
By selecting Choose Dates Later / Buy as Gift at booking, any tour can be purchased without fixed dates. This is the perfect option if you want to purchase your tour as a gift for a loved one, or if you are in the pre-planning phase of your vacation. After booking, you will receive a Travel Voucher Code and full instructions on how to schedule your tours when ready. Once your travel plans are confirmed, you can easily use the Travel Voucher Code on the LivTours website to formally schedule your tours. You can find out more here.
BOOK NOW