Private Venice Islands Tour | Lagoon Highlights
---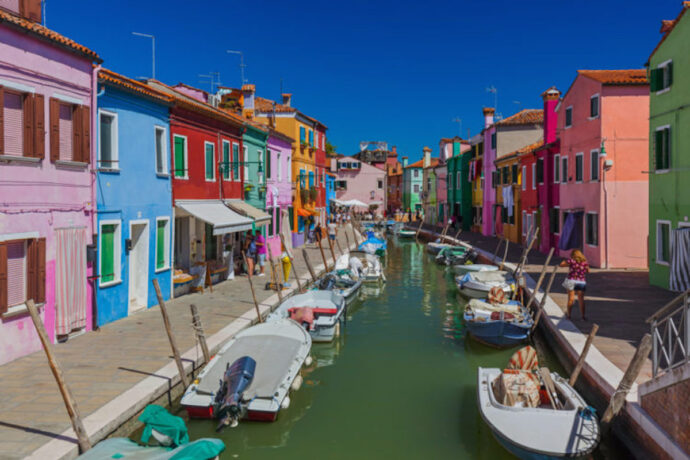 ---
LivTours Private Venice Islands Tour takes you on an adventurous and luxurious day that is partly done on water and partly on foot. This is a great tour to gain an insider's view of greater Venice. In the company of your private expert guide, you will explore the three most important islands in the Lagoon. Each island offers a unique feel and history and ends on the island of Burano where you can opt to stay and enjoy lunch or head back to Venice proper.
On this exclusive private tour of the islands around Venice, your LivTours guide will accompany you for the entire four-hour visit as you explore the three main islands: Murano, Torcello, and Burano. Each island has artisan workshops, amazing landmarks, and one-of-a-kind architecture.  Visiting these islands provides a full immersion into the daily life of Venice and its citizens.
BOOK NOW
---
Explore the best of Venice's islands with your private expert guide at your side

Visit three of Venice's islands Murano, Burano and Torcello, each with a unique story

Discover the centuries old secrets behind the famous glass blowing of Murano

Ride across the lagoon to visit the colorful and picturesque island of Burano

Learn how these now colorful houses were once fishermen's homes on your private tour
BOOK NOW
Exclusive private Tours and Experiences. Also offered in Spanish, French, Portuguese, Swedish and Russian
Our prices always include tickets and reservations fees (no waiting in lines!)
Our tour guides and staff are selected experts and speak perfect English
Easy to book and prepay your tours with our secure payment system
Eco-sustainable tourism, designed to respect and support local culture, art and traditions
---
On your LivTours Private Venice Islands, your guide will meet you at your Venetian hotel where you will jump into a water taxi. Should your hotel not have its own water taxi dock, we will let you know the closest one and arrange that as your meeting point. Your local expert guide will help you understand the traditions and customs of this enchanting city. Enjoy a luxury water taxi ride while admiring the views as you head to your first island, Murano.
Up until the 19th century and in an effort to keep the much coveted secrets of glass blowing within the island residents of Murano were restricted to live on the island and only marry within the island's population.  After a short walking tour with your private guide, you will be taken to experience a live demonstration of the intriguing art form of glassblowing. Admire the artisans as they blow magnificent glass objects and tour the factory.
Back in your private water taxi your expert guide will show you the lagoon from the boat as you ride towards the island of Torcello. This magical deserted island was actually the very first to be inhabited. Today, only one small church remains, intriguing both visitors and locals to visit. In the past, the Ancient Romans would cross the lagoon by foot and bring construction equipment and other useful tools to conquer the island. Your visit to Torcello is perfect for hearing stories and taking pictures of the beautiful landscape.
Back in your private water taxi, your guide will lead you to the third island, Burano.  This gem in the Lagoon of Venice is a much admired UNESCO World Heritage Site. The unique architecture of the former fisherman's houses now colorfully painted will fill your photographs with colors, stories and anecdotes. Admire the beauty of this island as you learn about Merletto lace techniques.
Your Venice Islands Private Tour ends on the island of Burano and the water taxi is booked to take you back to your hotel at the end of your tour, but you are more than welcome to remain on the island and take some extra time to enjoy a leisurely lunch and do some shopping. Your private expert guide will give you all the information you need to make the most of your time!
BOOK NOW
---
Hotel pickup

Water taxi transport around islands

Fully guided experience

Walking tour & free time in Murano

Traditional Murano glass blowing demo

Guided tour in Torcello

Walking tour & free time in Burano

Hotel drop-off
BOOK NOW
---
Offered in: English, French, Spanish, Portuguese, and Italian. Please specify under "Additional notes" if you wish to book the tour in a language other than English.
BOOK NOW
---
LivTours' group size of max 6 participants is and always has been based on sustainable travel, and we are proud to be at the forefront of change and innovation in the industry.  LivTours is committed to providing travelers with truly sustainable tours with the lowest possible environmental impact, all while supporting the local industries and people of each unique destination. To learn more about how you can actively support sustainable tourism  and how LivTours is contributing, click here.
BOOK NOW
---
When you book a LivTours Private Tour or Experience, you are guaranteed a dedicated, expert guide that allows you the flexibility to start your tour at a time which is convenient for you, making planning easy. Our private tours ensure that you will get a tailored experience to meet all your needs so we go at your pace, perfect for families with younger children, elderly, or individuals with accessibility needs. Please be advised that all private tours begin at a base price starting at two people*. Prices are inclusive of entry tickets where applicable. *Some Ferrari private experiences are inclusive of one person only.
BOOK NOW
---
Top Experience
"We had an amazing time with Elisa and Marco. They were very flexible and adjusted the time and order of the stops to maximize what we wanted to see. Elisa gave is so much great insider information! We loved hearing about the hidden gems and what life is like as a resident on one of the islands. We asked her to drop us off at Lido after the tour to sightsee, and visit the beach, and have lunch. Her restaurant, cafe, and gelato shop recommendations were spot on. We all agreed that our tour with Elisa and Marco were one of the top experiences of our trip to Italy."
Leah
---
Excellent tour to the islands
"This was our second visit to Venice so we were ready to experience other parts of the city. LivItaly's islands tour was a wonderful way to visit the three major islands and get a feel for their history, culture and art. Each island has a character of its own and our guide was excellent in pointing out these differences and the importance that each island has had to the overall history of Venice. We greatly enjoyed this tour and highly recommend!"
Joyce - USA
---
BOOK NOW
---
By selecting Choose Dates Later / Buy as Gift at booking, any tour can be purchased without fixed dates. This is the perfect option if you want to purchase your tour as a gift for a loved one, or if you are in the pre-planning phase of your vacation. After booking, you will receive a Travel Voucher Code and full instructions on how to schedule your tours when ready. Once your travel plans are confirmed, you can easily use the Travel Voucher Code on the LivTours website to formally schedule your tours. You can find out more here.
BOOK NOW