Private Venice Highlights & Murano Glass Tour
---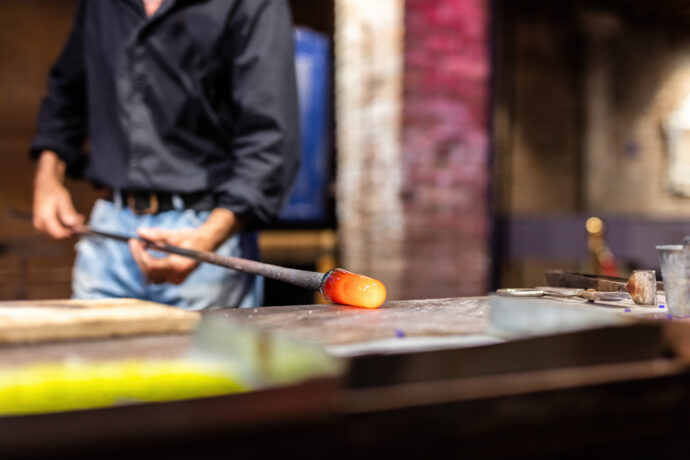 ---
LivTours' Venice Highlights & Murano Glass Tour is a wonderful way to see the best of Venice in a day. Join your private expert guide as they lead you through the history of the most beautiful city made by man. Comprising 118 small islands linked by just over 400 bridges, your local guide will make history come alive as you stroll the labyrinth of streets. You will enjoy LivTours priority access to Saint Mark's Basilica with its shimmering golden mosaics, and skip the line entrance into the grand Doge's Palace, the place where rulers of the Venetian republic lived for centuries!
After admiring the city on land, you will have the pleasure of admiring it from the sea as your private motorboat takes you and your guide through the Grand Canal. Your private expert guide will make sure you see all the highlights of Venice's 'main street' and will regale you with anecdotes of the famous palaces that still line it today.  You will spend the afternoon on the island of Murano. Famous for its glass making when in 1291, all glassmakers of Venice were moved out of the city center to the island of Murano. You will get the opportunity to see glassblowing firsthand and your guide will lead you to see the brightly colored houses along the canals, as well the oldest church in Venice!
If you only have one day in Venice, this is a perfect tour for you!
BOOK NOW
---
Enjoy a full day private tour of the amazing highlights of Venice both by foot & boat

Revel in priority access to St. Mark's Basilica with an expert local guide

Experience the magnificence of Doges palace with skip the line tickets

Admire elegant Venice from the water as you explore the main canal by motor boat

Marvel at the amazing skills and talent of the glassmakers on Murano island
BOOK NOW
Exclusive private Tours and Experiences. Also offered in Spanish, French, Portuguese, Swedish and Russian
Our prices always include tickets and reservations fees (no waiting in lines!)
Our tour guides and staff are selected experts and speak perfect English
Easy to book and prepay your tours with our secure payment system
Eco-sustainable tourism, designed to respect and support local culture, art and traditions
---
Your LivTours' Private Venice Highlights & Murano Glass Tour starts from Campo San Giacometto, a small square near the Rialto Bridge, where you will meet your guide and start your private walking tour through the heart of Venice. For centuries, this market has been a bustling shopping area where locals come to shop at markets to buy fresh vegetables and fish.
Just around the corner, you will find the picturesque and famous Ponte Rialto. Its design is not the only thing unique about it, your private local guide will share an interesting story with you. Take a moment to enjoy the magnificent view from the bridge's highest point and take some memorable photos of postcard-like views.
Your guide will lead you through the maze of Venice's narrow streets, over romantic bridges while making plenty of stops at important and engaging places such as: Campo San Bartolomeo, Church of San Giovanni, Campo Santi Giovanni and Campo Santa Maria Formosa. When you reach the elegant and expansive Saint Mark's square, the amazing view of the basilica, the square and the bell tower come into focus and you will understand why this is the heart of Venice. Enjoying privileged access, you will enter the Doge's Palace without standing in the (usually) long line.
This beautiful building set on the edge of the Grand Canal is home to some of the most ornately decorated rooms adorned with artistic masterpieces, and has been home to 120 Doges – powerful local rulers of Venice.  In addition to the beautiful rooms, you will also explore the Doge's prison, were your LivTours guide will take you over the Bridge of Sighs to explore the Palaces dark dank dungeons.
Your private local guide will lead you on an amazing tour of the inside of this curious and stunning building. Admire the marvelous golden mosaics, bronze horse statues and curvy floors as your guide regales you with the history and anecdotes behind this building. LivTours has designed this tour so that you enter Saint Mark's Basilica when the interior is illuminated (only for an hour in the morning). When illuminated, the interior details really come alive as the endless golden mosaics shimmer in the light.  Once you have admired the interior, your private tour guide will lead you to the top terrace where you can enjoy unique and spectacular details of both the exterior of the Basilica and Saint Mark's Square.
Once you are ready, it is time to start another adventure! No tour of Venice is complete without seeing it from the water, so it is off to the Grand Canal.   This city built on water has canals for streets and the Grand Canal is the largest of them all! You will explore it together with your LivTours guide in your private motor boat. Take an unforgettable spin on the Grand Canal before leaving the center of Venice to discover yet another island, Murano!
Making glass since the 13th century, Murano is world renowned for its glass blowing factory. You will visit one of the traditional glass making factories to see firsthand the technique the artisans use to shape different sculptures. Take your time to browse through the store and get a memorable souvenir to bring home. But the island, Murano, has so much more to offer than glassblowing and your LivTours tour guide will show you the most beautiful places with colorful houses and canals, as well as interesting sites such as the oldest churches in the Venetian lagoon. After enjoying a relaxing afternoon on Murano, your private boat will be there to whisk you back to Venice.
BOOK NOW
---
Campo San Giacometto

Rialto Bridge

Rialto market

Campo San Bartolomeo

Church of San Giovanni

Campo Santi Giovanni

Campo Santa Maria Formosa

St Mark's Square

Doges Palace Skip the line tickets

St Marks priority entrance

Water taxi transport to Murano island

Guided walk and free time in Murano

Traditional Murano glass blowing demo

Fully guided experience
BOOK NOW
---
Offered in: English, French, Spanish, Portuguese, and Italian. Please specify under "Additional notes" if you wish to book the tour in a language other than English.

During the low season (November 3-March 30) it is not possible to reserve tickets to Saint Mark's Basilica and we can not skip the line. Due to the low number of visitors there are normally no lines during this period.
BOOK NOW
---
LivTours' group size of max 6 participants is and always has been based on sustainable travel, and we are proud to be at the forefront of change and innovation in the industry.  LivTours is committed to providing travelers with truly sustainable tours with the lowest possible environmental impact, all while supporting the local industries and people of each unique destination. To learn more about how you can actively support sustainable tourism  and how LivTours is contributing, click here.
BOOK NOW
---
When you book a LivTours Private Tour or Experience, you are guaranteed a dedicated, expert guide that allows you the flexibility to start your tour at a time which is convenient for you, making planning easy. Our private tours ensure that you will get a tailored experience to meet all your needs so we go at your pace, perfect for families with younger children, elderly, or individuals with accessibility needs. Please be advised that all private tours begin at a base price starting at two people*. Prices are inclusive of entry tickets where applicable. *Some Ferrari private experiences are inclusive of one person only.
BOOK NOW
---
Murano Tour
"My kids loved this tour, especially the ride in the water taxi! They loved the Murano glass as well and wished that the tour was longer! To top it off, our tour guide Giulia was amazing. She shared her deep knowledge of the city. It was really nice to have a local leading our tour."
Kim - USA
---
Murano glass and more
"We had an excellent guided tour of Murano with Sara today. She was enthusiastic, extremely knowledgeable and helped us plan our activities after our tour. She took a real interest in what we wanted to see and structured the tour to our pace and desires. She was fantastic! Our first stop was the Marco Polo Glassworks where we met Massimo and that was a showstopper right there! Watching the glass masters at work was an incredible experience. We just had to buy a piece of their art before we left. Then Sara expertly guided us through the island, which is quite a different experience from Venice proper. After a brief stop for refreshments we took the water taxi back to San Marco with many good suggestions from Sara for the rest of our day. We cannot speak highly enough of Sara and the tour of Murano."
Susan and Hugh - USA
---
BOOK NOW
---
By selecting Choose Dates Later / Buy as Gift at booking, any tour can be purchased without fixed dates. This is the perfect option if you want to purchase your tour as a gift for a loved one, or if you are in the pre-planning phase of your vacation. After booking, you will receive a Travel Voucher Code and full instructions on how to schedule your tours when ready. Once your travel plans are confirmed, you can easily use the Travel Voucher Code on the LivTours website to formally schedule your tours. You can find out more here.
BOOK NOW