Private Valley of the Temples Agrigento Tour
---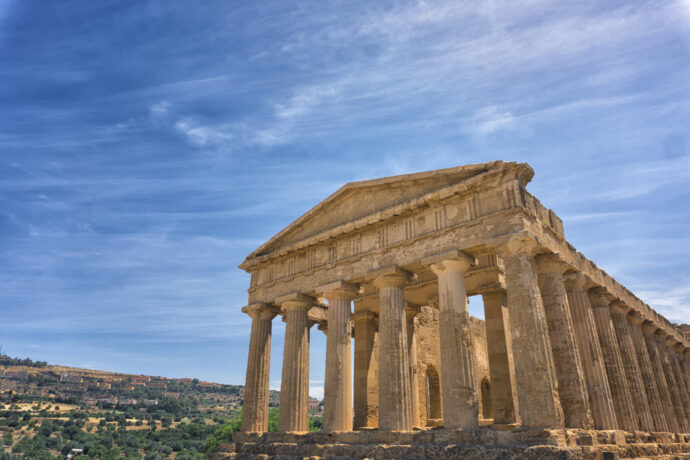 ---
LivTours' Agrigento Tour takes you to see by far the most well preserved Greek temples in Italy and the best way to see this vast archeological wonder is with an expert guide by your side. This full-day tour gives you a comprehensive overview of the Valley of the Temples – once home to the third-largest city in the Greek world with an estimated population of between 200,000 and 800,000 in 46BC.
When Plato visited, he saw the high standard of living that the inhabitants enjoyed and remarked that they build like they intend to live forever, yet eat like this is their last day.  This private tour will take you to the main and most well-preserved temples of the area, and transport you back in time thousands of years. This is an absolute must-visit for anyone visiting Sicily who would like to explore one of its most prized treasures.
BOOK NOW
---
Take a step back in time to one of the world's largest Greek cities in Sicily

Admire stunning top to bottom views of the ancient world's Temple of the Valleys

Soak up the blue sea and the beauty of natural Sicily a constant backdrop

Swim in the breathtaking waters of the Scala dei Turchi rocky cliffs
BOOK NOW
Exclusive private Tours and Experiences. Also offered in Spanish, French, Portuguese, Swedish and Russian
Our prices always include tickets and reservations fees (no waiting in lines!)
Our tour guides and staff are selected experts and speak perfect English
Easy to book and prepay your tours with our secure payment system
Eco-sustainable tourism, designed to respect and support local culture, art and traditions
---
Your LivTours Private Agrigento Tour begins by meeting your local private guide who will share with you the historic importance of this ancient city.  With your guide's vibrant descriptions, you can imagine just what life was like thousands of years ago when this city was lined with seven miles of fortified wall to protect the Valley of the Temples.
You and your guide will take a small hike to the stunning first stop – the Temple of Juno offering amazing views of the rest of the ancient town and temples below with the Mediterranean as the backdrop.  Sure to be one of the highlights of your Sicilian stay, you will discover how this 450BC Doric temple, not dedicated to the God Juno, was actually misnamed!  The six standing columns will give you an idea of the importance of Ancient Greece at its height of its reign.
A stroll down the hill from these archeological ruins will take you to the most well preserved temple in the valley, the Temple of Concordia. Your private guide will tell you about its many uses throughout history and its prominence in the Roman Empire.  You will continue to the Villa Aurea, the next stop on your tour, where you will enter the manicured gardens and learn about Alexander Hardcastle. A wealthy and prominent English archeologist whose kind generosity aided in the excavations of so many of the surrounding temples. Walk through Hardcastle's lush gardens and imagine living in this oasis in the middle of the Valley of the Temples.
Next it is on to the Temple of Heracles, one of the much loved heroes of Greek mythology. This is considered the most ancient of the temples of Agrigento. Admired by Roman emperors such as Commodus and Maximian, Heracles or Hercules depending on your spelling, was known for his extraordinary strength and this temple pays tribute to just that. One of the highlights of the tour is sure to be the Temple of Castor and Pollux, with four columns and numerous statues still intact, has become the visual symbol of Agrigento.
ADD A DRIVER & ENJOY BONUS VISIT TO SCALA DEI TURCHI

At an additional cost, you can choose to be picked up by a private chauffeur driver from Palermo, Catania or Syracuse and drive to this city in pure comfort, eliminating the need to navigate the Sicilian roads on your own. If you choose a pick up service, you can also make a bonus stop stop at the famed Scala dei Turchi if you wish, for no extra cost. This cliff of limestone rock formation has over the years formed a type of "staircase" hence its Italian name of "Turkish staircase".
If you choose the addition of a driver to and from your hotel, your driving will be waiting for you at the entrance of your hotel. They will bring you to the Valley of the Temples, and then, after your tour, you can relax in your luxury car as you drive to an absolute visual natural masterpiece – the Scala dei Turchi. If weather permits, bring along a bathing suit and take a quick dip in the crystal clear, cool sea among the many other tourists and Italians who spend their sea vacation getaways here. It is picture perfect for a few quick snapshots before being chauffeured back to your hotel.
BOOK NOW
---
Guided tour of Valley of the Temples

Temple of Juno

Temple of Concordia

Villa Aurea & gardens

Temple of Heracles

Temple of Castor and Pollux
BOOK NOW
---
Offered in: English, French, Spanish, Portuguese, and Italian. Please specify under "Additional notes" if you wish to book the tour in a language other than English.

PLEASE NOTE: This tour has light hiking and is designed to walk the Valley of the Temples from top to bottom. If you have trouble with light hiking please state it in the "Additional Notes" when booking and we will accommodate with a change in itinerary using a local mini train for small portions of the tour.

LivTours' is and always has been based on sustainable travel and especially in these new times, we are proud to be at the forefront of innovation, change, and challenges that are presented to us during this post-pandemic time. At the moment, due to Covid-19 safety regulations, you are required to wear a mask for the entire duration of the tour. Please bring one for every participant over 6 years of age.

Due to these unprecedented times and ongoing safety and regulation changes, some sites may have limited accessibility if the venue can not guarantee social distancing which may lead to unforeseen tour modifications. Thank you for your understanding.
BOOK NOW
---
When you book a LivTours Private Tour or Experience, you are guaranteed a dedicated, expert guide that allows you the flexibility to start your tour at a time which is convenient for you, making planning easy. Our private tours ensure that you will get a tailored experience to meet all your needs so we go at your pace, perfect for families with younger children, elderly, or individuals with accessibility needs. Please be advised that all private tours begin at a base price starting at two people*. Prices are inclusive of entry tickets where applicable.
*Our Tuscan motorcycle tour and some Ferrari private experiences are inclusive of one person only.
BOOK NOW
---
Make your day even more unique and comfortable by upgrading your tour with a customizable LivTours optional add on!
Full day Driver from Taormina
Full day Driver from Syracuse
Full day Driver from Palermo
Full day Driver from Catania
BOOK NOW
---
Breathtaking experience!
"If you are going to Sicily, you MUST book LivTour's tour of Agrigento. The ancient Greek temples there are absolutely breathtaking and amazingly well-preserved. We were truly transported back in time thanks not to just the beauty and fascination of the area but also because our guide, Sofia, was so well prepared and a fabulous story teller! Our day in Agrigento will remain a wonderful memory for each one of us!!"
Ingrid - USA
---
BOOK NOW
---
By selecting BUY AS A GIFT, you can purchase this tour as a gift for someone you care for. You will receive a gift card voucher that then can be redeemed by the person/people who will enjoy the tour.Date and Time are values that cannot be selected at the moment. You will in fact receive a gift card voucher with instructions on how to redeem the tour and then select date and time.You can create a shopping cart with multiple tours as gift cards. You may not compose a shopping cart of gift cards and actual tours with date and time.This option can also be used as an opportunity to book a tour open-dated for yourself, in case you are still in the pre-planning phase of your trip.For more information please read here.
BOOK NOW