Private Tour of the Brera Gallery
---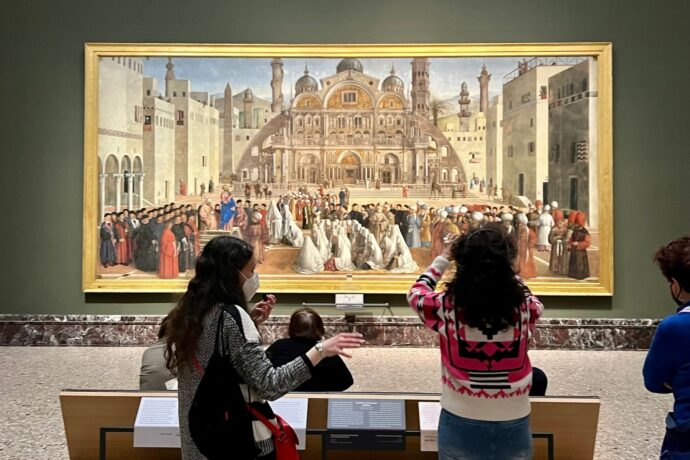 ---
Art Lovers won't want to miss this private tour of the Brera Gallery of Milan (Pinacoteca di Brera).  This extraordinary collection of centuries of Italian masters is brought to life by one of our expert local guides.
BOOK NOW
---
Learn about art from a local art expert

Explore centuries of Italian art in one of Milan's finest galleries
BOOK NOW
Exclusive private Tours and Experiences. Also offered in Spanish, French, Portuguese, Swedish and Russian
Our prices always include tickets and reservations fees (no waiting in lines!)
Our tour guides and staff are selected experts and speak perfect English
Easy to book and prepay your tours with our secure payment system
Eco-sustainable tourism, designed to respect and support local culture, art and traditions
---
Your tour of the Brera Gallery will begin outside in front of a statue of Napoleon Bonaparte. Why is he dressed as the Roman god Mars? And what was the connection between Napoleon and the gallery? You'll hear all about the beginnings of the gallery and how it came to acquire such an impressive collection of art.
Religious Themes
As you wander through the gallery, you'll see many examples from the finest artists of the Renaissance. Many of their paintings were originally made for the walls of churches and monasteries throughout Italy. Like Raphael's Marriage of the Virgin, the story of how Joseph became Mary's husband. See a rare surviving painting by Bramante, the first architect of St. Peter's in Rome, and the incredibly moving Pietà by the Venetian artist Giovanni Bellini.
The Venetian School
Bellini is one of many Venetians on this tour. His brother-in-law Mantegna has several works here. His Lamentation of Christ is one of his finest works and you'll understand why he intended to keep for himself. You'll hear stories of the great artists of the Venetian School, including Titian, popular with doges, princes and popes, and the prolific Tintoretto.
The art isn't all you'll see on your private tour of the Brera Gallery. Stop at the transparent restoration laboratory where you'll watch the fascinating conservation process of restoring the gallery's precious paintings.
Modern Art
In the 19th century, the Brera Academy made Milan the center of contemporary art in Italy.  The Director, Francesco Hayez, rose from poverty and painted one of the most famous pieces here. His painting, The Kiss, is so relatable that it has remained popular to this day.
You'll see several styles of 20th century art before the end of the tour. Decide which is your favorite from Umberto Boccioni's Futuristic Riot in the Gallery, Amedeo Modigliani's modern style developed while living in Paris, or Giorgio de Chirico's Metaphysical art.
BOOK NOW
---
Raphael

Giovanni and Gentile Bellini

Caravaggio

Tintoretto

Francesco Hayez

Umberto Boccioni

Leonardo Da Vinci
BOOK NOW
---
LivTours' group size of max 6 participants is and always has been based on sustainable travel, and we are proud to be at the forefront of change and innovation in the industry.  LivTours is committed to providing travelers with truly sustainable tours with the lowest possible environmental impact, all while supporting the local industries and people of each unique destination. To learn more about how you can actively support sustainable tourism  and how LivTours is contributing, click here.
BOOK NOW
---
When you book a LivTours Private Tour or Experience, you are guaranteed a dedicated, expert guide that allows you the flexibility to start your tour at a time which is convenient for you, making planning easy. Our private tours ensure that you will get a tailored experience to meet all your needs so we go at your pace, perfect for families with younger children, elderly, or individuals with accessibility needs. Please be advised that all private tours begin at a base price starting at two people*. Prices are inclusive of entry tickets where applicable. *Some Ferrari private experiences are inclusive of one person only.
BOOK NOW
---
Make your day even more unique and comfortable by upgrading your tour with a customizable LivTours optional add on!
BOOK NOW
---
By selecting Choose Dates Later / Buy as Gift at booking, any tour can be purchased without fixed dates. This is the perfect option if you want to purchase your tour as a gift for a loved one, or if you are in the pre-planning phase of your vacation. After booking, you will receive a Travel Voucher Code and full instructions on how to schedule your tours when ready. Once your travel plans are confirmed, you can easily use the Travel Voucher Code on the LivTours website to formally schedule your tours. You can find out more here.
BOOK NOW