Private Tour of Rome in a Day
---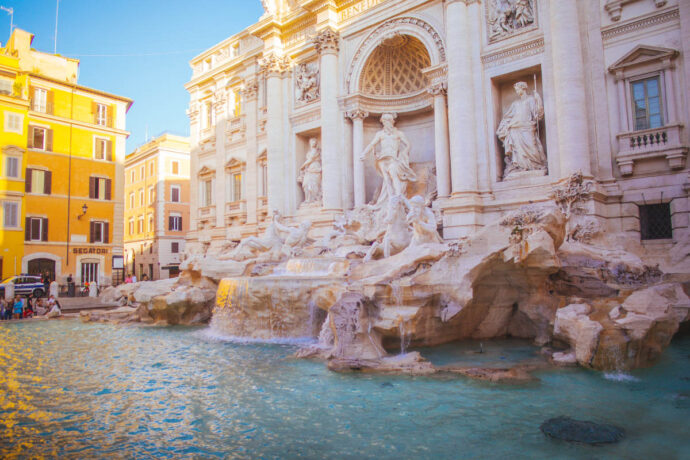 ---
LivTours Private Tour of Rome in a Day is designed for travelers who want to maximize their time in the Eternal City. You will be accompanied by your own guide and driver as you take in the must-see stops like the Colosseum, Sistine Chapel, Trevi Fountain, Pantheon, and much more. Your expert guide and chauffeur will make sure your day runs smoothly, taking the stress out of your day, allowing you to relax into the moment. LivTours years of experience to make sure your entrance tickets are optimally timed to avoid the most crowded parts of the day. 
You will enjoy priority access to the Colosseum, the Vatican and the Sistine Chapel, each stunning monuments, but represent two very different historical times. Your private guide will place those monuments, as well as the others you will be seeing, in a historical timeline, allowing you to gain a greater understanding of these renown buildings and monuments. For those with limited time in Rome, this LivTours' Private Tour of Rome makes the best use of your time! 
BOOK NOW
---
See all the Roman highlights on a private full day tour with a chauffeured Mercedes

Enjoy LivTours exclusive priority access into sites with your private expert guide

Skip the line access to the Roman Colosseum and ancient city ruins

Admire Rome's most iconic spots: the Trevi Fountain, Spanish Steps & Pantheon

Visit one of the most amazing art collections in the world - Vatican Museums

Admire Michelangelos stunning frescos on the ceiling of the Sistine Chapel

Get a personalized tour with an expert 5-star guide to navigate you around Rome
BOOK NOW
Exclusive private Tours and Experiences. Also offered in Spanish, French, Portuguese, Swedish and Russian
Our prices always include tickets and reservations fees (no waiting in lines!)
Our tour guides and staff are selected experts and speak perfect English
Easy to book and prepay your tours with our secure payment system
Eco-sustainable tourism, designed to respect and support local culture, art and traditions
---
Your LivTours Private Tour of Rome in a Day begins in front one the iconic landmark, the Colosseum. Your private guide will ensure that you have priority access into the Colosseum, whisk you through a quick security check, and then dive into the ancient Roman world. Your guide will regale you with stories of gladiator and animal fights, theater performance that took place right where you are standing. Get a dynamic description of the wondrous engineering feat visible in the construction of this famous Amphitheater. Walk up to higher levels and experience the amazing views the noble Romans would have enjoyed while you look at your next stops – the Palatine Hill and the Roman Forum. 
Known as ancient Rome's most exclusive neighborhood, The Palatine Hill is still covered by the ruins of Emperor Domitian's palace. You will discover the wonders of the Form, including the Temple of Julius Caesar, in the company of your expert private guide.  For literary fans, the Temple is the site Shakespeare chose for Marc Antony's famous speech!
Hop in your waiting chauffeured Mercedes that will take you through the cobblestone-lined heart of Rome allowing you to admire the Spanish Steps, Trevi Fountain and the Pantheon and experience the hustle and bustle of daily life. 
The Spanish Steps offers you one of the most breath-taking views in the city before being whisked to Palazzo Poli which offers many surprises with its flamboyant ensemble of wild horses and mythical beasts known at the Trevi Fountain and the grandeur of the awe-inspiring Pantheon will be site your expert guide will share with you on this full-day tour of Rome.   
Your chauffeur will take you to your next stop, The Vatican. But before entering it is time to take a quick stop for free time, lunch and recharge. After lunch, your day continues by visiting the Vatican with skip the line tickets. Please note that lunch is not included in the price of your tour. 
Once inside the Vatican, your guide will accompany you on an exploration of the vast collection of one of the world's best museums, sharing with you the works that most peak your interest.  After you've seen the Gallery of Maps, Gallery of Tapestries, the Raphael Rooms, and plenty more, your guide will take you to see Michelangelo's masterpiece – the Sistine Chapel.
Your tour will end in the magnificent St. Peter's Basilica which will leave you feeling confident that you have seen the best of Rome from start to finish.
BOOK NOW
---
Colosseum skip the line tickets

Roman Forum

Palatine Hill

Skip the line Vatican tickets

Sistine Chapel

St Peters Basilica

St Peters square

Pantheon

Spanish Steps

Trevi Fountain

Piazza Navona

Chauffeur between sites
BOOK NOW
---
The order of sites might might due to ticket availability.

Places of worship have strict dress code requirements for entry. All participants are required to have shoulders and knees covered (no tank tops or short dresses) to enter.

There is no photography allowed inside the Sistine Chapel.

St. Peter's Basilica is an active church and can be closed unexpectedly for liturgical ceremonies. If closed, the time inside the Vatican Museums will be extended.

Please be aware that the Sistine Chapel is a Holy Place and talking during your visit inside is strictly forbidden, therefore your guide will give you an explanation of the Sistine Chapel beforehand during your tour, in order to give you a comprehensive explanation before entering the chapel.

Larger backpacks are not permitted in the museum.

Offered in: English, French, Spanish, Portuguese, and Italian. Please specify under "Additional notes" if you wish to book the tour in a language other than English.
BOOK NOW
---
LivTours' group size of max 6 participants is and always has been based on sustainable travel, and we are proud to be at the forefront of change and innovation in the industry.  LivTours is committed to providing travelers with truly sustainable tours with the lowest possible environmental impact, all while supporting the local industries and people of each unique destination. To learn more about how you can actively support sustainable tourism  and how LivTours is contributing, click here.
BOOK NOW
---
When you book a LivTours Private Tour or Experience, you are guaranteed a dedicated, expert guide that allows you the flexibility to start your tour at a time which is convenient for you, making planning easy. Our private tours ensure that you will get a tailored experience to meet all your needs so we go at your pace, perfect for families with younger children, elderly, or individuals with accessibility needs. Please be advised that all private tours begin at a base price starting at two people*. Prices are inclusive of entry tickets where applicable. *Some Ferrari private experiences are inclusive of one person only.
BOOK NOW
---
Make your day even more unique and comfortable by upgrading your tour with a customizable LivTours optional add on!
Guide's Pickup at Central Hotel (Transport Excluded)
Add VIP visit to Cabinet of the Masks
One Way Pick-Up Transfer Service
Full Day Available Chauffeur
BOOK NOW
---
Very pleased with our tour
"We had a great tour in Rome. Guilia was very knowledgeable and professional. She was very concerned about my wife's mobility issues and adjusted the tour for us. Christiano was very professional and a great driver. Should we get back to Rome we'll certainly use your company and I'll recommend you to others "
A. Henkel - USA
---
Private tour of Rome
"My husband and I booked a personal tour with LivItaly online before our vacation to Rome... Very easy to book,.. We were given detailed instructions on when and where to meet, and Patricia was already there to personally greet us... Patricia is a local and very knowledgeable of Rome... Her background in history/archeology gave us the extra education we were excited to learn about... Thank You LivItaly!"
Leslie - UK
---
Excellent tour
"We highly recommend this tour. My husband and I learned so much from our guide Dario. He was able to customize our two tours to compensate for my husband's mobility issues. We had never been to Rome and in between the Vatican and Colosseum we got a City Tour, visit to the Pantheon and a chance to look through a special key hole. We will never forget this experience and this city."
Dotty - USA
---
BOOK NOW
---
By selecting Choose Dates Later / Buy as Gift at booking, any tour can be purchased without fixed dates. This is the perfect option if you want to purchase your tour as a gift for a loved one, or if you are in the pre-planning phase of your vacation. After booking, you will receive a Travel Voucher Code and full instructions on how to schedule your tours when ready. Once your travel plans are confirmed, you can easily use the Travel Voucher Code on the LivTours website to formally schedule your tours. You can find out more here.
BOOK NOW