Private Tour of National Gallery London
---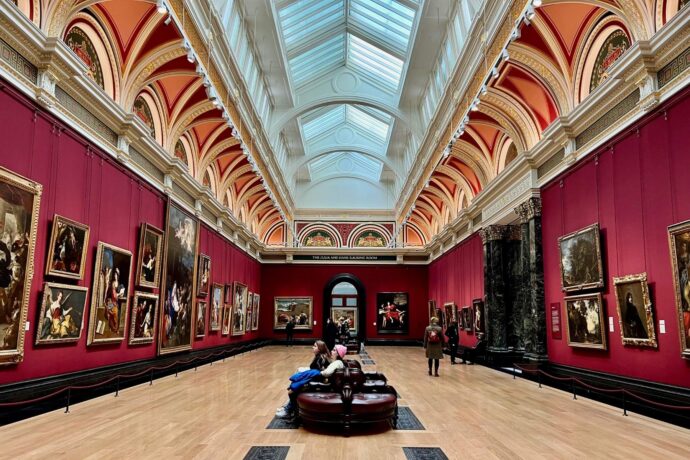 ---
Enjoy a privately guided tour of the magnificent National Gallery – a neo-classical temple dedicated to the arts on Trafalgar Square, in the heart of London. Opened to the public in 1824, it houses over 2300 masterpieces dating from the Middle Ages to 1900.
Learn about the paintings and the lives of artists from Michelangelo to Monet, as your expert guide shows you the highlights of this vast collection, including works by the Renaissance maestros, the Dutch masters, the Rococo and Romantic era, an exquisite collection of Impressionism and the gallery's most iconic painting: Stubbs astounding portrait of the horse, Whistlejacket. 
BOOK NOW
---
Enjoy the expert and personal attention of your private guide

Admire the grandeur of Trafalgar Square and Nelson's Column

Marvel at the stunning architecture of the National Gallery itself

Explore the treasure trove of art from the Renaissance to Impressionism

See works by the most revered artists of all time in a magnificent setting
BOOK NOW
Exclusive private Tours and Experiences. Also offered in Spanish, French, Portuguese, Swedish and Russian
Our prices always include tickets and reservations fees (no waiting in lines!)
Our tour guides and staff are selected experts and speak perfect English
Easy to book and prepay your tours with our secure payment system
Eco-sustainable tourism, designed to respect and support local culture, art and traditions
---
Meet your expert private guide outside the National Gallery in the magnificent Trafalgar Square dominated by Nelson's Column. Your guide will show you inside the National Gallery, built in 1824 and designed to be a neo-classical temple to the arts, to begin your tour. The Gallery houses an immense collection of around 2300 masterpieces spanning the medieval period right up until 1900, so you'll be taken on a magical journey through the history of Western art.
Inside this majestic building, you'll see some of the most iconic paintings of the Italian High Renaissance anywhere in the world. Highlights include Botticelli's Mars and Venus, Da Vinci's Virgin of the Rocks and an exquisite drawing of the Virgin and Child, portraits by Raphael, Michelangelo's Entombment, Titian's Bacchus and Ariadne, the Supper at Emmaus by Caravaggio and many more.
Wander into the Baroque era and admire the stunning Rokeby Venus by Velazquez, leading light of the Spanish Golden Age followed by works of the Dutch masters: Rubens, Rembrandt, Holbein, Vermeer and van Dyck – including the famous equestrian portrait of the ill-fated King Charles I of England who would lose his head during the English Civil War. 
Explore the Rococo and Romantic artists – the dreamy aristocratic portraits of Gainsborough and Reynolds, the romanticized landscapes of John Constable and the whimsical seascapes by Turner – including The Fighting Temeraire. 
You'll see the awe-inspiring, iconic life size portrait of the racehorse Whistlejacket painted in 1762 by George Stubbs.
Finally enter the mesmerizing wing of the Impressionists including Van Gogh's Sunflowers, dazzling works by Degas, Renoir, Seurat, and the venerable fathers of Impressionism Manet and Monet.
The National Gallery has a wonderful gift shop and café, where your tour ends, so that you can continue to browse at your own leisure.
BOOK NOW
---
Private tour of London's National Gallery

Selected highlights from over 2300 masterpieces

Works by Michelangelo, Da Vinci and Botticelli

Dutch and Rococo masters from Rubens to Reynolds

Paintings by Monet, Van Gogh and the Impressionist

Stubbs iconic painting of Whistlejacket
BOOK NOW
---
LivTours' group size of max 6 participants is and always has been based on sustainable travel, and we are proud to be at the forefront of change and innovation in the industry.  LivTours is committed to providing travelers with truly sustainable tours with the lowest possible environmental impact, all while supporting the local industries and people of each unique destination. To learn more about how you can actively support sustainable tourism  and how LivTours is contributing, click here.
BOOK NOW
---
When you book a LivTours Private Tour or Experience, you are guaranteed a dedicated, expert guide that allows you the flexibility to start your tour at a time which is convenient for you, making planning easy. Our private tours ensure that you will get a tailored experience to meet all your needs so we go at your pace, perfect for families with younger children, elderly, or individuals with accessibility needs. Please be advised that all private tours begin at a base price starting at two people*. Prices are inclusive of entry tickets where applicable. *Some Ferrari private experiences are inclusive of one person only.
BOOK NOW
---
Make your day even more unique and comfortable by upgrading your tour with a customizable LivTours optional add on!
Select your Transfer Option
225 €
391.50 A$
209.25 £
265.50 $
BOOK NOW
---
By selecting Choose Dates Later / Buy as Gift at booking, any tour can be purchased without fixed dates. This is the perfect option if you want to purchase your tour as a gift for a loved one, or if you are in the pre-planning phase of your vacation. After booking, you will receive a Travel Voucher Code and full instructions on how to schedule your tours when ready. Once your travel plans are confirmed, you can easily use the Travel Voucher Code on the LivTours website to formally schedule your tours. You can find out more here.
BOOK NOW