Private Tour from La Spezia Port to Florence & Pisa
---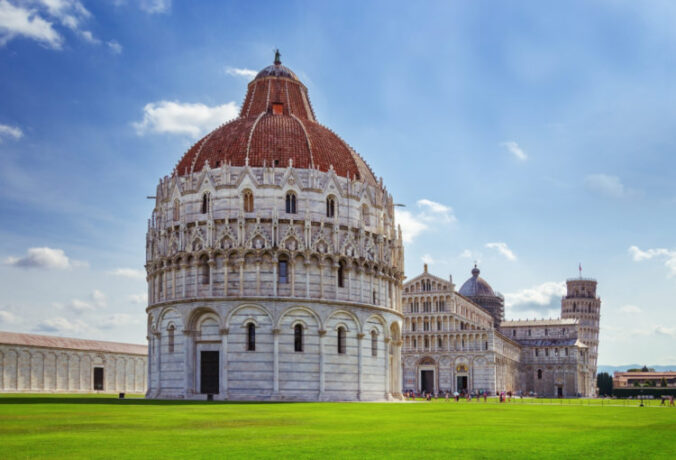 ---
LivTours Private Tour from La Spezia Port to Florence & Pisa is the perfect shore excursion if you are docking in La Spezia for the day. Your private guide will meet you at your cruise ship terminal to start your private journey across Tuscany. You will travel in comfort in an airconditioned luxury chauffeured van to visit Pisa and Florence while admiring the Tuscan countryside.
You will have time to explore Pisa where you will have a chance to admire the infamous Leaning Tower of Pisa and the Cathedral, a UNESCO World Heritage Site since 1987, while hearing the history and anecdotes behind their construction and restorations. Revel in luxury as your driver whisks you across the Tuscan countryside to Florence where you will have a chance to get some lunch before enjoying a private tour of the highlights of this Renaissance city. Your expert private guide will help you discover the oldest bridge in the city, Ponte Vecchio, the marble facade of the Duomo with its unique dome and includes priority access into the Galleria dell'Accademia,  which houses Michelangelo's statue of David. All of this in one day and returning you to your ship in time to set sail!
BOOK NOW
---
Discover the highlights of Tuscany in one day on this private shore excursion

Travel by private luxury chauffeured van with port pick up and drop off

Explore the famous Leaning Tower of Pisa a UNESCO World Heritage Site since 1987

Experience the highlights of Florence including Michelangelo's statue of David

Soak up the history and anecdotes of Tuscany's two gems with your private tour guide
BOOK NOW
Exclusive private Tours and Experiences. Also offered in Spanish, French, Portuguese, Swedish and Russian
Our prices always include tickets and reservations fees (no waiting in lines!)
Our tour guides and staff are selected experts and speak perfect English
Easy to book and prepay your tours with our secure payment system
Eco-sustainable tourism, designed to respect and support local culture, art and traditions
---
Your LivTours Private Tour from La Spezia Port to Florence & Pisa is a great way to make the most of your visit to Tuscany! Discovering Tuscany's gems with your own private tour guide and the private driver offers you the most comfort between your cruise ship in La Spezia, Florence, and Pisa. Waiting for you as you exit your cruise ship terminal, your private driver will take you to Pisa. Renowned for its leaning tower, but also for its stunning Medieval Baptistery and Cathedral and Pisa's most famous scientist, Galileo Galilei.
After you have finished admiring the beautiful highlights of Pisa, your driver will chauffeur you to your next big adventure, Florence. Before you begin exploring Florence, there is time for a lunch break at one of LivTours favorite restaurants allowing you to experience a small taste of Tuscan cuisine (lunch is not included in the price).
Renewed from your lunch break, it is time to set off and explore the wonders of this Renaissance city in the company of your expert private guide.  On this private walk, you will have the opportunity to learn about the city's interesting history and amusing anecdotes about the powerful Medici family. Most famous for its Renaissance roots, Florence dates back even further in history to ancient times. You will have a chance to see the key attractions such as the stunning square, Piazza della Signoria, filled with so many statues it is referred to as an outdoor museum; the oldest bridge in Florence, the unique Ponte Vecchio; and admire Michelangelo's statue of David.
You will enjoy priority access to the Galleria dell'Accademia, The Fine Arts Academy of Florence, which houses one of the most significant art pieces from the Renaissance, Michelangelo's statue of David.  Carved from one piece of discarded marble, the 17-foot statue is awe-inspiring.  Your guide will happily share with you entertaining stories about the life of the artists and point out symbols in their artwork as you admire other pieces in the Gallery.
Upon leaving the Gallery, your private car will be waiting to take you back to La Spezia and your cruise ship.
BOOK NOW
---
Full day chauffer service

Port pick up and drop off

Free time in Pisa

Leaning tower of Pisa (from outside)

Free time for local lunch

Guided tour of Florence

Piazza della Signora

Ponte Vecchio

Skip the line Accademia tickets

Michelangelos David
BOOK NOW
---
Children under 8 years old are not allowed into the Leaning Tower of Pisa
Individuals under 18 years old must be accompanied by an adult in the Leaning Tower of Pisa
Please note, the Pisa Baptistery will be closed for renovations from October 2nd-December 1st, 2023. The Tower and cathedral will still be open and visitable.
Please remember to add your cruise ship details – cruise line name, ship name, and dock  – under "Additional information" in the booking form.

Lunch is not included in the price of the tour.
BOOK NOW
---
LivTours' group size of max 6 participants is and always has been based on sustainable travel, and we are proud to be at the forefront of change and innovation in the industry.  LivTours is committed to providing travelers with truly sustainable tours with the lowest possible environmental impact, all while supporting the local industries and people of each unique destination. To learn more about how you can actively support sustainable tourism  and how LivTours is contributing, click here.
BOOK NOW
---
When you book a LivTours Private Tour or Experience, you are guaranteed a dedicated, expert guide that allows you the flexibility to start your tour at a time which is convenient for you, making planning easy. Our private tours ensure that you will get a tailored experience to meet all your needs so we go at your pace, perfect for families with younger children, elderly, or individuals with accessibility needs. Please be advised that all private tours begin at a base price starting at two people*. Prices are inclusive of entry tickets where applicable. *Some Ferrari private experiences are inclusive of one person only.
BOOK NOW
---
By selecting Choose Dates Later / Buy as Gift at booking, any tour can be purchased without fixed dates. This is the perfect option if you want to purchase your tour as a gift for a loved one, or if you are in the pre-planning phase of your vacation. After booking, you will receive a Travel Voucher Code and full instructions on how to schedule your tours when ready. Once your travel plans are confirmed, you can easily use the Travel Voucher Code on the LivTours website to formally schedule your tours. You can find out more here.
BOOK NOW