Private Sunset Walking Tour of Rome
---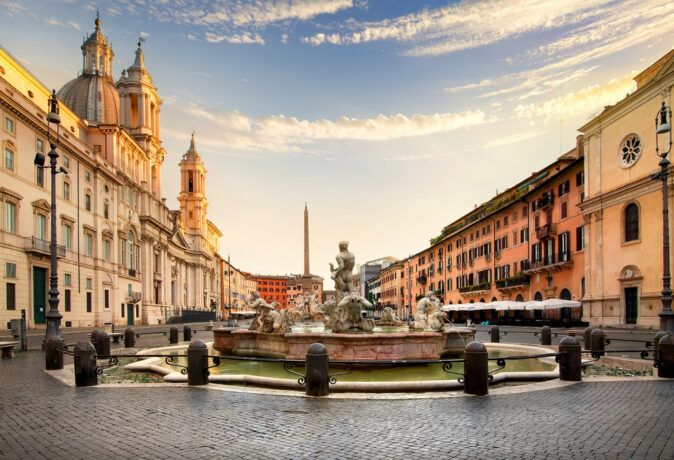 ---
LivTours Private Sunset Walking Tour of Rome takes place at the perfect time to capture the magical moment as the sun begins to set on the Eternal City. In the glow of the evening light, the city's buildings become stunningly more vibrant; ancient monuments, bridges, and fountains become dazzlingly illuminated by city lights. And, local Romans, done with their workday, begin to fill the streets and piazzas meeting up with friends and family for the daily Italian ritual known as la passeggiata. On this spectacular tour, you will be able to take part in the magic for yourself in the company of your private guide.
This is your chance to see the most famous highlights of Rome while maximizing your time as your private local guide leads the way, allowing you to be in the moment and leave the logistics to us! In the historic center, you will see the  Pantheon, the Spanish Steps, and Piazza Navona – home of the former Roman Circus (think chariot races) and is now the largest square in the Eternal City. Your private guide will make sure to stop at the Trevi Fountain, a must for any visitor to Rome, so you can toss a coin over your shoulder into the fountain and seal the deal for your return to the Eternal City!
Towards the end of your evening private tour, enjoy gelato from the best gelateria in town!
BOOK NOW
---
Enjoy a private walking tour of Rome & enjoy a magical evening in the Eternal City

See the most important highlights of Rome with a private expert guide

Explore Rome at its famous 'golden hour', its most picturesque & romantic time

Admire the Trevi Fountain, the Pantheon in the pastel hues of the evening light

Savor a delicious gelato from the best gelateria in Rome under the twinkling lights
BOOK NOW
Exclusive private Tours and Experiences. Also offered in Spanish, French, Portuguese, Swedish and Russian
Our prices always include tickets and reservations fees (no waiting in lines!)
Our tour guides and staff are selected experts and speak perfect English
Easy to book and prepay your tours with our secure payment system
Eco-sustainable tourism, designed to respect and support local culture, art and traditions
---
Your LivTours Private Sunset Walking Tour of Rome starts by meeting your guide near the Spanish Steps. You will discover why this monumental staircase with 135 steps was funded by a wealthy French aristocrat. After spending time on the Spanish Steps, your guide will lead you into the maze of charming cobblestone streets and alleyways that make up Rome's most historic quarter. As you stroll under the evening sky, your guide will share with you interesting stories and historical facts about the innumerable little fountains dotted around the city, beautiful buildings, and hidden piazzas you pass. Next, it is on to the Trevi Fountain, the largest Baroque fountain in the city. Appearing in several films, including Fellini's la Dolce Vita, this elegant fountain which stands 86 feet high and just over 160 feet wide took over a century to build. Make sure you throw a coin in the fountain to return to Rome!
A short walk later you will come to the Pantheon, a former Roman Temple it is now a Catholic church. Dating back to 27 BC, it is a triumphal accomplishment in engineering; to discover how the construction materials of this immense site were brought from Egypt. Once you have finished admiring the most well-preserved monument from Roman times, your guide will lead you to the largest square in Rome, la Piazza Navona. Notice the shape of the square that was once the seat of the Roman Circus, and open space stadium. Admire the Baroque fountains and hear the meaning behind the statues and decorations.
Your private tour includes an opportunity to try a delicious gelato from one of Rome's best and most authentic gelaterias!
BOOK NOW
---
Guided tour in the heart of Rome

Spanish steps

Trevi Fountain

Column of Marcus Aurelius

Temple of Hadrian

Pantheon

Piazza Navona

Fountain of the four rivers
BOOK NOW
---
Comfortable walking shoes recommended.

Offered in: English, French, Spanish, Portuguese, and Italian. Please specify under "Additional notes" if you wish to book the tour in a language other than English.
BOOK NOW
---
LivTours' group size of max 6 participants is and always has been based on sustainable travel, and we are proud to be at the forefront of change and innovation in the industry.  LivTours is committed to providing travelers with truly sustainable tours with the lowest possible environmental impact, all while supporting the local industries and people of each unique destination. To learn more about how you can actively support sustainable tourism  and how LivTours is contributing, click here.
BOOK NOW
---
When you book a LivTours Private Tour or Experience, you are guaranteed a dedicated, expert guide that allows you the flexibility to start your tour at a time which is convenient for you, making planning easy. Our private tours ensure that you will get a tailored experience to meet all your needs so we go at your pace, perfect for families with younger children, elderly, or individuals with accessibility needs. Please be advised that all private tours begin at a base price starting at two people*. Prices are inclusive of entry tickets where applicable. *Some Ferrari private experiences are inclusive of one person only.
BOOK NOW
---
Make your day even more unique and comfortable by upgrading your tour with a customizable LivTours optional add on!
One Way Pick-Up Transfer Service
75 €
130.50 A$
69.75 £
88.50 $
BOOK NOW
---
An enchanting evening stroll
"The two best times to see Rome, my husband and I have decided, are at sunrise and sunset. We were particularly enchanted with our sunset walking tour with Giulia. The tourist crowds have thinned and you experience that special, relaxed walk through a city that never ceases to impress! Giulia was a wonderful guide and a lovely, gracious person with whom we felt immediately at ease. This tour was everything we had desired and more! Thank you Giulia and thank you LivTours. "
Wanda - Australia
---
Memorable experience
"We were so happy that we booked the private walking tour at sunset. The colors of the city, on the monuments and the reflections on the river take on a very special nuance when the sun is setting. As our guide Rachel described the beautiful places we visited, we joined the romans in their traditional evening stroll and watched the sun set over St. Peter's dome. We will never forget this very special experience!"
Katlin - USA
---
BOOK NOW
---
By selecting Choose Dates Later / Buy as Gift at booking, any tour can be purchased without fixed dates. This is the perfect option if you want to purchase your tour as a gift for a loved one, or if you are in the pre-planning phase of your vacation. After booking, you will receive a Travel Voucher Code and full instructions on how to schedule your tours when ready. Once your travel plans are confirmed, you can easily use the Travel Voucher Code on the LivTours website to formally schedule your tours. You can find out more here.
BOOK NOW