Private St Mark's and Doge's Palace Tour at Night
---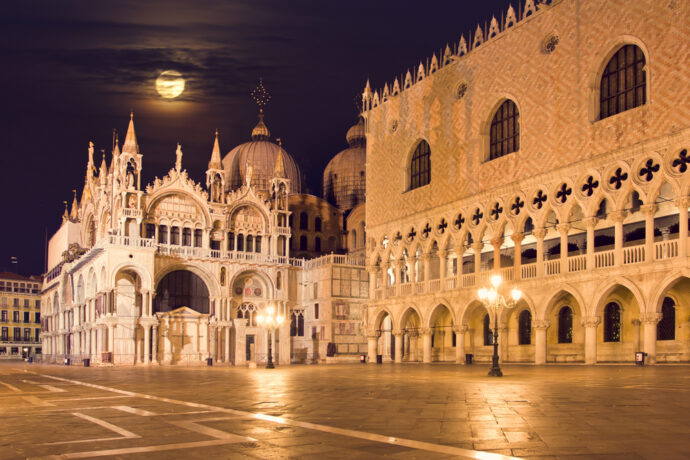 ---
LivTours' Private St Mark's and Doge's Palace Tour at Night is a perfect way to visit two of the most famous sights in the city. Your private guide will regale you with the stories of famous prisoners who were kept in the dungeons of the Doge's Palace, discover the most famous one! Hear the anecdotes of his great escape, roam the opulent rooms of the Doge's Palace before making your way just next door to St Mark's Basilica.  The Basilica was the Doge's private chapel until the 19th Century.   You will enjoy exclusive access to the basilica which is reserved for LivTours!
Enjoy the luxury of having a private expert guide to lead you through the city's two most history-rich buildings after-hours.  Spend time exploring Doge's Palace near its closure, the former seat of the most powerful person in the Venitian Republic, the Doge (Grand Duke in English). LivTours offers you private and exclusive access into St Mark's Basilica where you will be entirely alone in the darkness of the basilica, with anticipation for the spectacular light show which slowly highlights the sacred art and mosaics which adorn the golden mosaic ceilings.
Come take an enchanting tour of Italy's most romantic city!
BOOK NOW
---
Enjoy exclusive priority access to St Mark's Basilica at night on this private tour

Explore Saint Mark's golden mosaic ceiling, Pala D'Oro altarpiece & St. Mark's Crypt

Hear the thousand year old tales of the Doge, the leader of the Venetian Republic

Discover how Italy's most famous piazza - St Mark's Square - was started

Savor the luxury of a private bespoke tour with your own private expert guide
BOOK NOW
Exclusive private Tours and Experiences. Also offered in Spanish, French, Portuguese, Swedish and Russian
Our prices always include tickets and reservations fees (no waiting in lines!)
Our tour guides and staff are selected experts and speak perfect English
Easy to book and prepay your tours with our secure payment system
Eco-sustainable tourism, designed to respect and support local culture, art and traditions
---
Your LivTours' Private St Mark's and Doge's Palace Tour at Night start in one of the most beautiful squares in all of Venice – St Mark's Square – which has stood for over a millennial.   As you admire, St Mark's Basilica was inspired by ancient churches from the East, your guide will give you a good idea of the timelines and history of Venice's famous piazza before making your way inside the Doge's Palace.  An exemplary work of Venetian Gothic architecture it was once the seat of the Venetian Republic and their leader, the Doge. For over 700 years, this impressive palace has housed 120 powerful Doges, as well as the government offices, prison cells and the court. You will be mesmerized by the stories your guide will share with you as you stroll through the Doge's private, ornate apartments and impressive halls with their enormous paintings and frescoes. Walking through the corridors with your private LivTours guide you will appreciate the whole gamut of Venice's history, not only the romantic and polished side, but this tour also takes you behind the scenes, allowing you to learn about the fear the Palazzo Ducale used to represent. Your private guide will regale you with the stories of famous prisoners who were kept in the dungeons of the Doge's Palace, discover the most famous one!
Once you have finished enjoying the Doge's Palace the sun will have set and the darkness which has taken its place will offer the perfect atmosphere for your next stop.  There will be no crowds and no waiting in line as LivTours Tours has exclusive access to the basilica at night so only you and your tour guide will be admitted. Imagine being alone at night in St Mark's!
When you enter, the church will be in complete darkness, your guide will help you find your way to the perfect pew.  But get your camera ready, as one by one the lights will be turned on to reveal gorgeous ceiling mosaics. This is truly a one of a kind tour which will leave you with unforgettable memories, making history come to life – and light!
During your time in St Mark's your guide will take you to see normally restricted areas showing you the Pala D'oro, an ancient altarpiece made entirely of gold and silver, and decorated with over 1300 pearls and 1900 precious gemstones, which is almost impossible to see during the day due to the large crowds.
Your tour of the basilica will also include access to the crypts where some of the wealthiest Venetians, including St Mark, were laid to rest. Learn how the crypt floor was actually raised in the 16th century due to excessive water levels and flooding.
This complete nighttime tour is an absolute must for travelers looking for something different with exclusive access to the two most important historic venues of Venetian history.
Perfect for all ages and all history levels, this is a must for Venice travelers!
BOOK NOW
---
Evening Tour of Doge's Palace

Bridge of Sighs

Prison of Doge's Palace

Exclusive Access into St Mark's Basilica

Pala d'Oro

Crypt of St Mark's
BOOK NOW
---
Places of worship have strict dress code requirements for entry. All participants are required to have shoulders and knees covered (no tank tops or short dresses) to enter.

Due to the highly variable nighttime opening and closing times of Doge's and St. Mark's, your tour may need to take up to a 1.5 hour break between the two sites, in which case your guide will recommend a local restaurant or bar in which to wait. In some cases, however, there will be no break. In all cases, the total duration of the guided tour will ALWAYS be three hours, regardless of the break time.
BOOK NOW
---
LivTours' group size of max 6 participants is and always has been based on sustainable travel, and we are proud to be at the forefront of change and innovation in the industry.  LivTours is committed to providing travelers with truly sustainable tours with the lowest possible environmental impact, all while supporting the local industries and people of each unique destination. To learn more about how you can actively support sustainable tourism  and how LivTours is contributing, click here.
BOOK NOW
---
When you book a LivTours Private Tour or Experience, you are guaranteed a dedicated, expert guide that allows you the flexibility to start your tour at a time which is convenient for you, making planning easy. Our private tours ensure that you will get a tailored experience to meet all your needs so we go at your pace, perfect for families with younger children, elderly, or individuals with accessibility needs. Please be advised that all private tours begin at a base price starting at two people*. Prices are inclusive of entry tickets where applicable. *Some Ferrari private experiences are inclusive of one person only.
BOOK NOW
---
One of a kind experience
"Nic was incredible. Very personable. Lots of jokes. He really crafted a one of a kind experience for us. "
Cutter
---
BOOK NOW
---
By selecting Choose Dates Later / Buy as Gift at booking, any tour can be purchased without fixed dates. This is the perfect option if you want to purchase your tour as a gift for a loved one, or if you are in the pre-planning phase of your vacation. After booking, you will receive a Travel Voucher Code and full instructions on how to schedule your tours when ready. Once your travel plans are confirmed, you can easily use the Travel Voucher Code on the LivTours website to formally schedule your tours. You can find out more here.
BOOK NOW