Private Shore Excursion from Livorno Port to Florence
---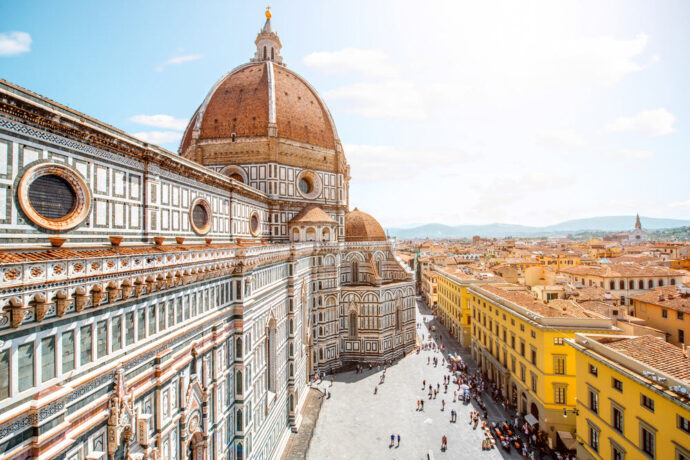 ---
LivTours Shore Excursion from Livorno Port is the perfect private full-day tour to Florence. Beginning with private luxury transportation, this tour is the ideal way to maximize your time in port! Explore the highlights of Florence in the company of a private expert guide. You will have a chance to visit the oldest bridge in Florence, Ponte Vecchio, the unique Duomo with pink and green marble exterior, and the lesser-known gems in between. LivTours allows you to personalize your tour by choosing between visiting the Galleria dell'Accademia, which houses Michelangelo's statue of David, or the Uffizi Gallery that houses Botticelli's The Birth of Venus amongst other great works of Byzantine and Renaissance art.
This full-day tour is the best way to see the highlights of Florence in comfort if you are docking in Livorno!
BOOK NOW
---
Experience a private shore excursion to the birthplace of the Renaissance, Florence

Enjoy the ease of a private chauffeured transportation with port pick up & drop off

Maximize your time in Florence with an expert private local tour guide

Personalize your tour by choosing between two of the city's top museums

Soak up the anecdotes & history behind centuries old facades with an engaging guide
BOOK NOW
Exclusive private Tours and Experiences. Also offered in Spanish, French, Portuguese, Swedish and Russian
Our prices always include tickets and reservations fees (no waiting in lines!)
Our tour guides and staff are selected experts and speak perfect English
Easy to book and prepay your tours with our secure payment system
Eco-sustainable tourism, designed to respect and support local culture, art and traditions
---
Your LivTours Shore Excursion from Livorno Port to Florence eases you into Tuscany when your private driver meets you at your cruise ship port. Enjoy the rolling green hills of Tuscany from the luxury of an air-conditioned luxury car as your chauffeur takes you to the center of Florence where you will be met by your private tour guide.
Upon arrival in Florence, your LivTours expert tour guide will greet you and start the tour by giving you a brief introduction to the city while admiring one of the most beautiful squares in Tuscany, Piazza della Signoria. Chock full of sculptures, including a reproduction of Michelangelo's David, and Renaissance buildings, it is known as Florence's outdoor museum. This square represents the political and economic power of numerous centuries of Italian history including the Palazzo Vecchio, which you will step into to admire the spectacular examples of Florentine architecture.
Your tour continues as your guide takes you to discover firsthand the most famous landmarks of Florence, as well as a few hidden gems with interesting stories. One of the most iconic monuments, the Ponte Vecchio. Literally meaning the old bridge, with its unique history and hidden corridor of the aristocrats, is a must-see for any visitor.  Not to be missed is the Cathedral of Florence, known as Il Duomo with its imposing and cleverly designed dome, not to mention the Baptistery with its golden doors, as well as Michelangelo's burial spot in the Basilica di Santa Croce. Uncovering the many layers of history in a city like Florence is best done in the company of a private expert local guide who will take you "off the beaten track" to hear some great anecdotes and interesting facts, making the city all the more interesting.
Your LivTours guide will happily give you restaurant suggestions for lunch and you will have time to enjoy a typical Tuscan meal (not included in the price) before continuing your exploration of Florence.
One of the luxuries of having a private tour is that you can personalize your time with your guide seeing the monuments that interest you the most. LivTours takes it one step further by giving you the choice of entering one of the two most visited museums in the city! During the booking process, you will be given the choice of visiting the Uffizi Gallery (think Renaissance art, like Botticelli's The Birth of Venus) or the Galleria dell'Accademia (think Michelangelo's statue of David).
Whichever museum you choose, your expert guide will be there at your side with engaging stories and history, bringing the art to life. You will enjoy priority access at either museum, skipping the often long lines, and maximizing your time in Florence.  Before leaving the city in your chauffeured car, you will have the chance to say a proper goodbye to Florence from the Piazza Michelangelo you will have a spectacular panoramic view over the city, with the afternoon sun the terracotta rooftops glow a soft burnt orange. Your guide will point out the landmarks you have seen during your walking tour. Take a few minutes for photos of this unforgettable day before climbing aboard your private luxury transportation back to the port!
BOOK NOW
---
Chauffeured pickup and drop-off service

Fully guided tour in Florence

Piazza della Signoria

Palazzo Vecchio

Ponte Vecchio

Florence Duomo (from outside)

Florence Baptistery (from outside)

Giottos Bell Tower (from outside)

Either Uffizi or Accademia visit

Piazza Michelangelo viewpoint
BOOK NOW
---
Offered in: English, French, Spanish, Portuguese, and Italian. Please specify under "Additional notes" if you wish to book the tour in a language other than English.

Please remember to add your cruise ship details – cruise line name, ship name, and dock – under "Additional information" in the booking form.
BOOK NOW
---
LivTours' group size of max 6 participants is and always has been based on sustainable travel, and we are proud to be at the forefront of change and innovation in the industry.  LivTours is committed to providing travelers with truly sustainable tours with the lowest possible environmental impact, all while supporting the local industries and people of each unique destination. To learn more about how you can actively support sustainable tourism  and how LivTours is contributing, click here.
BOOK NOW
---
When you book a LivTours Private Tour or Experience, you are guaranteed a dedicated, expert guide that allows you the flexibility to start your tour at a time which is convenient for you, making planning easy. Our private tours ensure that you will get a tailored experience to meet all your needs so we go at your pace, perfect for families with younger children, elderly, or individuals with accessibility needs. Please be advised that all private tours begin at a base price starting at two people*. Prices are inclusive of entry tickets where applicable. *Some Ferrari private experiences are inclusive of one person only.
BOOK NOW
---
Make your day even more unique and comfortable by upgrading your tour with a customizable LivTours optional add on!
Choose your complimentary museum preference
BOOK NOW
---
Great day in Florence and Pisa
"When our cruise ship stopped in Livorno, we were met at the port by our driver and taken in a comfortable black Mercedes directly to Florence. Our driver was very professional and personable and had bottles of water for each of us. In Florence we met our tour guide, Raffaela. We all loved Rafaella! She is a lovely person who was raised in Italy and speaks perfect English (with a Boston accent). Rafaella is very professional and extremely knowledgeable in art, history, culture, government, and pretty much everything else. She seems to know all the locals in the city and it was a joy to watch her interact with everyone; her connections also helped us avoid lines and waits in various locations. We toured much of the city walking through narrow alleys and seeing beautiful architecture, multiple public squares (Piazza della Signoria and Piazza della Repubblica), cathedrals (Basilica di Santa Croce, the Duomo, the Baptistery, Orsanmichele), Michelangelo's David (at the Galleria dell'Accademia), the Ponte Vecchio, and many other memorable sights. In Pisa we visited the Piazza del Duomo where we viewed the Cattedrale di Pisa and Leaning Tower from the outside. Rafaella and our driver dropped us off back at the ship where we all said goodbye. It was a wonderful day and a wonderful tour. Thank you LivItaly and Rafaella!"
Stefanie - USA
---
BOOK NOW
---
By selecting Choose Dates Later / Buy as Gift at booking, any tour can be purchased without fixed dates. This is the perfect option if you want to purchase your tour as a gift for a loved one, or if you are in the pre-planning phase of your vacation. After booking, you will receive a Travel Voucher Code and full instructions on how to schedule your tours when ready. Once your travel plans are confirmed, you can easily use the Travel Voucher Code on the LivTours website to formally schedule your tours. You can find out more here.
BOOK NOW