Venetian Lagoon Experience Rowing in Venice
---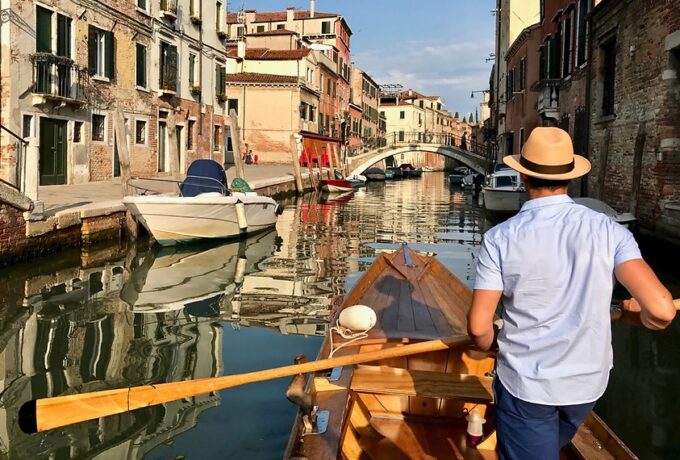 ---
LivTour's Rowing in Venice Experience is an enticing way to discover one of the city's more treasured traditions. In a city surrounded and built on water, boats have long been the central mode of transportation.  There are no roads or cars in this city, only canals and boats! This experience is one that you will never forget as you learn the traditional rowing technique that only Venetians know.  You will be rowing in one of the city's rare and traditional wooden boats. This immersive experience allows you to feel like a real local.
LivTours constantly look for the absolute best way to experience a city like a local so that you can completely immerse yourself in the wonders of where you are. This Venetian Rowing Class will give you the opportunity to learn this unique technique only used by locals. Once you are ready, you will sail out into the canal to put your oar in and give it a try yourself.  Fun for the whole family and no experience required!
BOOK NOW
---
Experience the art of rowing in the Venice lagoon, the oldest tradition in Venice

Learn to row a rare and traditional wooden Venetian boat, known as the batella

Get insider tips & special rowing techniques from local rowing experts

Enjoy the quieter side of the Venice lagoon, allowing you to row freely & safely

Gain a first-hand appreciation for the traditions & customs of this city on water
BOOK NOW
Exclusive private Tours and Experiences. Also offered in Spanish, French, Portuguese, Swedish and Russian
Our prices always include tickets and reservations fees (no waiting in lines!)
Our tour guides and staff are selected experts and speak perfect English
Easy to book and prepay your tours with our secure payment system
Eco-sustainable tourism, designed to respect and support local culture, art and traditions
---
Your adventure starts near the Fondamente Nove Ferry Station, located in the northern district of Cannaregio. It is a quieter district away from the crowds, thus avoiding the busy waterways near the city's most famous landmarks. The calm waters allow you to truly enjoy this unique experience while you learn to row like a true Venetian!
Your class will teach you Venetian's traditional style of rowing, voga alla veneta, in a hand-crafted wooden boat unique to Venice and referred to locally as a batella with its shrimp-tail-like design. These boats are not gondolas and boast unique shapes and features that are now extremely rare, making this an even more exclusive experience. Additionally, these boats are smaller and easier to balance than a gondola, allowing you to master the art of rowing quickly without any experience needed!
Traditional rowing in Venice, voga alla veneta, is done standing up and facing forward while you row gliding through the canals while allowing the captain a clear view of traffic up ahead. This unique technique has been passed down for hundreds of years and many locals are trying to preserve this tradition for future generations.
Your lesson will start with an introduction to these beautiful Venetian boats that were once the most popular boat in the city before motorboats. Before you hit the open waters, you will learn the basic techniques of rowing from a local Venetian rower and you will have a chance to practice while the boat is still moored.  Once you feel confident, you will set sail with your expert Venetian rower with you as you take turns rowing and even learn to steer like a professional.
Once your rowing in Venice class is complete, you can enjoy a leisurely ride through the pretty canals back to the drop-off point where you started. You will have truly experienced Venice like a local, standing in a traditional Venetian boat, rowing down one of its canals. An immersive experience to remember forever!
BOOK NOW
---
Private interactive rowing instruction

Row a traditional & rare batella boat

Learn the traditional rowing technique

Immersive local experience
BOOK NOW
---
If you have any children on the booking, please include their age in the "notes" at checkout.
Offered in: English, French, Spanish, Portuguese, and Italian. Please specify under "Additional notes" if you wish to book the tour in a language other than English.
BOOK NOW
---
LivTours' group size of max 6 participants is and always has been based on sustainable travel, and we are proud to be at the forefront of change and innovation in the industry.  LivTours is committed to providing travelers with truly sustainable tours with the lowest possible environmental impact, all while supporting the local industries and people of each unique destination. To learn more about how you can actively support sustainable tourism  and how LivTours is contributing, click here.
BOOK NOW
---
When you book a LivTours Private Tour or Experience, you are guaranteed a dedicated, expert guide that allows you the flexibility to start your tour at a time which is convenient for you, making planning easy. Our private tours ensure that you will get a tailored experience to meet all your needs so we go at your pace, perfect for families with younger children, elderly, or individuals with accessibility needs. Please be advised that all private tours begin at a base price starting at two people*. Prices are inclusive of entry tickets where applicable. *Some Ferrari private experiences are inclusive of one person only.
BOOK NOW
---
By selecting Choose Dates Later / Buy as Gift at booking, any tour can be purchased without fixed dates. This is the perfect option if you want to purchase your tour as a gift for a loved one, or if you are in the pre-planning phase of your vacation. After booking, you will receive a Travel Voucher Code and full instructions on how to schedule your tours when ready. Once your travel plans are confirmed, you can easily use the Travel Voucher Code on the LivTours website to formally schedule your tours. You can find out more here.
BOOK NOW