Private Pisa Tour from Florence
---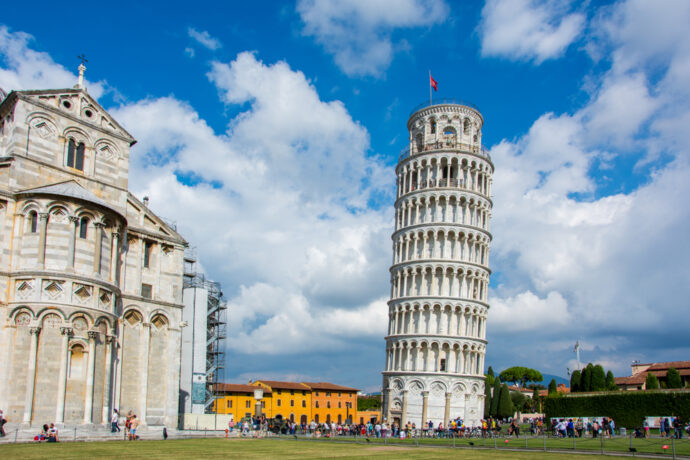 ---
LivTours' Private Pisa tour from Florence Is your chance to climb the world-renowned Leaning Tower of Pisa and tour its neighboring cathedral and baptistery, a UNESCO World Heritage Site since 1987. Your private guide will share with you the history and anecdotes behind the construction and restoration projects that have made the Leaning Tower while nor perfect, less leaning.
This half day trip from Florence is an excellent way to see the enchanting city of Pisa, while leaving you plenty of time to enjoy the rest of the day back in Florence. Travelers on this half-day tour of Pisa can expect to see the highlights of this charming Tuscan city. Your private guide will make sure that you stop at the Baptistery and the Cathedral, take a stroll through one of the city's elegant parks and, of course, climb to the top of the Leaning Tower of Pisa!
LivTours Private Pisa tour from Florence is ideal for travelers who value the comfort of touring with a private tour guide—on this tour you will have an expert local guide who will accompany you from start to finish so you can fully experience this Tuscan town without having to stress about the details.
Come enjoy a half day tour of Pisa with us!
BOOK NOW
---
Enjoy a half day tour of one of Tuscany's gems, Pisa, with an expert private guide

Climb the famous Leaning Tower of Pisa, a UNESCO World Heritage Site since 1987

Rest easy as your private tour guide takes care of transport & tickets on your behalf

Return to Florence with plenty of time to enjoy the rest of your day

Visit the Baptistery, Cathedral, and historic center of Pisa
BOOK NOW
Exclusive private Tours and Experiences. Also offered in Spanish, French, Portuguese, Swedish and Russian
Our prices always include tickets and reservations fees (no waiting in lines!)
Our tour guides and staff are selected experts and speak perfect English
Easy to book and prepay your tours with our secure payment system
Eco-sustainable tourism, designed to respect and support local culture, art and traditions
---
LivTours' Private Pisa tour from Florence starts by meeting your private guide at a central location, just near the Santa Maria Novella Station. Your guide will already have your train tickets and once you're onboard you can sit back and enjoy one of the most beautiful train rides in Italy, with views of rolling hilltops as far as the eye can see. The one hour train ride will give your private guide plenty of time to tell you about Tuscany, as well as prepare you for your Pisa tour!
Upon arrival in Pisa, you and your private tour guide will take a 10 minute taxi ride to the "Piazza of Miracles"—home to the Cathedral, Baptistery, and the famous Leaning Tower! Your walking tour starts with a visit to the Baptistery, where your expert guide will share with you the history of this beautiful building as you explore the interior together. You will find out how this very building is built on the same unstable foundations as that of the Leaning Tower of Pisa and how it is the largest baptistery in Italy! Admire the magnificent Romanesque and Gothic styles before moving into the cathedral.
The next stop on your walking tour will be the Cathedral of Pisa. Built incorporating several different architectural styles—Byzantine, classical, and Islamic—it is a stunning piece of architecture. Construction of the cathedral started in 1063, the same year that Saint Mark's Basilica began its reconstruction in Venice. Both cities were important maritime towns with a commercial focus and this was a clear indication of their rivalry! Notice that the Cathedral of Pisa was built outside of the early medieval walls, to show that the citizens of Pisa had no fear of being attacked.
As you exit the cathedral, your expert guide will accompany you to the site you have been waiting to see—the Leaning Tower of Pisa. This world famous building with a slight tilt wins the hearts of travelers, but before climbing to the top, your guide will tell you about its facts and curious anecdotes, so you have everything you need to know before your climb up. You will find out why this building leans and what feats of engineering have been put in place to keep it from falling over! Leaving your guide behind for this epic climb, you will enter with pre-reserved tickets go right up to the top to enjoy some of the best views over Tuscany. Once you have got your fair share of gorgeous panoramas,  meet your tour guide back down at the bottom to continue.
You will now leave the Piazza of Miracles behind and head take a relaxing still through one of the nearby parks so you can fully enjoy the natural beauty that Tuscany is so well known for. Afterwards, you will explore the historic city center of Pisa—a quaint Renaissance city with famous former inhabitants (every heard of a guy named Galileo?). After strolling along the Arno and maybe stopping for some Gelato, jump back on the train and enjoy the rest of your day in Florence!
LivTour's half day in Pisa is organized so that you see all the major landmarks of the city with an expert guide and get back to Florence with plenty of time to spare. This is the perfect tour for anyone who is staying in Florence and curious to see other nearby cities in the most time-efficient way possible.
Travelers are welcome to enhance their private Pisa tour from Florence with a chauffeured luxury car which includes pick-up and drop-off service from and to Pisa. Travelers who opt for the private chauffeured car will have 100% door-to-door service in a luxury car, offering complete comfort during your  tour of Pisa.
BOOK NOW
---
Round trip train tickets to Pisa

Guided tour of Pisa's historic center

Tickets for the baptistery

Cathedral of Pisa

Tickets to Climb the Leaning Tower of Pisa
BOOK NOW
---
Children under 8 years old are not allowed into the Leaning Tower of Pisa
Individuals under 18 years old must be accompanied by an adult in the Leaning Tower of Pisa
Please note, the Pisa Baptistery will be closed for renovations from October 2nd-December 1st, 2023. The Tower and cathedral will still be open and visitable.

Offered in: English, French, Spanish, Portuguese, and Italian. Please specify under "Additional notes" if you wish to book the tour in a language other than English.
BOOK NOW
---
LivTours' group size of max 6 participants is and always has been based on sustainable travel, and we are proud to be at the forefront of change and innovation in the industry.  LivTours is committed to providing travelers with truly sustainable tours with the lowest possible environmental impact, all while supporting the local industries and people of each unique destination. To learn more about how you can actively support sustainable tourism  and how LivTours is contributing, click here.
BOOK NOW
---
When you book a LivTours Private Tour or Experience, you are guaranteed a dedicated, expert guide that allows you the flexibility to start your tour at a time which is convenient for you, making planning easy. Our private tours ensure that you will get a tailored experience to meet all your needs so we go at your pace, perfect for families with younger children, elderly, or individuals with accessibility needs. Please be advised that all private tours begin at a base price starting at two people*. Prices are inclusive of entry tickets where applicable. *Some Ferrari private experiences are inclusive of one person only.
BOOK NOW
---
Make your day even more unique and comfortable by upgrading your tour with a customizable LivTours optional add on!
695 €
1,209.30 A$
646.35 £
820.10 $
BOOK NOW
---
Amazing
"Our guide for this tour was Lurica, and she was fabulous! She helped us go from Florence to Pisa and gave us all the information we needed to know, she was also able to get us tickets to the top of the leaning tower of Pisa which was wonderful to see!"
Alawati - United States
---
The uniqueness of Pisa
"We wanted to see Pisa so while we were staying in Florence, we took LivItaly's half day Pisa tour. All of the transportation and tickets were taken care of by the LivItaly host so this was a completely stress-free excursion. In Pisa, we saw the Cathedral and Bapistry and, of course, the Leaning Tower which we walked up. Our guide, Irma, was just fantastic and we went back to Florence with a new understanding of the historical importance and the beauty of Pisa. We were really happy that we had booked this tour. Thanks LivItaly!"
Alison - USA
---
BOOK NOW
---
By selecting Choose Dates Later / Buy as Gift at booking, any tour can be purchased without fixed dates. This is the perfect option if you want to purchase your tour as a gift for a loved one, or if you are in the pre-planning phase of your vacation. After booking, you will receive a Travel Voucher Code and full instructions on how to schedule your tours when ready. Once your travel plans are confirmed, you can easily use the Travel Voucher Code on the LivTours website to formally schedule your tours. You can find out more here.
BOOK NOW