Private Père Lachaise Tour | Famous Graves and Historic Monuments
---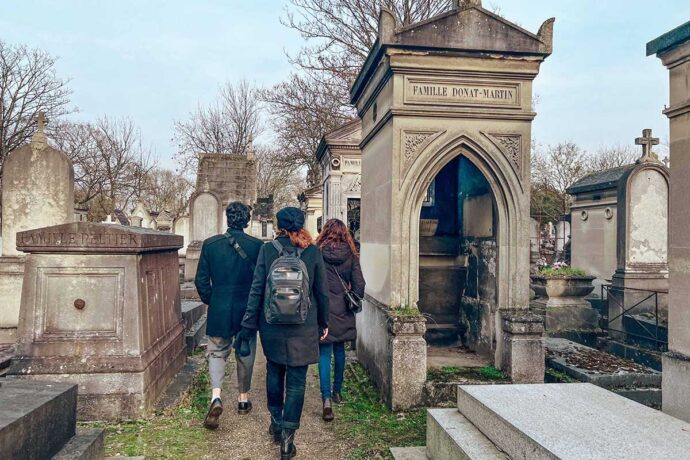 ---
Enjoy the peace, tranquillity, and sombre beauty of Père Lachaise cemetery in Paris's lovely and leafy 20th arrondissement – often hailed as the new Montmartre. Père Lachaise is a historic cemetery, founded by Napoleon on the grounds of an old monastery headed up by a priest named Father la Chaise – who was the private confessor of the Sun King Louis XIV.
On your 2.5-hour walking tour, you will explore this vast and beautiful place, filled with thousands of graves, stopping by some of the most famous occupants like Oscar Wilde, Chopin, Heloise and Abelard, Edith Piaf, and Jim Morrison! You'll learn a lot about the history of Paris and the way of life and death of Parisians.
BOOK NOW
---
Explore the quietly beautiful Père Lachaise Cemetery with a private guide

See the graves of many famous people who died in Paris, and the Holocaust Memorials

Admire the grand and eerie gothic styles of the graves

Learn about why Napoleon created the cemetery and the history of funerals in Paris

Hear about the lives of Oscar Wilde, Edith Piaf, Gericho – and many more
BOOK NOW
Exclusive private Tours and Experiences. Also offered in Spanish, French, Portuguese, Swedish and Russian
Our prices always include tickets and reservations fees (no waiting in lines!)
Our tour guides and staff are selected experts and speak perfect English
Easy to book and prepay your tours with our secure payment system
Eco-sustainable tourism, designed to respect and support local culture, art and traditions
---
Explore the beautiful Père Lachaise Cemetery on this private 2.5-hour walking tour through the peaceful, cobblestone lanes of graves, and learn about the many famous people who are buried here. You will meet your expert guide at the entrance, and explore the highlights of this 110-acre sight.
Due to the overcrowding of cemeteries in central Paris, many graveyards had been dug up and closed down during the 18th century. The remains of the dead were taken underground to the Paris catacombs. To prevent the smell, hygiene problems, and overcrowding again, Napoleon Bonaparte created Père Lachaise Cemetery – on a beautiful hill that had been a monastery and vineyard, where lived the priest Father la Chaise. It is situated well away from the city center in the 20th arrondissement – which at the time was less than fashionable.
Because of its location, he had to find a way to encourage Parisians to want to be buried here. So, he had the remains of some famous French people exhumed and reburied: Moliere the playwright, La Fontaine – the writer of fables, Parmentier – the scientist who made famous the humble potato, and the iconic medieval lovers: Heloise and Abelard, real-life French Romeo and Juliet! It worked. People wanted to be buried next to these famous people – it was like wanting to be buried next to Shakespeare in England or Elvis Presley in America. And so the cemetery grew and grew.
Today it is still an active cemetery with over 70,000 burials. You'll see lots of graves of famous people, and if you have any particular must-sees, please feel free to ask your guide to take you there. Out of the huge number of luminaries buried at Pere Lachaise you may see the graves of Gericho, Gertrude Stein and Alice Toklas, Edith Piaf, Chopin, Oscar Wilde, Balzac, the somewhat infamous tomb of Victor Noir, and of course the most famous grave in the whole place, Jim Morrison of the Doors.
BOOK NOW
---
2.5 hour walking tour of Père Lachaise Cemetery

Private guide

Stories of the lives of famous graves

Jim Morrison, Oscar Wilde, Chopin, Piaf and more

Holocaust Memorials

Crematorium
BOOK NOW
---
Due to the cemetery's lack of accessibility infrastructure,  amount of steps, and uneven terrain,  this tour is not wheelchair friendly nor suitable for anyone with mobility issues
BOOK NOW
---
LivTours' group size of max 6 participants is and always has been based on sustainable travel, and we are proud to be at the forefront of change and innovation in the industry.  LivTours is committed to providing travelers with truly sustainable tours with the lowest possible environmental impact, all while supporting the local industries and people of each unique destination. To learn more about how you can actively support sustainable tourism  and how LivTours is contributing, click here.
BOOK NOW
---
When you book a LivTours Private Tour or Experience, you are guaranteed a dedicated, expert guide that allows you the flexibility to start your tour at a time which is convenient for you, making planning easy. Our private tours ensure that you will get a tailored experience to meet all your needs so we go at your pace, perfect for families with younger children, elderly, or individuals with accessibility needs. Please be advised that all private tours begin at a base price starting at two people*. Prices are inclusive of entry tickets where applicable. *Some Ferrari private experiences are inclusive of one person only.
BOOK NOW
---
Make your day even more unique and comfortable by upgrading your tour with a customizable LivTours optional add on!
One Way Transfer from Hotel
99 €
172.26 A$
92.07 £
116.82 $
BOOK NOW
---
By selecting Choose Dates Later / Buy as Gift at booking, any tour can be purchased without fixed dates. This is the perfect option if you want to purchase your tour as a gift for a loved one, or if you are in the pre-planning phase of your vacation. After booking, you will receive a Travel Voucher Code and full instructions on how to schedule your tours when ready. Once your travel plans are confirmed, you can easily use the Travel Voucher Code on the LivTours website to formally schedule your tours. You can find out more here.
BOOK NOW