Private Paris Full Day Tour with River Cruise | VIP City Highlights
---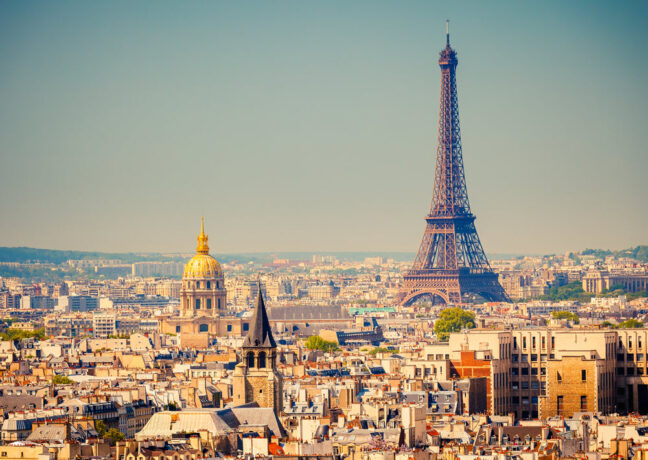 ---
LivTours Private Paris Full Day Tour with River Cruise is the best way to see Paris if you want to maximize your time in the City of Lights.  This private tour takes you from the highest point in the city where Sacré-Cœur Basilica is located, through the artistic neighborhood of Montmartre, complete with visiting the oldest cabaret venue in the city and seeing the most famous one, the Moulin Rouge.  Visiting Montmartre is like visiting a village as this new neighborhood used to be just outside the city of Paris and still retains the French village feeling.
You will explore down near the Seine River the Louvre Museum with over 8 miles of corridors and 35,000 works of art, an expert private guide by your side knows how to make the most of your time inside, taking advantage of LivTours priority access entrance tickets. Next, it is on to visit the Ile de la Cite, one of two natural islands in the Seine. No trip to Paris is complete without seeing the Eiffel Tower from the water and LivTours makes sure you do it in style with a Seine river cruise, seeing the most important monuments until you reach the Eiffel Tower. This is the most comprehensive day tour of Paris and can be customized to your interests!
BOOK NOW
---
Enjoy the comfort of a private chauffeur to see all of Paris highlights in one day

Stroll past historic apartments where Picasso, Renoir, and Van Gogh once lived

Stand in front of the world's most popular portrait: Leonardo Da Vinci's Mona Lisa

Feel the romance in the air as you cruise across the River Seine

Take photos near the most iconic Paris sight – the Eiffel Tower
BOOK NOW
Exclusive private Tours and Experiences. Also offered in Spanish, French, Portuguese, Swedish and Russian
Our prices always include tickets and reservations fees (no waiting in lines!)
Our tour guides and staff are selected experts and speak perfect English
Easy to book and prepay your tours with our secure payment system
Eco-sustainable tourism, designed to respect and support local culture, art and traditions
---
Your LivTours' Private Paris Full Day Tour with River Cruise start when you meet your private expert guide near the iconic Moulin Rouge at the base of the Montmartre district. Opened in 1889, the same year Paris hosted the Universal Exposition, The Moulin Rouge is certainly one of the most iconic buildings of Paris and catered to more affluent gentlemen than the other cabaret venues inside the Montmartre district.  The Moulin Rouge, a symbol of the changing times, was a reflection of the huge changes in society at the turn of the 19th to 20th centuries that saw the inventions of cameras, gramophones, and light bulbs change their everyday life.
Walking in the neighborhood behind the Moulin Rouge, the entire vibe changes from neon light Times Square to quaint cobble-stoned streets and two-story buildings reminiscent of its former status as a village.  Attracting young artists like Renoir, Van Gogh, Picasso, and writers like Ernest Hemmingway due to its lower rents and bigger spaces.  It was the place to live if you were an up-and-coming artist at the turn of the century. Your expert local guide will share with you lesser-known features of the neighborhood, like a hundred-year-old vineyard that still produces wine every year and the oldest cabaret venue in the city, Au Lapin Agile where greats like Edith Piaf performed.  The venue was also featured in paintings by Picasso and Utrillo. Still, a thriving artists' community, who perform regularly at the Place du Tertre which is featured as a key setting in the film Amelie.
Your tour continues to the highest point in the city where you can enjoy the most memorable views over Paris at the base of the Sacré-Cœur Basilica.  The all-white basilica is often referred to as the meringue by locals, was built at the end of the 1800s, and sits at the top of Paris' most bohemian neighborhood.
LOUVRE
Your expert guide will accompany you, in your chauffeured van, to the infamous Louvre Museum. Enjoy priority access entrance tickets, skipping the often long lines, another way that LivTours allows you to maximize your time in Paris.  The Louvre is a world-class museum holding over 35,000 works of art, with most of them on display year-round, having an expert guide by your side makes it easy to navigate to see the most important highlights including the marvelous Greek sculptures, like Venus de Milo, dramatic Delacroix paintings, and Leonardo da Vinci's Mona Lisa.
ILE DE LA CITE
Once you have had your fill of the Louvre, you will have free time to recharge and find an authentic French lunch.  Your guide will be happy to recommend a place to suit your preferences. Please note, lunch is not included in the price of the tour. Then, it is time to stroll across the river to visit the Île de la Cité, the bigger of the two islands in the Seine. One of your first stops will be the Place Dauphine, an elegant square in Paris, that might bring back memories if you have seen Woody Allen's film Midnight in Paris. There is more to this square than appearing in a movie and your guide will share with you the stories from a thousand years ago that lead to its fame.
You'll pass by the charming Sainte Chapelle and then hear darker tales from Paris' past as you pass by the former prison of Paris. Used during the days of the French Revolution, you will hear about Marie Antoinette's last days, which were spent here before she met her fate. Just around the corner, is France's beloved Notre Dame Cathedral.  Temporarily closed due to the massive fire in 2019, your guide will take you to see the untouched main facade, explain the church's architecture and bring you up to date on the reconstruction of the Cathedral's roof.
As your magical full-day Paris tour comes to a close, your guide will give you tickets for a relaxing Seine river cruise, which you can choose to take at sunset, or the next day. The floating visit will take you past the Conciergerie (former prison where Marie Antoinette was held); the Académie Française, home to the French language governing body; the Musée d'Orsay, now a museum holding Impressionistic art it was a former railway station; the Hôtel National des Invalides, dating back to the 17th century this still active hospital for injured or disabled war veterans; and, lastly, the monument built for the 1889 Universal Exposition, the famed Eiffel Tower. Certainly, the perfect way to end your full-day Paris tour.
BOOK NOW
---
Montmartre

Sacre Coeur (outside)

Metro Rides & tickets

Skip-the-line tickets to the Louvre

Louvre highlights

Monna Lisa

Ile de la Cite highlights

Notre Dame (outside)

River cruise tickets

Tour Eiffel (optional add-on)
BOOK NOW
---
LivTours' group size of max 6 participants is and always has been based on sustainable travel, and we are proud to be at the forefront of change and innovation in the industry.  LivTours is committed to providing travelers with truly sustainable tours with the lowest possible environmental impact, all while supporting the local industries and people of each unique destination. To learn more about how you can actively support sustainable tourism  and how LivTours is contributing, click here.
BOOK NOW
---
When you book a LivTours Private Tour or Experience, you are guaranteed a dedicated, expert guide that allows you the flexibility to start your tour at a time which is convenient for you, making planning easy. Our private tours ensure that you will get a tailored experience to meet all your needs so we go at your pace, perfect for families with younger children, elderly, or individuals with accessibility needs. Please be advised that all private tours begin at a base price starting at two people*. Prices are inclusive of entry tickets where applicable. *Some Ferrari private experiences are inclusive of one person only.
BOOK NOW
---
Make your day even more unique and comfortable by upgrading your tour with a customizable LivTours optional add on!
Tickets to Eiffel Tower: 2nd tier
35 €
60.90 A$
32.55 £
41.30 $
One Way Transfer from Hotel
90 €
156.60 A$
83.70 £
106.20 $
650 €
1,131 A$
604.50 £
767 $
BOOK NOW
---
Paris in a day tour
"We traveled to Paris with my sister and her husband who had never been there before. By taking the Paris in a day tour we had the opportunity to see the highlights of the city without any stress or tiredness and with a guide (Josie) who was very knowledgeable and easy to be with. We became good friends with her and she gave us recommendations for places to eat and other things to see and do. My husband and I do alot of traveling and we have used LivTours before. This tour was another example of their excellent reputation and we happily add our highest ratings to their long list of satisfied customers."
Delilah - UK
---
Awesome tour
"My partner and I took this day tour in Paris and thought it was a very good tour. We were taken around in a private van but we also got out and walked around and took some really awesome pictures. We enjoyed getting to know our guide, Josie, who was alot of fun to be with. The river cruise was fun because you see Paris from a totally different perspective. We gave this tour 5 stars but would have given it more if it were possible."
Jerry - USA
---
Paris highlights in a day
"My girlfriends and I had planned 3 days in Paris: 1 for sightseeing, 1 for shopping and 1 for seeing Versailles. So with only 1 day to see as much as the city as possible, this tour answered all of our needs. We were taken around in a very comfortable Mercedes van with our guide, Claire, and a really funny driver (can't remember his name) but also got out and strolled through the neighborhoods and into the Louvre to see the most important masterpieces. We all feel we saw the best and most important of what Paris has to offer and we had a great time as well. Definitely a 5 star tour."
Sheryl - USA
---
BOOK NOW
---
By selecting Choose Dates Later / Buy as Gift at booking, any tour can be purchased without fixed dates. This is the perfect option if you want to purchase your tour as a gift for a loved one, or if you are in the pre-planning phase of your vacation. After booking, you will receive a Travel Voucher Code and full instructions on how to schedule your tours when ready. Once your travel plans are confirmed, you can easily use the Travel Voucher Code on the LivTours website to formally schedule your tours. You can find out more here.
BOOK NOW