Private Murano Glass Blowing Tour with Water Taxi
---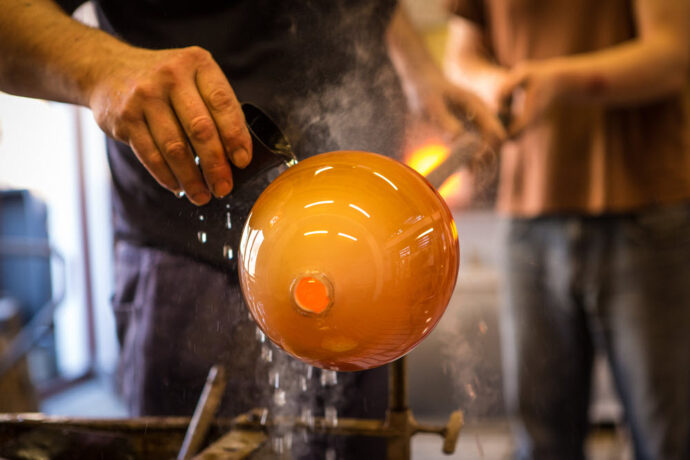 ---
LivTours Murano Glass Blowing Tour is the perfect way for you to experience the world-famous Venetian tradition of glassblowing. Glass artisans have always thrived in the land of gondolas.   The island of Murano sits just north of the city center and is known locally as glass island.   It was in the 13th century that the Doge banished all the glassmakers from the city center.  With their adobe kilns fires were common and, more importantly, glassmakers were highly coveted as the fruits of their labor were a way for the upper classes to demonstrate their wealth.
Your local private guide will meet you at your hotel in a luxury private water taxi.  Travel to Murano Island and enjoy a short tour of the colorful island, before making your way to a typical glass-blowing factory. Here you will appreciate this Venetian tradition firsthand, as you see a live glass blowing demonstration.
After the demonstration, you will have a chance to pursue the highest quality glass pieces on the island and can arrange international shipping right then. This two-hour luxury experience is perfect for those wanting to discover the art of glass blowing to enjoy even when you get home!
BOOK NOW
---
See firsthand the world-famous Venetian tradition of glass blowing on a private tour

Take to the water (in a boat!) & visit the island of Murano with its colorful houses

Experience a live demonstration of glass craftsman creating unique artistic pieces

Discover high-end unique glass objects and have them shipped directly to your home

Travel by private water taxi from Venice in the company of an expert private guide
BOOK NOW
Exclusive private Tours and Experiences. Also offered in Spanish, French, Portuguese, Swedish and Russian
Our prices always include tickets and reservations fees (no waiting in lines!)
Our tour guides and staff are selected experts and speak perfect English
Easy to book and prepay your tours with our secure payment system
Eco-sustainable tourism, designed to respect and support local culture, art and traditions
---
Your LivTours' Murano glass blowing tour is a luxury private tour that gives you the chance to discover more of Venice than the average tourist, by witnessing one of its most treasured traditions.  In the company of your local expert guide, you will enjoy doing it all in ultimate comfort with a private luxury water taxi. LivTours is passionate about taking visitors on authentic Italian experiences where you can truly immerse yourself in the culture and history of the place.
Your private Murano glass blowing experience starts when your private guide meets you at your hotel and takes you to your waiting luxury water taxi.  Seeing Venice from the water is a must for any visitor, giving you the chance to truly appreciate the unique way this magical city is entirely built on water.  Once out on the water, you will make your way to the famous glass blowing island of Europe – Murano Island.  Known for its exceptional blown glass pieces, this is the place to visit to discover the famous 700-year-old glass blowing tradition of Venice whose artisans became known as Europe's finest glass and mirror makers.
Murano, like Venice, is actually made up of several small islands, in this case, seven that are connected by bridges.  With a population of about 5000 locals, you will have the chance to experience another side of Venetian life.  Enjoy a short stroll with your guide and soak up the island's enchanting character, with its colorful houses, narrow waterways and seemingly endless bridges. Enjoy the quieter, crowd-free atmosphere, away from the busier center of Venice.  As you walk through Murano, you will see the many glass shops realizing that its long history of glassblowing still thrives today.
After your short walking tour of the colorful island, you will visit one of the most famous glass blowing workshops on Murano and meet locals who are passionately keeping this tradition and craft alive.  Enjoy a live demonstration of glassblowing and see how easy these masterful craftsmen make this difficult craft look.  At this workshop, you will have the chance to browse (and buy) some of the most renowned glass pieces in the world, more than a souvenir, it is a piece of history!  The workshop's international shipping makes it easy for you to send your treasures directly home, the best present to open when you return home.
BOOK NOW
---
Private luxury water taxi rides

Private tour guide at your disposal

Short walking tour of the island

Glass Blowing demonstration

Family owned shop and lab
BOOK NOW
---
LivTours' group size of max 6 participants is and always has been based on sustainable travel, and we are proud to be at the forefront of change and innovation in the industry.  LivTours is committed to providing travelers with truly sustainable tours with the lowest possible environmental impact, all while supporting the local industries and people of each unique destination. To learn more about how you can actively support sustainable tourism  and how LivTours is contributing, click here.
BOOK NOW
---
When you book a LivTours Private Tour or Experience, you are guaranteed a dedicated, expert guide that allows you the flexibility to start your tour at a time which is convenient for you, making planning easy. Our private tours ensure that you will get a tailored experience to meet all your needs so we go at your pace, perfect for families with younger children, elderly, or individuals with accessibility needs. Please be advised that all private tours begin at a base price starting at two people*. Prices are inclusive of entry tickets where applicable. *Some Ferrari private experiences are inclusive of one person only.
BOOK NOW
---
Murano tour
"This was the kids' favorite tour of the trip. They had so much fun on the water taxi, and loved watching the glass blowers doing their work. They wished the tour was longer! We also had an amazing guide, Giulia, who shared so much about Venice and it was very nice having her lead us since she is from Venice. Highly recommend!"
Kim - United States
---
The Murano Glass masterpieces
"My husband and I were very interested in seeing the island of Murano where they create the famous Murano glass so booked LivItaly's tour. Our guide Sara accompanied us the entire time and explained very interesting insights into Venice and the development of the Murano glass on our water taxi ride out to the island. We then visited several different workshops where we could watch the artisans make their incredible creations. It is quite enthralling to watch and the visit to the museum to see all of the wonderful Murano masterpieces was breathtaking. Thank you LivItaly for a wonderful experience!"
Angela Flynn - USA
---
BOOK NOW
---
By selecting Choose Dates Later / Buy as Gift at booking, any tour can be purchased without fixed dates. This is the perfect option if you want to purchase your tour as a gift for a loved one, or if you are in the pre-planning phase of your vacation. After booking, you will receive a Travel Voucher Code and full instructions on how to schedule your tours when ready. Once your travel plans are confirmed, you can easily use the Travel Voucher Code on the LivTours website to formally schedule your tours. You can find out more here.
BOOK NOW