Private Morning Tour of Rome | Early Bird Walking Tour
---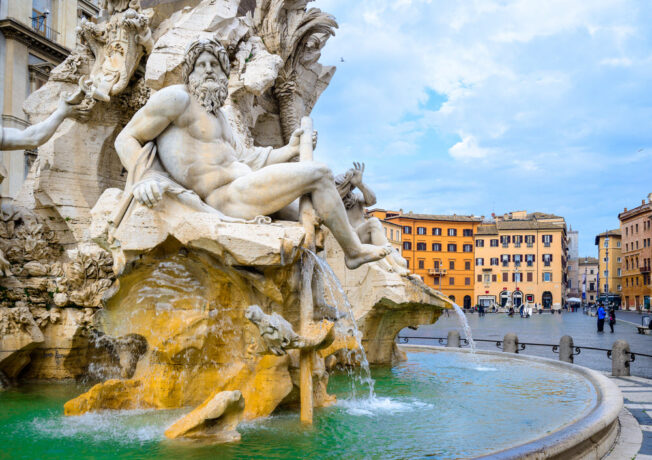 ---
LivTours Private Morning Tour of Rome allows you to see a side of the Eternal City rarely seen by visitors. This itinerary starts when the city is just starting to stir and Romans are gathering at their neighborhood bars for breakfast. Drink your morning coffee or cappuccino and eat a fresh pastry to start your Rome Tour off right. While other tourists sleep in and Romans start work, you'll be able to explore Rome's highlights in the morning light.
See the sprawling Spanish Steps before they are crowded for lunch breaks. Discover centuries of architecture and history with your expert guide as you visit landmarks like Piazza Navona with its grand church and fountains. Toss and coin and make a wish at the incredible Trevi Fountain before the masses crowd around. Explore the ancient Pantheon, a monumental structure with a fascinating history. Wind through the charming cobblestone streets of this timeless capital city and get a real feel for how daily life flows. Learn about the remarkable history behind every detail both large and small that you come across during this private walk through one of the world's most famous cities!
BOOK NOW
---
Get to see Rome as you have never seen it

Take stunning pictures with an empty city centre

Enjoy the sites before the heat and the crowds

Take your time in truly capturing the essence of the city with your guide

Get a nice Italian breakfast with Pantheon view!
BOOK NOW
Exclusive private Tours and Experiences. Also offered in Spanish, French, Portuguese, Swedish and Russian
Our prices always include tickets and reservations fees (no waiting in lines!)
Our tour guides and staff are selected experts and speak perfect English
Easy to book and prepay your tours with our secure payment system
Eco-sustainable tourism, designed to respect and support local culture, art and traditions
---
Your LivTours Private Morning Tour of Rome begins at the iconic Spanish Steps. These 138 steps bridge the steep gap between two major Roman streets and are typically lined with tourists and locals taking a break later in the day. Your early start will allow you to see it before it's crowded! Explore the charming, narrow streets with shops and bars as you continue on your Roman morning journey. Snap pictures of the hidden treasures you find along the way as they come alive in the morning sunlight. Your guide is a local expert and excited to share with you stories and tidbits about the incredibly rich culture and history of Rome!
Start your day with a typical Roman breakfast, small, sweet, and with caffeine! Eat a fresh Italian cornetto, a classic layered pastry that can be plain, with cream, or chocolate. Have a strong Italian style espresso or a warm, frothy cappuccino with it too!
As you continue on your morning walk through Rome's center, visit the incredible Pantheon. Originally a pagan temple, this magnificent monument is unforgettable. With its tall columns outside and its intricate marble and tombs inside, this landmark is without a doubt one of Rome's finest highlights. Learn about the architectural genius behind this piece of history. Nearby you will find the one of a kind Trevi Fountain. At the site where three roads intersect, the Trevi is a wonderful example of 18th-century design and sculpture. Touch the cool waters and toss in a coin, bright and early before the crowds arrive.
No walk of Rome's city center would be complete without visiting the oval shaped Piazza Navona. The shape of this important city square comes from its original function, a 1st century AD stadium where 30,000 spectators gathered. Today you can admire its Baroque church and fountains along with local artists selling their works.
This private tour is the perfect opportunity to experience the highlights and quaint streets of Rome in the calmer morning hours. Become a Roman for an entire morning as you explore with your local guide!
BOOK NOW
---
Early morning views of empty Rome

Spanish Steps

Trevi Fountain

Pantheon

Piazza Navona

Italian Breakfast in front of the Pantheon
BOOK NOW
---
Offered in: English, French, Spanish, Portuguese, and Italian. Please specify under "Additional notes" if you wish to book the tour in a language other than English.

Walks are rain or shine so we recommend dressing comfortably and bringing rain gear as needed.

Comfortable walking shoes recommended.

Places of worship have strict dress code requirements for entry. All participants are required to have shoulders and knees covered (no tank tops or short dresses) to enter.

Due to these unprecedented times and ongoing safety and regulation changes, some sites may have limited accessibility if the venue can not guarantee social distancing which may lead to unforeseen tour modifications. Thank you for your understanding.

LivTours' is and always has been based on sustainable travel and especially in these new times, we are proud to be at the forefront of innovation, change, and challenges that are presented to us during this post-pandemic time. At the moment, due to Covid-19 safety regulations, museums and sites visited on this tour require wearing a mask while on site. Please bring one for every participant over 6 years of age.
BOOK NOW
---
When you book a LivTours Private Tour or Experience, you are guaranteed a dedicated, expert guide that allows you the flexibility to start your tour at a time which is convenient for you, making planning easy. Our private tours ensure that you will get a tailored experience to meet all your needs so we go at your pace, perfect for families with younger children, elderly, or individuals with accessibility needs. Please be advised that all private tours begin at a base price starting at two people*. Prices are inclusive of entry tickets where applicable.
*Our Tuscan motorcycle tour and some Ferrari private experiences are inclusive of one person only.
BOOK NOW
---
Covid-19
All of our tours and experiences are in compliance with the latest local Covid-19 safety protocols. More information can be found in the voucher you will receive upon booking your tour/s.
---
BOOK NOW
---
Charming guide for our morning walk
"Our very knowledgeable and charming guide, Thomas, took as around the sites of Rome at a pace that was comfortable and a time when we were not trampled by other tourists. I learnt so much and really enjoyed it. Would definitely recommend."
Rebecca - UK
---
Highlight of our trip
"AWESOME! This morning walk gave us the opportunity to see the major sites while the city was quiet. We were the only people at the Trevy Fountain and the Spanish Steps! That would never happen any later in the day! The guide was very informative and was happy to stop and take pictures whenever we wanted. A definite highlight of our trip!"
Laura - USA
---
Rome in the morning! The BEST!!
"My daughters and I had a fantastic time on our morning walking tour in Rome! Our guide, John, took us on a great route though the city center that allowed us to see the major sites early enough in the morning before they were filled with tourists. He also took us off the beaten trail to see some sites that weren't listed in our guide books. I highly recommend this tour!"
Shelly - USA
---
BOOK NOW
---
By selecting BUY AS A GIFT, you can purchase this tour as a gift for someone you care for. You will receive a gift card voucher that then can be redeemed by the person/people who will enjoy the tour.Date and Time are values that cannot be selected at the moment. You will in fact receive a gift card voucher with instructions on how to redeem the tour and then select date and time.You can create a shopping cart with multiple tours as gift cards. You may not compose a shopping cart of gift cards and actual tours with date and time.This option can also be used as an opportunity to book a tour open-dated for yourself, in case you are still in the pre-planning phase of your trip.For more information please read here.
BOOK NOW