Private Montserrat Tour & Penedès Wine Tasting
---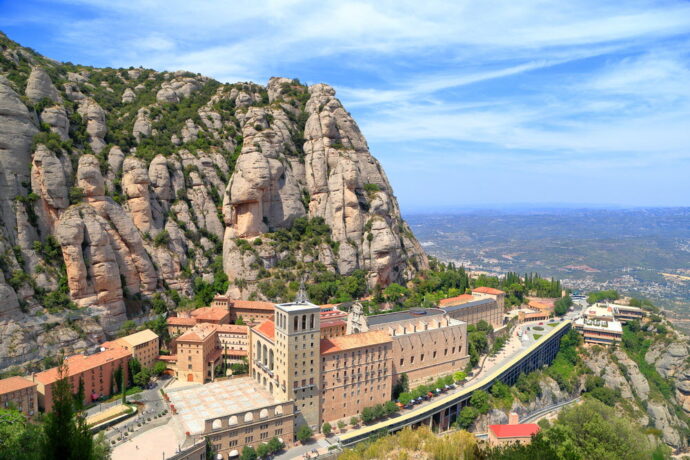 ---
LivTours Private Montserrat Tour & Penedès Wine Tasting offers you the best the Catalan countryside has to offer with an early morning visit to the mountaintop monastery of Montserrat where you will experience breathtaking views and an afternoon of wine tasting in the internationally renowned Penedès vineyards all in the company of your knowledgeable private guide.
You will have a chance to experience the unique mountain range of Montserrat firsthand. Not only are these stunning mountains a natural reserve, but they are also home to a monastery for Benedictine monks, Europe's oldest boys choir, and the black madonna, Our Lady of Montserrat. In the afternoon, you will visit one of 69 official wine regions in Spain, the Penedès. Known for its organic wineries, but also internationally recognized for its sparkling white wine – cava. Tour a family-owned and run winery after enjoying a lunch of local delicacies in the Catalan countryside. This one of a kind tour covers it all – and in just one day!
BOOK NOW
---
Enjoy the comfort of a luxury hotel pick up and drop off in a chauffeured driven van

Explore the elegant and mystical Montserrat Monastery before the crowds arrive

Admire the amazing panoramic views from the mountains at a height of 1000 meters

Feast on a private lunch of local tapas and local wines in the Catalan countryside

Visit a local Penedes winery, walk through their vineyards and sit for a wine tasting
BOOK NOW
Exclusive private Tours and Experiences. Also offered in Spanish, French, Portuguese, Swedish and Russian
Our prices always include tickets and reservations fees (no waiting in lines!)
Our tour guides and staff are selected experts and speak perfect English
Easy to book and prepay your tours with our secure payment system
Eco-sustainable tourism, designed to respect and support local culture, art and traditions
---
Your LivTours Private Montserrat Tour & Penedès Wine Tasting begins with an early morning private chauffeur hotel pickup allowing you to beat the crowds and enjoy the solitude of the Montserrat Monastery. You will drive to the closest entry point and make your way over to the historic monastery, which attracts visitors from all over the world, in the company of your private expert guide.
From there your expert local guide will lead you on a tour through the Basilica, stopping along the way to admire different facets that comprise its fascinating history. This pilgrimage site is known for its mystic qualities both by locals and travelers alike. You will be privy to direct access so you can admire the monastery in all its morning glory, before the influx of heavy crowds. One of the highlights of the tour includes the Virgin of Montserrat, also known as "La Moreneta" (the Black Madonna), who is known to perform miracles for believers who touch her hand and express a desire. Verify for yourself if the legend of her divine powers is more than just a legend.
As you stroll through the complex, learn about the different architectural styles of the monastery which has grown in size over the last 1,000 years. Be sure to take your camera with you because the views from this height are absolutely spectacular and known as some of the best views in the surrounding areas of Barcelona. Just imagine that this is the view that close to 70 monks get to call home.
PENEDES WINE TASTING
After your tour, your guide will leave you a bit of free time to explore, take photos, venture to higher ground by taking a funicular or you are welcome to visit the onsite museum (entry not included) for a quick look around.  You will meet your LivTour guide to starting your drive through the cava wine hills, known as the Penedes region.
Your guide will take you to a family-run vineyard where you will enjoy a tour of this local winery before tasting three fantastic examples of Catalan wine. You will get a glimpse of local wine-making and learn the techniques behind the wine you are about to taste. You will get to try Cava, "Spanish champagne", and other local wines. Then, enjoy a typical tapas lunch! After a delicious meal, you will hop in your private chauffeured car and be back in Barcelona city center by late afternoon.
BOOK NOW
---
Chauffeur hotel pickup

Montserrat Monastery

Guided tour through Monserat

Free time in Montserat

Penedes wine tasting

Local tapas lunch

Free time to walk through the vineyards

Chauffeur hotel drop-off
BOOK NOW
---
Bring or wear layers as Montserrat tends to be a full 10 degrees cooler than Barcelona.

Comfortable walking shoes recommended.
BOOK NOW
---
LivTours' group size of max 6 participants is and always has been based on sustainable travel, and we are proud to be at the forefront of change and innovation in the industry.  LivTours is committed to providing travelers with truly sustainable tours with the lowest possible environmental impact, all while supporting the local industries and people of each unique destination. To learn more about how you can actively support sustainable tourism  and how LivTours is contributing, click here.
BOOK NOW
---
When you book a LivTours Private Tour or Experience, you are guaranteed a dedicated, expert guide that allows you the flexibility to start your tour at a time which is convenient for you, making planning easy. Our private tours ensure that you will get a tailored experience to meet all your needs so we go at your pace, perfect for families with younger children, elderly, or individuals with accessibility needs. Please be advised that all private tours begin at a base price starting at two people*. Prices are inclusive of entry tickets where applicable. *Some Ferrari private experiences are inclusive of one person only.
BOOK NOW
---
Highly recommend
"We loved our visit to Montserrat and really enjoyed the wine tasting. Our guide was very knowledgeable and friendly. We'd do it again anytime."
Alana - USA
---
Great day
"On our honeymoon in Paris, we dedicated a day to visit Montserrat with LivTours' private tour. Included in the tour was a chance to wine taste, which we thought was great fun! The accommodations were very comfortable and the guide was excellent and very warm and friendly. If you have the time, consider visiting Montserrat and booking it with this company!"
Lindy - UK
---
A great way to get a "taste" of France
"This was a FANTASTIC tour!! We loved every minute, our guide was super and the wines even better!! Can't recommend enough!!!!!"
Ron - USA
---
BOOK NOW
---
By selecting Choose Dates Later / Buy as Gift at booking, any tour can be purchased without fixed dates. This is the perfect option if you want to purchase your tour as a gift for a loved one, or if you are in the pre-planning phase of your vacation. After booking, you will receive a Travel Voucher Code and full instructions on how to schedule your tours when ready. Once your travel plans are confirmed, you can easily use the Travel Voucher Code on the LivTours website to formally schedule your tours. You can find out more here.
BOOK NOW