Private Milan Walking Tour with Duomo and Sforza Castle
---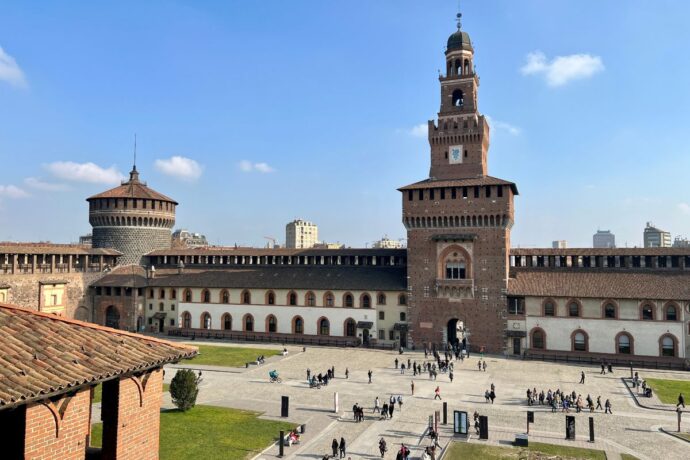 ---
Begin your private LivTours Milan Walking Tour with duomo access with a fascinating visit to the historic Sforza castle with its beautiful gardens, where you can admire Michelangelo's final work—still in progress at the time of his death—the Rondanini Pietà,.
Next, explore the center of Milan—the busy, bustling fashion hub of Italy—including the Piazza Mercanti and the famously exclusive Galleria shopping arcade, and end with a visit inside the awe-inspiring Duomo, famous the world over for its majestic Gothic spires. At the conclusion of your tour, your guide will give you tickets for the elevator to ascend up to the stunning terrace where you can take in spectacular views overlooking all of Milan.
BOOK NOW
---
Experience an exclusive private tour of Milan with an expert guide

Explore the medieval Sforza Castle with beautiful gardens

Admire Michelangelo's final sculpture—still in progress at his death—Rondanini Pietà

Tour the center of Milan—including the Galleria and Piazza Mercanti

Visit the Duomo and enjoy priority access to the terrace elevator
BOOK NOW
Exclusive private Tours and Experiences. Also offered in Spanish, French, Portuguese, Swedish and Russian
Our prices always include tickets and reservations fees (no waiting in lines!)
Our tour guides and staff are selected experts and speak perfect English
Easy to book and prepay your tours with our secure payment system
Eco-sustainable tourism, designed to respect and support local culture, art and traditions
---
Begin your three-hour private walking tour of Milan with duomo access with a friendly, expert private guide and a skip-the-line visit to the medieval Sforza Castle. This magnificent historic building was built in the 15th century by Francesco Sforza, the Duke of Milan, on the remains of an older 14th-century fortress. It later became one of the largest citadels in Europe and boasts a beautiful garden as well as Michelangelo's exquisite, final sculpture—the Rondanini Pietà. Learn all about the Sforza family and their impact on Milan and Italy – as well as the life and talent of Michelangelo. 
After the castle, enjoy a guided tour of central Milan – the fashion and financial hub of Italy! Explore the exclusive glass shopping arcade, the Galleria – lined with high-end Italian and French fashion houses, and pass by the grandiose Piazza Mercanti, or Merchant's Piazza. Surrounded by no less than four glorious palaces, the Piazza Mercanti was the medieval heart of the city – where trade, commerce, and politics all happened. 
Your final stop is the world-famous Duomo of Milan – a global symbol of the city with its imposing facade and majestic Gothic spires. Indeed, it is the 5th largest cathedral in the world. Here you'll be able to skip the line and enjoy a guided tour of the vast interior, then your guide will provide you with tickets for the elevator, which will take you up to the panoramic terrace, where you are free to walk among the spires and pinnacles and admire the spectacular views at your own leisure. Truly an amazing experience!
BOOK NOW
---
Expert English-speaking private guide

Sforza Castle and Gardens

Milan Duomo

Priority entrance Terrace elevator

Walking tour of central Milan

Galleria & Piazza Mercanti

Michelangelo's final sculpture—the Rondanini Pietà
BOOK NOW
---
LivTours' group size of max 6 participants is and always has been based on sustainable travel, and we are proud to be at the forefront of change and innovation in the industry.  LivTours is committed to providing travelers with truly sustainable tours with the lowest possible environmental impact, all while supporting the local industries and people of each unique destination. To learn more about how you can actively support sustainable tourism  and how LivTours is contributing, click here.
BOOK NOW
---
When you book a LivTours Private Tour or Experience, you are guaranteed a dedicated, expert guide that allows you the flexibility to start your tour at a time which is convenient for you, making planning easy. Our private tours ensure that you will get a tailored experience to meet all your needs so we go at your pace, perfect for families with younger children, elderly, or individuals with accessibility needs. Please be advised that all private tours begin at a base price starting at two people*. Prices are inclusive of entry tickets where applicable. *Some Ferrari private experiences are inclusive of one person only.
BOOK NOW
---
Make your day even more unique and comfortable by upgrading your tour with a customizable LivTours optional add on!
95 €
165.30 A$
88.35 £
112.10 $
BOOK NOW
---
By selecting Choose Dates Later / Buy as Gift at booking, any tour can be purchased without fixed dates. This is the perfect option if you want to purchase your tour as a gift for a loved one, or if you are in the pre-planning phase of your vacation. After booking, you will receive a Travel Voucher Code and full instructions on how to schedule your tours when ready. Once your travel plans are confirmed, you can easily use the Travel Voucher Code on the LivTours website to formally schedule your tours. You can find out more here.
BOOK NOW