Private Marmore Waterfalls & Assisi Day Trip from Rome
---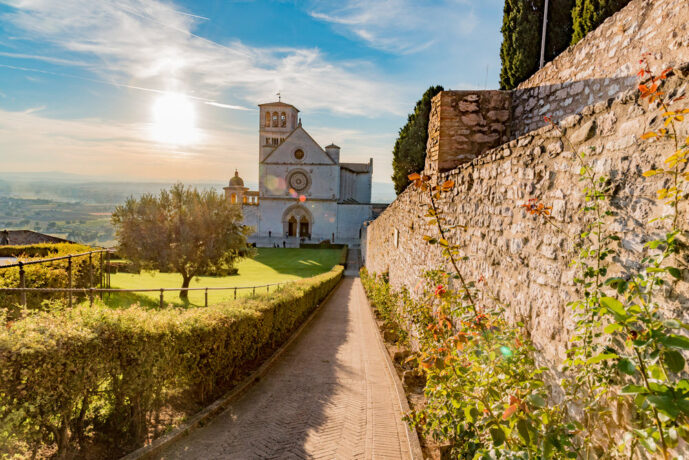 ---
LivTours' Marmore Waterfalls & Assisi Day Trip from Rome is the perfect way to see two stunning Umbrian attractions in just one day.  Relax into the ultimate in comfort with a private luxury chauffeured vehicle from your central hotel to both the Marmore Falls and Assisi, and back. This tour is ideal for nature lovers and thrill seekers with a wonderful hike down to the waterfalls. Your driver will also act as your guide, but you will have a chance to branch out on your own with some portions of the day consisting of independent exploration. Travelers are welcome to upgrade their tour with a tour guide to accompany them throughout the entire day for an additional cost.
If you are spending a few days in Rome and would like to see a bit more of Italy without the hassle of planning and prepping, the Marmore Falls & Assisi Day Trip is the perfect option. A visit to the Marmore Falls is an ideal way to enjoy the nature Italy has to offer. A trip to Assisi is a great way to enjoy Italian art and history. This tour is the perfect day trip to get an overall view of the best that Italy has to offer, getting two iconic cities into one day of touring.
BOOK NOW
---
Soak up the luxury of a round trip private chauffeur service from your accommodation

Walk the Marmore Falls trail to the Lover's Terrace & the Botanical Gardens

Enjoy breathtaking scenes of the Velino River as seen from the waterfalls

Free time for an Umbrian lunch and recharge for the second part of your day

Discover two basilicas and the birthplace of Saint Francis of Assisi
BOOK NOW
Exclusive private Tours and Experiences. Also offered in Spanish, French, Portuguese, Swedish and Russian
Our prices always include tickets and reservations fees (no waiting in lines!)
Our tour guides and staff are selected experts and speak perfect English
Easy to book and prepay your tours with our secure payment system
Eco-sustainable tourism, designed to respect and support local culture, art and traditions
---
Your LivTours' Marmore Waterfalls & Assisi Day Trip from Rome starts with exclusive hotel pick-up in a climate-controlled vehicle, so all you have to think about is relaxing and enjoying the views during your drive. Your chauffeur will give you some background information on the world-famous Marmore Falls during your drive.   Created by the Ancient Romans, these man-made waterfalls are sure to surprise you with their unrivaled beauty. The Marmore Falls are not only beautiful but also a feat of Roman engineering as their original intent was to give movement to the stagnant and swampy waters of the Velino River. The waterfalls today are used to fuel a hydroelectric power plant and the water is only falling a certain number of hours per day. But not to worry, LivTours has your back and will make sure you see the falls when they are running!
After admiring the beautiful views of the falls from a distance, it is time to experience them firsthand. LivTours will provide you with rain ponchos to enjoy your time hiking down the waterfalls. It is advisable to wear warm shoes (it can get chilly in the mountains with cold water) designed for wet surfaces.  Lover's Terrace is one of the highlights of your hike.  Situated just at the end of a path that leads to a small rock shelter opening overlooking the Velino River. This view alone is well worth the hike! The Botanical Gardens is another highlight of the Marmore Falls hike, located in the lower Belvedere Area.
Hiking lasts for about 90 minutes and no doubt you have worked up an appetite.  Your driver will meet you at the bottom of the trail to take you to Assisi where you will be able to enjoy lunch (not included in the price) and get ready for the second half of your day. 
Once you have finished your delicious lunch, it is time to discover the capital of Franciscan Catholicism. You will have free time in this town dedicated to Saint Francis with highlights such as Saint Francis Basilica and the Santa Chiara Basilica, both integral parts of history related to the life and death of St Francis.
The Basilica of St Francis of Assisi, a UNESCO World Heritage Site since 2000, is quite the highlight of the town. This 13th-century basilica is the perfect example of Romanesque and Gothic architecture. Learn about the Franciscan friars, their traditions, and the inventions which they have contributed to modern-day society.
BOOK NOW
---
Private Full Day Chauffuer

Tickets to the Marmore Waterfalls

Free time to admire Assisi

Free time for lunch

Tour guide on board (optional)
BOOK NOW
---
Comfortable walking shoes recommended.

Car Seats are required for children of certain ages in Italy. Please let us know if children will be coming on this tour so that we can make arrangements.
BOOK NOW
---
LivTours' group size of max 6 participants is and always has been based on sustainable travel, and we are proud to be at the forefront of change and innovation in the industry.  LivTours is committed to providing travelers with truly sustainable tours with the lowest possible environmental impact, all while supporting the local industries and people of each unique destination. To learn more about how you can actively support sustainable tourism  and how LivTours is contributing, click here.
BOOK NOW
---
When you book a LivTours Private Tour or Experience, you are guaranteed a dedicated, expert guide that allows you the flexibility to start your tour at a time which is convenient for you, making planning easy. Our private tours ensure that you will get a tailored experience to meet all your needs so we go at your pace, perfect for families with younger children, elderly, or individuals with accessibility needs. Please be advised that all private tours begin at a base price starting at two people*. Prices are inclusive of entry tickets where applicable. *Some Ferrari private experiences are inclusive of one person only.
BOOK NOW
---
Make your day even more unique and comfortable by upgrading your tour with a customizable LivTours optional add on!
375 €
652.50 A$
348.75 £
442.50 $
BOOK NOW
---
Don't miss Assisi
"We booked LivItaly's day trip to Assisi from Rome because we had heard that Assisi was definitely worth seeing. IT IS!! There's a special aura that surrounds this ancient city that you won't feel anywhere else in the world. Our trip was very comfortable, the driver was extremely friendly and our guide the best we could have hoped for. The tour includes stopping off at the Marmore waterfalls which was very interesting and beautiful. But Assisi is the rockstar here!! Don't miss it!"
Gwynn G. - USA
---
BOOK NOW
---
By selecting Choose Dates Later / Buy as Gift at booking, any tour can be purchased without fixed dates. This is the perfect option if you want to purchase your tour as a gift for a loved one, or if you are in the pre-planning phase of your vacation. After booking, you will receive a Travel Voucher Code and full instructions on how to schedule your tours when ready. Once your travel plans are confirmed, you can easily use the Travel Voucher Code on the LivTours website to formally schedule your tours. You can find out more here.
BOOK NOW