Private Lucca and Pisa Tour from Florence | Tuscany Day Trip
---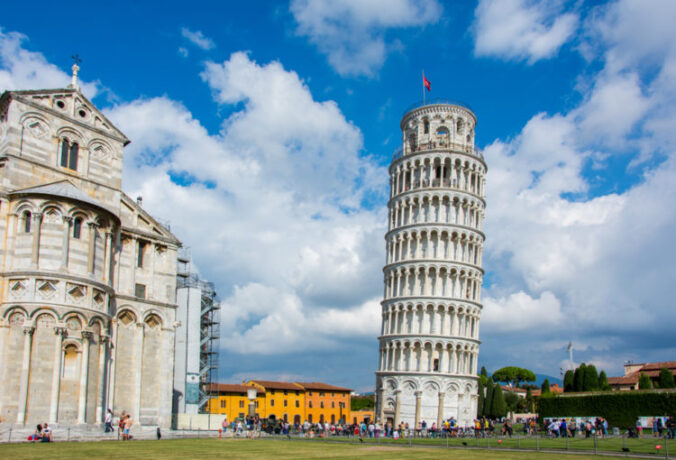 ---
LivTours Lucca and Pisa Tour is an enchanting private day trip from Florence.  These charming gems of Tuscany offer a glimpse into Tuscan life.  Your private chauffeured car will pick you up from your hotel to start your journey across the rolling hills of northern Italy to Pisa, a gem in the crown of Tuscany, best known for its leaning tower. The Tower of Pisa, as it is known amongst Italians, is actually the bell tower to the Cathedral next door. Construction of the Leaning Tower started in the 12th century and soon after the tower started leaning! Due to reconstruction projects, the tower is now stabilized and it is safe to climb to the top. To get there, you'll need to scale 294 or 296 stairs, depending on which side you go up on. The Cathedral is a stunning example of Romanesque architecture at its best.
Next stop; Lucca! This city is famous for its still intact Renaissance-style fortified wall encircling most of the historic old town. Not to be missed is the Romanesque Cathedral, the Duomo, built in the 11th and 14th centuries, it is renowned throughout Italy for its stunning façade and design. Just next door you will find the half finished clock tower – climb to the top for amazing views over Lucca and the countryside. Want to have a peak at what Lucca looks like? Have a peek at Season 17, Episode 3 of Top Gear which was filmed in Lucca! When you have finished exploring Lucca, your driver will be waiting for you to whisk you back to Florence!
Want to dive deeper into the history of Tuscany? You can always choose to have an expert local guide join you for the day!
BOOK NOW
---
Discover the beauty of 2 Tuscan gems on this full day private tour from Florence

Admire the Tuscan countryside from the comfort of your luxury chauffeured vehicle

Marvel at the facade of the Cathedral in Lucca with its impressive leaning bell tower

Fall in love with the well preserved and charming Renaissance beauty of Lucca
BOOK NOW
Exclusive private Tours and Experiences. Also offered in Spanish, French, Portuguese, Swedish and Russian
Our prices always include tickets and reservations fees (no waiting in lines!)
Our tour guides and staff are selected experts and speak perfect English
Easy to book and prepay your tours with our secure payment system
Eco-sustainable tourism, designed to respect and support local culture, art and traditions
---
Your LivTours' Lucca and Pisa Tour includes visiting two of Tuscany's most charming towns. Your private day trip starts at your hotel in Florence where your driver will meet you in a luxury car. Relax as you are introduced to the famously beautiful landscape of Tuscany on our way to your first stop, Pisa! Your driver will delight you with stories and anecdotes from the countryside and its stunning villas.
Upon arrival to Pisa you will immediately behold the world famous Leaning Tower of Pisa! It is known by Italians as the Tower of Pisa and was constructed in the 1100s and has always been leaning!  Standing at 183.27 feet on one side and 185.93 feet on the other, this UNESCO World Heritage Site underwent construction to stop it from leaning any further. After an international group of engineers, mathematicians, and historians met in 2001, construction was carried out to stabilize the tower, allowing it to be opened once again to the public. Why not take the 294 steps up to the top of this world famous tower!
Next, it is off to lunch (not included in the price). The choice is yours, enjoy a full Italian lunch with pasta and wine, or a simple panino sandwich and a beer. After lunch, it is time to meet your driver again to go see Lucca!
In Lucca, you will have a chance to explore the hometown of the famous composer Giacomo Puccini while soaking up the views and enjoy glimpses of daily life. Dating back nearly 3,000 years to Etruscan times, Lucca has been a prominent town. Strolling through the town as you take in the unique and varied architecture, take time to walk through the impressive garden of Palazzo Pfanner with its floral arrangements and marble sculptures. Marvel at the impressive facade of the Cathedral with its bell tower in Piazza San Martino. Enjoy a coffee in the oval square of Piazza dell'Anfiteatro – Amphitheatre Square. You can take a walk or even take a bike ride along the famous reinforced city wall!
After enjoying your time in Lucca, and after a full day of history, culture, Italian food, and Tuscan hills your driver will whisk you back to Florence to enjoy your evening. During the 1.5 hour drive, take time to remember the highlights of your day and enjoy the Tuscan landscape as the evening sun melts over the rolling hills.
ADD A PRIVATE TOUR GUIDE ON BOARD
If you would like to dive a bit further into the history and culture of  Lucca and Pisa, upgrade your tour by choosing a private tour guide to accompany you throughout the day at booking. They will fill your walks with history and anecdotes, accompany you to lunch and facilitate visiting monuments.
BOOK NOW
---
Hotel pickup and drop off

Full day chauffeur service

Free time in Lucca town

Option to rent bikes in Lucca

Free time in Pisa

Option to climb the tower of Pisa
BOOK NOW
---
Children under 8 years old are not allowed into the Leaning Tower of Pisa
Individuals under 18 years old must be accompanied by an adult in the Leaning Tower of Pisa
Please note, the Pisa Baptistery will be closed for renovations from October 2nd-December 1st, 2023. The Tower and cathedral will still be open and visitable.
Let us know when you book the tour, under "Additional Information", if you would like to add the option to rent bikes in Lucca.
BOOK NOW
---
LivTours' group size of max 6 participants is and always has been based on sustainable travel, and we are proud to be at the forefront of change and innovation in the industry.  LivTours is committed to providing travelers with truly sustainable tours with the lowest possible environmental impact, all while supporting the local industries and people of each unique destination. To learn more about how you can actively support sustainable tourism  and how LivTours is contributing, click here.
BOOK NOW
---
When you book a LivTours Private Tour or Experience, you are guaranteed a dedicated, expert guide that allows you the flexibility to start your tour at a time which is convenient for you, making planning easy. Our private tours ensure that you will get a tailored experience to meet all your needs so we go at your pace, perfect for families with younger children, elderly, or individuals with accessibility needs. Please be advised that all private tours begin at a base price starting at two people*. Prices are inclusive of entry tickets where applicable. *Some Ferrari private experiences are inclusive of one person only.
BOOK NOW
---
Make your day even more unique and comfortable by upgrading your tour with a customizable LivTours optional add on!
520 €
904.80 A$
483.60 £
613.60 $
BOOK NOW
---
By selecting Choose Dates Later / Buy as Gift at booking, any tour can be purchased without fixed dates. This is the perfect option if you want to purchase your tour as a gift for a loved one, or if you are in the pre-planning phase of your vacation. After booking, you will receive a Travel Voucher Code and full instructions on how to schedule your tours when ready. Once your travel plans are confirmed, you can easily use the Travel Voucher Code on the LivTours website to formally schedule your tours. You can find out more here.
BOOK NOW