Private London WWII Tour | Imperial War Museum & Churchills War Rooms
---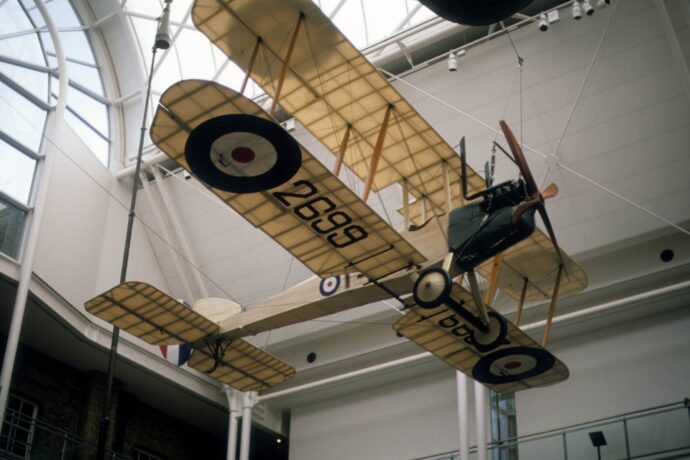 ---
Explore the dramatic history of World War II in London on this fascinating 3-hour private tour of the Imperial War Museum's Second World War wing followed by the Churchill War Rooms.  Begin with a guided tour of London's Imperial War Museum, visiting the World War II collection and galleries, with color footage of the D-Day Landings, harrowing relics, and heroic stories of the Holocaust and the Blitz. Afterward, head to the Churchill War Rooms – the secret underground Head Quarters of the Prime Minister.
BOOK NOW
---
Enjoy the personal attention of your expert private guide

Visit the incredible Imperial War Museum

Learn about the dramatic events of World War II

See the interactive collections about the Holocaust and the Blitz

Tour Churchill's secret underground bunker where he ran the war effort
BOOK NOW
Exclusive private Tours and Experiences. Also offered in Spanish, French, Portuguese, Swedish and Russian
Our prices always include tickets and reservations fees (no waiting in lines!)
Our tour guides and staff are selected experts and speak perfect English
Easy to book and prepay your tours with our secure payment system
Eco-sustainable tourism, designed to respect and support local culture, art and traditions
---
Meet your guide outside London's imposing Imperial War Museum, for your timed entry private tour. The Imperial War Museum was built while the First World War was still raging, and is the most extensive war museum in the world telling the many personal stories of loss and courage of ordinary people who found their lives torn apart by conflict.
Your guide will take you to the newly installed World War II and Holocaust Galleries. The Imperial War Museum is the first in the world to house both these galleries under the same roof: you'll be able to learn about the Blitz, the D-Day Landings – with color footage of the beaches – and how the war was playing out on all fronts, while the horrors of the Holocaust were being carried out. These vast and interactive galleries span two floors and contain many personal stories and accounts from real people from diverse communities. The collection contains 1,500 items from clothing to weapons, to letters that bring to life a war that affected millions of people from London to Russia, America to Japan, Australia and New Zealand, China, the Philippines, and all of Europe.
Next, take a taxi with your guide to the Churchill War Rooms. With LivTours' priority access, go straight into this top-secret bunker that served as the Head Quarters of the British War machine. The Churchill War Rooms is a subterranean labyrinth of offices underneath Whitehall, the political epicenter of London. It was here that Prime Minister Winston Churchill along with his war cabinet of ministers, generals, and spy chiefs worked, lived, and slept during the agonizing months and years of the Second World War. This historic site has remained exactly as it was when the lights were switched off in 1945! End in the museum dedicated to Churchill's extraordinary life, or exit with your guide.
BOOK NOW
---
Expert private guide

Guided tour of Imperial War Museum

World War II Galleries

Holocaust and Blitz collections

Taxi ride between locations

Skip the Line tickets to the Churchill War Rooms

Guided tour of the Churchill War Rooms
BOOK NOW
---
The Holocaust Galleries are not recommended for kids under 14

This tour focuses on WWII highlights only. If you prefer a tour that focuses on or includes WWI commentary, please contact our customer service team to arrange a custom bespoke tour.
BOOK NOW
---
LivTours' group size of max 6 participants is and always has been based on sustainable travel, and we are proud to be at the forefront of change and innovation in the industry.  LivTours is committed to providing travelers with truly sustainable tours with the lowest possible environmental impact, all while supporting the local industries and people of each unique destination. To learn more about how you can actively support sustainable tourism  and how LivTours is contributing, click here.
BOOK NOW
---
When you book a LivTours Private Tour or Experience, you are guaranteed a dedicated, expert guide that allows you the flexibility to start your tour at a time which is convenient for you, making planning easy. Our private tours ensure that you will get a tailored experience to meet all your needs so we go at your pace, perfect for families with younger children, elderly, or individuals with accessibility needs. Please be advised that all private tours begin at a base price starting at two people*. Prices are inclusive of entry tickets where applicable. *Some Ferrari private experiences are inclusive of one person only.
BOOK NOW
---
Make your day even more unique and comfortable by upgrading your tour with a customizable LivTours optional add on!
Select your Transfer Option
225 €
391.50 A$
209.25 £
265.50 $
BOOK NOW
---
By selecting Choose Dates Later / Buy as Gift at booking, any tour can be purchased without fixed dates. This is the perfect option if you want to purchase your tour as a gift for a loved one, or if you are in the pre-planning phase of your vacation. After booking, you will receive a Travel Voucher Code and full instructions on how to schedule your tours when ready. Once your travel plans are confirmed, you can easily use the Travel Voucher Code on the LivTours website to formally schedule your tours. You can find out more here.
BOOK NOW