Private Tour from La Spezia to Cinque Terre | Shore Excursion
---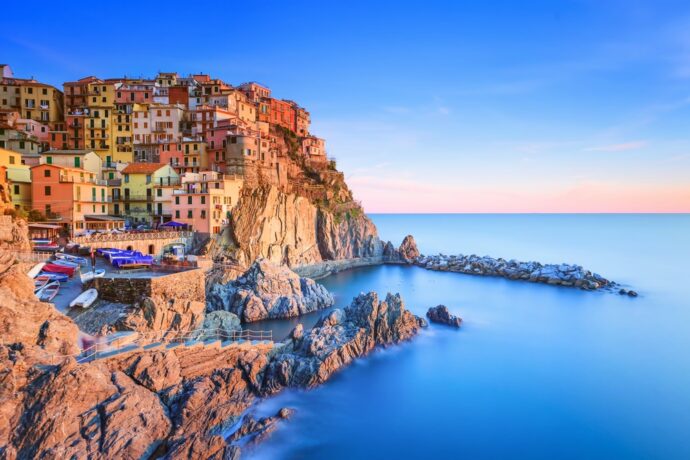 ---
LivTours' Private Tour from La Spezia to Cinque Terre | Shore Excursion is a day trip to one of Italy's most stunning coastlines! Beginning from the La Spezia Port, where you will meet your private tour guide who will show you the highlights of this gorgeous coastal UNESCO World Heritage site. You will see Cinque Terre from many angles, up high with sweeping views down to the water where you will enjoy a coastal ferry ride – one of the best ways to see this region.  discover Cinque Terre by ferry, train and on foot with your expert private guide by your side. This Cinque Terre tour is designed to be completely immersive  as you discover one of Italy's most beautiful coastal destinations.
Cinque Terre is a must-see for nature and sea lovers, and the best way to see all of this lovely coastline is to let the experts take care of all the details while you get to sit back, relax and enjoy the day! LivTours Shore Excursion to Cinque Terre offers you a perfect itinerary to experience this unique UNESCO World Heritage Site in all its splendor! Touring with LivTours is not just about seeing the sights, but experiencing them as they ere meant to.  You will experience the coast just like a local by ferry, walking, and train, which is the beauty of Cinque Terre.  With all the details taken care of and a LivTours expert guide by your side, all you need to think about is enjoying your time along this gorgeous coastline destination!
BOOK NOW
---
Discover the best of Cinque Terre with a LivTours' private expert tour guide

Soak up this unusual UNESCO World Heritage Site by foot, ferry and train

Imagine a perfectly customized itinerary, no stress and all comfort and style

Take amazing photographs of this area from all angles throughout the day

Enjoy a relaxing lunch in one of Cinque Terre's colourful fishing villages
BOOK NOW
Exclusive private Tours and Experiences. Also offered in Spanish, French, Portuguese, Swedish and Russian
Our prices always include tickets and reservations fees (no waiting in lines!)
Our tour guides and staff are selected experts and speak perfect English
Easy to book and prepay your tours with our secure payment system
Eco-sustainable tourism, designed to respect and support local culture, art and traditions
---
Your LivTours' Private Tour from La Spezia to Cinque Terre | Shore Excursion starts at the La Spezia Port Terminal, where your LivTours private guide will be waiting for you. You will reach the local air conditioned train station and make your way into the park as all locals would do.  From here you can enjoy a short hike and breathtaking views of the towns of Volastra and Manarola. You will also start to get an  appreciation of the Cinque Terre's unique coastline, hosting steep mountainsides lined with vineyards and olive trees. There are many local wineries in the area producing such famous wines as Sciacchetrà and the Cinque Terre DOC.  Be sure to try a Cinque Terre wine later in the day when you stop for lunch!
After this incredible visual introduction, you will make your way down to Vernazza, the first town of Cinque Terre  that was founded in the year 1080. Although all five towns  that make up the Cinque Terre are gorgeous, Vernazza is considered to be one of the most  stunning, with its colorful houses and picturesque little harbor.
From Vernazza you will take a ferry to Monterosso, allowing you to get stunning photographs, enjoy the rugged coastline up close, and admire the beautiful green water and man-made grottos coming out of the cliffs. Once in the the town of Monterosso, you will have some free time to explore and eat lunch. Lunch is not included in this tour, but your LivTours guide will be happy to recommend some great places to eat.  In Monterosso, anchovies are a local specialty, as is the freshly caught seafood, so be sure to indulge in them at lunch perhaps paired with a local Cinque Terre wine. After relaxing and recharging in Monterosso, you will journey back by train. Cinque Terre's train runs seamlessly in and out of tunnels along the coast, giving you the opportunity to enjoy this unique stretch of coastline in yet another way. Get your cameras ready!
Your train ride from Monterosso ends at La Spezia Centrale station. From here, still in the company of your private guide, you will take a taxi back to your cruise ship. Cinque Terre is very photogenic allowing you to take unforgettable photos, leaving you with vacation memories to last a lifetime!
BOOK NOW
---
Scenic views of Cinque Terre

Vernazza town

Ferry ride along the coast

Monterosso town

Scenic train jouney
BOOK NOW
---
Comfortable walking shoes recommended.

Offered in: English, French, Spanish, Portuguese, and Italian. Please specify under "Additional notes" if you wish to book the tour in a language other than English.

Lunch is not included in the price of the tour.

The itinerary may change order depending on weather conditions such as rain, strong currents and extreme heat.

Please remember to add information about your cruise ship under "Additional information" in the booking form.
BOOK NOW
---
LivTours' group size of max 6 participants is and always has been based on sustainable travel, and we are proud to be at the forefront of change and innovation in the industry.  LivTours is committed to providing travelers with truly sustainable tours with the lowest possible environmental impact, all while supporting the local industries and people of each unique destination. To learn more about how you can actively support sustainable tourism  and how LivTours is contributing, click here.
BOOK NOW
---
When you book a LivTours Private Tour or Experience, you are guaranteed a dedicated, expert guide that allows you the flexibility to start your tour at a time which is convenient for you, making planning easy. Our private tours ensure that you will get a tailored experience to meet all your needs so we go at your pace, perfect for families with younger children, elderly, or individuals with accessibility needs. Please be advised that all private tours begin at a base price starting at two people*. Prices are inclusive of entry tickets where applicable. *Some Ferrari private experiences are inclusive of one person only.
BOOK NOW
---
Absolutely beautiful
"We were very anxious to see the Cinque Terre. Had heard so many things from friends and family who had visited. So when we saw LivTour's option to spend a day to experience the Cinque Terre by car, boat, train and even hiking, it sounded just perfect. And it was!! We had an amazing guide with whom we spend the whole day and the lunch in one of the little villages was just divine! We couldn't have asked for anything more! Thanks LivTours!!"
Madison - Australia
---
BOOK NOW
---
By selecting Choose Dates Later / Buy as Gift at booking, any tour can be purchased without fixed dates. This is the perfect option if you want to purchase your tour as a gift for a loved one, or if you are in the pre-planning phase of your vacation. After booking, you will receive a Travel Voucher Code and full instructions on how to schedule your tours when ready. Once your travel plans are confirmed, you can easily use the Travel Voucher Code on the LivTours website to formally schedule your tours. You can find out more here.
BOOK NOW