Private Highlights of Paris Tuk-Tuk Experience
---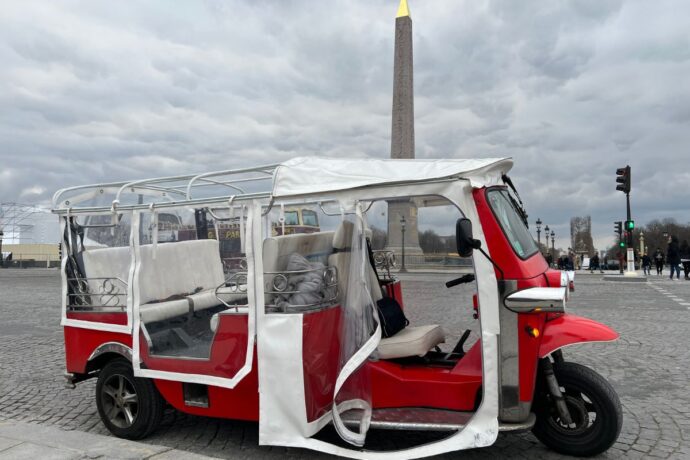 ---
Whizz and weave through the stunning sights of Paris in a Tuk-Tuk! This amazing whirlwind adventure around the world's most romantic city.  With the wind blowing through your hair and an expert private guide on hand to tell you all the amazing stories of the city's famous streets, statues, and monuments from Notre Dame to the Eiffel Tower, this private two-hour Tuk-Tuk tour is surely the most fun and adventurous way to experience the City of Lights in all her glory!
BOOK NOW
---
Enjoy a fun, fast-paced tour around the iconic highlights of Paris in a Tuk Tuk!

Take photos of iconic sites from the Eiffel Tower to Notre Dame

Ride along famous Parisian boulevards like the Champs Elysee and St Germain

Hear the fascinating history of Paris from your expert private guide

End at Place de la Concorde, the focal point of the French Revolution
BOOK NOW
Exclusive private Tours and Experiences. Also offered in Spanish, French, Portuguese, Swedish and Russian
Our prices always include tickets and reservations fees (no waiting in lines!)
Our tour guides and staff are selected experts and speak perfect English
Easy to book and prepay your tours with our secure payment system
Eco-sustainable tourism, designed to respect and support local culture, art and traditions
---
Enjoy a fast-paced adventure exploring the most iconic sights of Paris on a Tuk-Tuk!
On this private tour with an expert English-speaking private guide, you will be able to see more of the city in two hours than most visitors see in two days. You'll meet at the Place de la Concorde and set off on a whirlwind adventure of a lifetime!
Beginning with the beautiful Petite and Grand Palais buildings, you'll stop on the famous Pont Alexandre with an iconic view and photo opportunity of the Eiffel Tower: the most famous and visited monument in the world! Next, drive along Paris' most famous street, the Champs Elysee, lined with high-end fashion houses and capped with the iconic Arc de Triomphe.
You'll see the golden dome of Les Invalides – the military hospital and famous mausoleum of Napoleon Bonaparte himself, the man who emerged as a self-styled emperor after the French Revolution.
Cross the river to the Left Bank and weave between the iconic Boulevard Saint Germain, made famous by literary legends like Ernest Hemingway and the Lost Generation, and the quaintly cobbled back streets of the Latin Quarter with its hidden gems, and many bars. See the Luxembourg Gardens and stop by the magnificent Pantheon.
Ride down to the island to see the majestic Notre Dame Cathedral. Having survived a massive fire in 2019, the most famous Gothic cathedral in the world is still standing! Cross to the Right Bank and zig-zag through the medieval streets of Le Marais, and meander through the beautiful second arrondissement to the Paris Opera – famous for its baroque bling, (and the Phantom!) to the stunning Place Vendome – home to the Ritz and a monumental column with masterful bas reliefs erected by Napoleon to commemorate the Battle of Austerlitz.
Throughout the tour, you will learn the fascinating history of Paris from the brutal beheading of King Louis XVI at Place de la Concorde (then called Place de la Revolution) to the burial of Napoleon in Les Invalides. You will hear snippets of literary gossip, the rumors that surrounded the beautiful Marie Antoinette and her fashionable aristocrats, and how the Eiffel Tower was never meant to last this long!
This fantastic Tuk-Tuk tour begins and ends at Place de la Concorde in the very heart of Paris. Marked by the famous obelisk and situated between the Louvre and the Champs Elysee. The tour ensures you cover a lot of ground in a jam-packed, adventure-filled two hours, stop for amazing, iconic photos and create once-in-a-lifetime memories!
BOOK NOW
---
Two-Hour driving tour

Private Guide

Tuk-tuk with expert driver

Champs Elysee

Petite & Grand Palais

Pont Alexandre

Eiffel Tower

Notre Dame

Les Invalides

Place Vendôme

Place de la Concorde

Equipped with rain covers
BOOK NOW
---
LivTours' group size of max 6 participants is and always has been based on sustainable travel, and we are proud to be at the forefront of change and innovation in the industry.  LivTours is committed to providing travelers with truly sustainable tours with the lowest possible environmental impact, all while supporting the local industries and people of each unique destination. To learn more about how you can actively support sustainable tourism  and how LivTours is contributing, click here.
BOOK NOW
---
When you book a LivTours Private Tour or Experience, you are guaranteed a dedicated, expert guide that allows you the flexibility to start your tour at a time which is convenient for you, making planning easy. Our private tours ensure that you will get a tailored experience to meet all your needs so we go at your pace, perfect for families with younger children, elderly, or individuals with accessibility needs. Please be advised that all private tours begin at a base price starting at two people*. Prices are inclusive of entry tickets where applicable. *Some Ferrari private experiences are inclusive of one person only.
BOOK NOW
---
Make your day even more unique and comfortable by upgrading your tour with a customizable LivTours optional add on!
199 €
346.26 A$
185.07 £
234.82 $
BOOK NOW
---
By selecting Choose Dates Later / Buy as Gift at booking, any tour can be purchased without fixed dates. This is the perfect option if you want to purchase your tour as a gift for a loved one, or if you are in the pre-planning phase of your vacation. After booking, you will receive a Travel Voucher Code and full instructions on how to schedule your tours when ready. Once your travel plans are confirmed, you can easily use the Travel Voucher Code on the LivTours website to formally schedule your tours. You can find out more here.
BOOK NOW