Private Highlights of Barcelona Tour | Half Day Experience
---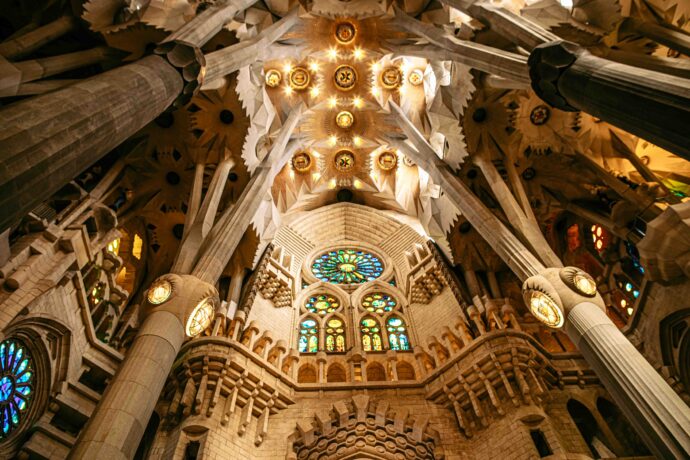 ---
Explore the very best of Barcelona on this Private Half Day Highlights of Barcelona Tour guided by a local expert. Your exclusive tour includes two UNESCO World Heritage sites: the stunning Basilica La Sagrada Familia, perhaps the most iconic and recognisable landmark of the city; and the magical Park Guell, filled with sparkling statues and colourful mosaics – with breathtaking views, both designed by the darling of Barcelona, the artist and architect Antonio Gaudi.
BOOK NOW
---
Explore the best highlights of Barcelona with a private English Speaking guide

Discover the two most famous UNESCO world heritage sites of the city

Enjoy priority access to La Sagrada Familia, Gaudi's famously unfinished basilica

See Gaudi's tomb, and admire the remarkable interior of this famous church

Explore enchanting Park Guell, also designed by Gaudi, with amazing views
BOOK NOW
Exclusive private Tours and Experiences. Also offered in Spanish, French, Portuguese, Swedish and Russian
Our prices always include tickets and reservations fees (no waiting in lines!)
Our tour guides and staff are selected experts and speak perfect English
Easy to book and prepay your tours with our secure payment system
Eco-sustainable tourism, designed to respect and support local culture, art and traditions
---
Enjoy a privately half day guided tour of beautiful Barcelona, the city that has it all, from its unique architecture to its golden beaches and blue skies. On your private tour of the highlights of this coastal city, you'll discover two iconic landmarks of Barcelona, La Sagrada Familia and Park Guell. 
These beautiful places were designed by Barcelona's most famous architect, Antonio Gaudi, and are now UNESCO World Heritage listed sites. With your expert private guide, you will firstly visit La Sagrada Familia – with priority access that allows you to skip the line. Enjoy an expert guided tour of this famously unfinished Catholic basilica dedicated to the Holy Family.
Begun in 1882, La Sagrada Familia is famous for its mix of styles from the neo-gothic to the eccentric style for which Gaudi is now synonymous. After admiring its three facades, depicting Jesus's birth, his Passion and his Ascension, you'll see its glorious interior, with the vast 18 towers – each symbolic of a Biblical theme, Gospel or figure, its beautiful stained glass windows, and Gaudi's tomb. 
After your tour of the Basilica, which remains unfinished to this very day, you and your guide will take a taxi up to Carmel Hill which overlooks the city, to visit the enchanting and rather magical Park Guell, also designed by Gaudi, who loved his creation so much he built himself a house to live there!  
At Park Guell, you'll also benefit from skip-the-line entry, to explore this magnificent park with 17 hectares of landscaped gardens, filled with a unique collection of eccentric and colourful sculptures, glittering mosaics, monuments and objets d'arts all inspired by animals and nature. 
Walk up the famous Dragon Staircase in the middle of the park to the very top viewing platform where you can enjoy breathtakingly spectacular views across the city of Barcelona stretching out beneath you. 
BOOK NOW
---
Private English speaking guide

Sagrada Familia skip the line tickets

Guided tour of Sagrada Familia

Transport to Park Guell

Tickets to Park Guell

Guided tour of Park Guell
BOOK NOW
---
Places of worship have strict dress code requirements for entry. All participants are required to have shoulders and knees covered (no tank tops or short dresses) to enter.
BOOK NOW
---
LivTours' group size of max 6 participants is and always has been based on sustainable travel, and we are proud to be at the forefront of change and innovation in the industry.  LivTours is committed to providing travelers with truly sustainable tours with the lowest possible environmental impact, all while supporting the local industries and people of each unique destination. To learn more about how you can actively support sustainable tourism  and how LivTours is contributing, click here.
BOOK NOW
---
When you book a LivTours Private Tour or Experience, you are guaranteed a dedicated, expert guide that allows you the flexibility to start your tour at a time which is convenient for you, making planning easy. Our private tours ensure that you will get a tailored experience to meet all your needs so we go at your pace, perfect for families with younger children, elderly, or individuals with accessibility needs. Please be advised that all private tours begin at a base price starting at two people*. Prices are inclusive of entry tickets where applicable. *Some Ferrari private experiences are inclusive of one person only.
BOOK NOW
---
Make your day even more unique and comfortable by upgrading your tour with a customizable LivTours optional add on!
90 €
156.60 A$
83.70 £
106.20 $
Add Sagrada Familia Tower Tickets
25 €
43.50 A$
23.25 £
29.50 $
BOOK NOW
---
By selecting Choose Dates Later / Buy as Gift at booking, any tour can be purchased without fixed dates. This is the perfect option if you want to purchase your tour as a gift for a loved one, or if you are in the pre-planning phase of your vacation. After booking, you will receive a Travel Voucher Code and full instructions on how to schedule your tours when ready. Once your travel plans are confirmed, you can easily use the Travel Voucher Code on the LivTours website to formally schedule your tours. You can find out more here.
BOOK NOW