Private Helicopter Tour | Amalfi Coast, Capri & Pompeii from Rome
---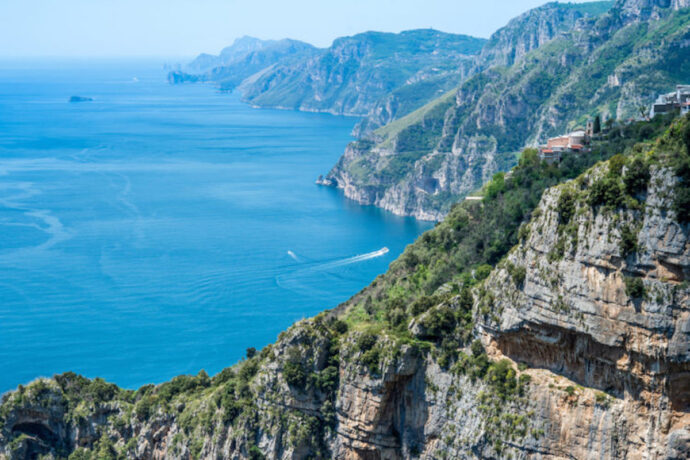 ---
LivTours' Helicopter Tour Around Amalfi Coast, Capri & Pompeii is an extraordinary tour and a chance to see some of the most picturesque Italian scenery, all from the comfort of a seat in the sky. This helicopter tour starts in Rome and once you are comfortably seated on board, your pilot takes to the air to show you the Italian coastline down to the most charming views – the Amalfi Coast!  You will get VIP treatment, a personalized day of endless views, a scenic ride over the eye of Mt Vesuvius, a walk tour of Pompeii, a stop for lunch and whisked back to Rome!
Pompeii is undoubtedly, one of Italy's most well preserved archaeological sites. The city was a typical ancient Roman village founded 80 B.C. A sudden eruption by the volcano, Vesuvius in 79 A.D. buried Pompeii under 6 meters of ash and wiped it off the map until it was rediscovered in 1599. A UNESCO World Heritage Site since 1997, set out over 163 acres and with 42 acres still to be excavated, having a knowledgeable guide by your side is essential.  Discover the story behind the life and times of this ancient port town and the modern day excavations which have helped bring it back to life!
The island of Capri is just off the Amalfi Coast and this is the perfect day trip giving you great views of the rugged coastline, instagram perfect views mixed with culture, sun and sea! The whole of the Amalfi Coast is known for its local artisans, sailors, opera singers, limoncello, and great food, but Capri is especially famous for producing them!
BOOK NOW
---
Enjoy an unforgettable aerial VIP tour of Capri, Amalfi & Pompeii from Rome

Fly in the company of a private expert guide who will be at your side for the entire

Fly over the eye of Mount Vesuvius and enjoy a 2 hour walking Pompeii Tour

Visit the island of Capri for the afternoon and enjoy a bit of shopping or lunch

Experience an exhilarating full day excursion with a licensed pilot & expert guides
BOOK NOW
Exclusive private Tours and Experiences. Also offered in Spanish, French, Portuguese, Swedish and Russian
Our prices always include tickets and reservations fees (no waiting in lines!)
Our tour guides and staff are selected experts and speak perfect English
Easy to book and prepay your tours with our secure payment system
Eco-sustainable tourism, designed to respect and support local culture, art and traditions
---
Your LivTours' Helicopter Tour | Amalfi Coast, Capri & Pompeii, starts with a morning pick up at your hotel in Rome. Your chauffeur will escort you to Urbe Airport of Rome in a climate-controlled luxury vehicle. Upon arrival at the airport, you will meet your licensed pilot and your LivTours private guide who will be with you for the duration of your tour.
The thrill of taking off will surely impress your senses and you will immediately see why a helicopter tour is one of the best ways to truly appreciate the landscape of this stunning country. Your guide will be sure to point out to you the sites of Rome, including the Colosseum and the Roman Forum. Before leaving the Rome area, you will have a chance to admire the Renaissance masterpieces such as Michelangelo's Dome which stands tall atop St Peter's Basilica in Vatican City.  In the distance, you will see Frascati and the Castelli Romani with its rolling green hills and lakes. As your pilot gains altitude, you will fly above the hills and along the coast where you will enjoy stunning coastal views, on your way to Campania, a southern region of Italy – your destination!
(Please note that historic Rome is a no-fly zone so you will not be hovering over the above mentioned sights but they will be within clear view.)
As you make your way down south, your guide will share with you the history of the areas below.  Soon you will be near Naples and Mt Vesuvius will come into view.  Your pilot will make their way over to the fascinating natural site of Mt Vesuvius, a still active volcano! If conditions are right, your pilot will hover over Vesuvius – do you  dare to look into the eye of the volcano which once destroyed the whole town and its people of Pompeii?  During your helicopter ride, you and your group will be equipped with headphones and a microphone so you can easily communicate with your guide. Listen to the tales of that fateful day, and next see it first hand. Your pilot will make a safe landing in the heliport near Pompeii.  With both feet back on the ground, it is time to get a bit more history under your belt.
TOUR POMPEII WITH A LOCAL ARCHAEOLOGIST 
Your private helicopter tour includes a two hour private tour of Pompeii with a local archaeologist guide who will give you a comprehensive look at what life was like back in this ancient port town, its secret to being the most important commerce town of the Roman Empire and the details of what happened that fateful morning of 79 AD when Vesuvius erupted destroying the entire population of Pompeii.
AFTERNOON LUNCH IN CAPRI
Once you have seen Pompeii you will meet your pilot again and be whisked to the stunning Amalfi Coast. They say there are two ways to see the Amalfi Coast – by water or from the air!  So congratulations on choosing to see these mountain towns reflected in the Mediterranean.  Marvel at the wonders of urban infrastructure with towns building on steep mountain faces with the gorgeous blue of the sea below – ideal for picture taking. You will be able to spot a private cove or two which are almost impossible to see in any other way than from the very seat you are in.  Now it is on to your next destination, the island of Capri.
Your helicopter will land on this beautiful island and this time you will get to spend a bit of time on your own to explore, do a bit of shopping, have a bit of lunch, or have a dip in the sea. It is your day – you get to choose!  You will have about three hours to yourself and enjoy southern Italy your way.
If you would like to enjoy a leisurely Italian lunch, just let your tour guide know what you would like to eat and they will make a reservation at a local restaurant.  You are in the land of limoncello and here it tastes like no other limoncello you have had! Restaurants make their own, so try a local treat.
Once you have finished exploring Capri, it is time to meet your helicopter and make your way back to Rome. Your private tour ends at the Urbe Airport in Rome, where you started and you will be driven back to your Rome hotel.
Imagine a day of VIP treatment in some of the most beautiful cities in Italy!
BOOK NOW
---
Private Chauffuer from your Rome Hotel

Helicopter Day Trip from Rome

Pilot and all related expenses

Tour guide on Board

Landing in Pompeii & Tour

Landing in Capri & Tour

Fly over Amalfi and Mt Vesuvius

Fly over Italian coast
BOOK NOW
---
Please Note: Inclement weather may change the itinerary due to safety reasons.
There is a maximum weight capacity each helicopter can handle, so we will be asking your weight upon booking. Passengers will be seated according to weight in order to create balance in the helicopter. These are mandatory aviation guidelines which are imposed for your safety.
BOOKING NOTES and PRICING: Your booking will go into pending as numerous factors need to be confirmed before your card can be charged. Please bear in mind that the cost is indicative and that there could be minor adjustments due to variable factors such as weight, heliports available and variations in price of fuel.
BOOK NOW
---
LivTours' group size of max 6 participants is and always has been based on sustainable travel, and we are proud to be at the forefront of change and innovation in the industry.  LivTours is committed to providing travelers with truly sustainable tours with the lowest possible environmental impact, all while supporting the local industries and people of each unique destination. To learn more about how you can actively support sustainable tourism  and how LivTours is contributing, click here.
BOOK NOW
---
When you book a LivTours Private Tour or Experience, you are guaranteed a dedicated, expert guide that allows you the flexibility to start your tour at a time which is convenient for you, making planning easy. Our private tours ensure that you will get a tailored experience to meet all your needs so we go at your pace, perfect for families with younger children, elderly, or individuals with accessibility needs. Please be advised that all private tours begin at a base price starting at two people*. Prices are inclusive of entry tickets where applicable. *Some Ferrari private experiences are inclusive of one person only.
BOOK NOW
---
Make your day even more unique and comfortable by upgrading your tour with a customizable LivTours optional add on!
Private Boat Experience in Capri 2 hrs
600 €
1,044 A$
558 £
708 $
BOOK NOW
---
The beauty of southern Italy
"This was the best way to see and appreciate the beauty of southern Italy. Not just the natural beauty but also the historic beauty. To see from above gives you a perspective that you couldn't get any other way. Definitely recommend."
Donald - USA
---
BOOK NOW
---
By selecting Choose Dates Later / Buy as Gift at booking, any tour can be purchased without fixed dates. This is the perfect option if you want to purchase your tour as a gift for a loved one, or if you are in the pre-planning phase of your vacation. After booking, you will receive a Travel Voucher Code and full instructions on how to schedule your tours when ready. Once your travel plans are confirmed, you can easily use the Travel Voucher Code on the LivTours website to formally schedule your tours. You can find out more here.
BOOK NOW