Private Full Day Amalfi Driving Tour & English Speaking Chauffeur
---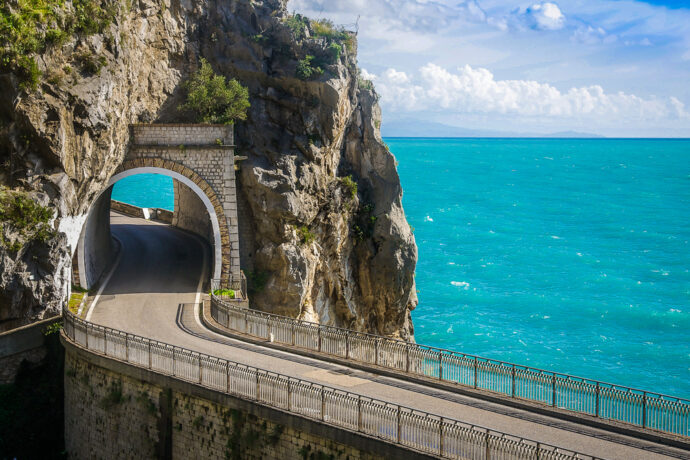 ---
LivTours Exclusive Full Day Amalfi Driving Tour is a luxurious way to discover this magnificent coastal region from the comfort of your own private air-conditioned car. Leave your hiking shoes and maps at your hotel – this excursion is all about relaxation and comfort! The Amalfi Coast is one of Italy's most striking landscapes – steep slopes with terraced houses plunge directly into the dreamy blue sea. Your private driver is a professional chauffeur and an English-speaking local.
You will be escorted around for the full day as you explore the many charming towns that make up this serene UNESCO World Heritage Site. Snap pictures of characteristic houses perched on cliffs and the expansive warm blue hue of the Mediterranean waters as you travel the winding roads with breathtaking views. Find hidden spots for admiring and your new favorite restaurant for fresh-caught seafood with the help of your chauffeur. Enjoy the cool breezes from the remarkably blue sea. Visit the region's famous towns like Sorrento, Amalfi, Positano, Ravello, Positano, and more on this care-free and tranquil voyage through Campania's La Dolce Vita!
BOOK NOW
---
Explore the stunning Amalfi Coast with a local private English-speaking chauffeur

Discover lovely seaside towns like Sorrento, Positano, Amalfi, Ravello & more

Indulge in the panoramic views from the comfort of your luxury air-conditioned car

Find the perfect spot to eat fresh pasta or seafood from your private chauffeur

Kick back and relax as you follow the coastline - your full day driver knows the way
BOOK NOW
Exclusive private Tours and Experiences. Also offered in Spanish, French, Portuguese, Swedish and Russian
Our prices always include tickets and reservations fees (no waiting in lines!)
Our tour guides and staff are selected experts and speak perfect English
Easy to book and prepay your tours with our secure payment system
Eco-sustainable tourism, designed to respect and support local culture, art and traditions
---
Your LivTours Private Full Day Amalfi Driving Tour begins with your private Chauffeur picking you up from your hotel in the Naples or Amalfi area. Your private driver is a local professional chauffeur who speaks English and knows the region like the back of their hand. Your private air-conditioned vehicle and driver will escort you through the region for the full day!
The Amalfi Coast is a UNESCO World Heritage Site that features 13 stunning seaside towns, breathtaking blue sea views, and steep cliffs with beautiful houses defiantly arranged together on terraced landscapes. The steep, narrow, winding roads along this coastline offer memorable views and photo opportunities. But they can also pose a great challenge to drivers that are unfamiliar with the area. Your Private Driving Tour with us eliminates the stress of trying to navigate on your own and allows you to sit back, relax, and enjoy the ride!
Your LivTours chauffeur will take you through this region's most memorable towns and because they are local to the region they will be able to share with you any stories and secret spots along the way. Explore the historic center of Sorrento and admire their famous marquetry, ornate inlaid wooden boxes, furniture, and other items. Visit the historic town of Amalfi, once the important Maritime Republic, and famous for its historic white buildings and its Emerald Grotto. Climb the steep staircases of the vertiginous and posh town of Positano, admiring the pastel houses that seem to defy gravity.
Travel back in time in Ravello, a charming town known for beautiful coral jewelry and features a collage of ancient, medieval, and modern architecture. Find the perfect spot for lunch along the way – your driver will know just where to take you based on what you are searching for, whether it's the perfect seaside view or the freshest local seafood.
After a full day of immersing yourself in the rich local culture and unbeatable scenery, your tour will conclude with your private chauffeur returning you to your hotel. This luxurious adventure is a once in a lifetime opportunity for making beautiful memories!
ADD A PRIVATE TOUR GUIDE ON BOARD
If you would like to dive a bit further into the history and culture of  the area, upgrade your tour by choosing a private tour guide to accompany you throughout the day at booking, they will fill your walks with history and anecdotes, accompany you to lunch and facilitate visiting monuments.
BOOK NOW
---
Chauffeur hotel pickup

Private air-conditioned vehicle

English speaking driver

Sorrento town

Positano town

Amalfi town

Ravello town

Free time for lunch

Hotel drop-off

Tour guide on board (optional)
BOOK NOW
---
Car Seats are required for children of certain ages in Italy. Please let us know if children will be coming on this tour so that we can make arrangements.

Comfortable walking shoes recommended.

Places of worship have strict dress code requirements for entry. All participants are required to have shoulders and knees covered (no tank tops or short dresses) to enter.

Tour price does not include lunch, entrance fees to any sites (because this is a customizable tour), or gratuity.
BOOK NOW
---
LivTours' group size of max 6 participants is and always has been based on sustainable travel, and we are proud to be at the forefront of change and innovation in the industry.  LivTours is committed to providing travelers with truly sustainable tours with the lowest possible environmental impact, all while supporting the local industries and people of each unique destination. To learn more about how you can actively support sustainable tourism  and how LivTours is contributing, click here.
BOOK NOW
---
When you book a LivTours Private Tour or Experience, you are guaranteed a dedicated, expert guide that allows you the flexibility to start your tour at a time which is convenient for you, making planning easy. Our private tours ensure that you will get a tailored experience to meet all your needs so we go at your pace, perfect for families with younger children, elderly, or individuals with accessibility needs. Please be advised that all private tours begin at a base price starting at two people*. Prices are inclusive of entry tickets where applicable. *Some Ferrari private experiences are inclusive of one person only.
BOOK NOW
---
Make your day even more unique and comfortable by upgrading your tour with a customizable LivTours optional add on!
490 €
852.60 A$
455.70 £
578.20 $
BOOK NOW
---
Excellent tour
"We had a very enjoyable day, visiting the Amalfi coast on a private tour organized by LivItaly. Our driver spoke excellent English, was gracious and personable and molded the tour and the pace according to our desires. We will remember the Amalfi coast for a long time and always quite fondly thanks to this excellent tour."
Harold - UK
---
BOOK NOW
---
By selecting Choose Dates Later / Buy as Gift at booking, any tour can be purchased without fixed dates. This is the perfect option if you want to purchase your tour as a gift for a loved one, or if you are in the pre-planning phase of your vacation. After booking, you will receive a Travel Voucher Code and full instructions on how to schedule your tours when ready. Once your travel plans are confirmed, you can easily use the Travel Voucher Code on the LivTours website to formally schedule your tours. You can find out more here.
BOOK NOW