Private Eiffel Tower Tour With Seine River Cruise
---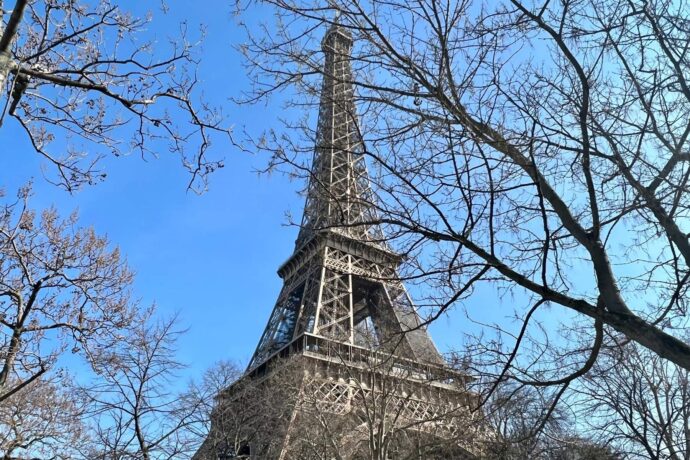 ---
No trip to Paris is complete without visiting the iconic Eiffel Tower! This private tour is extra special – taking you either to the second tier or, if you select the top tier add-on at booking, all the way to the very top of the tower, a spectacularly giddy ascent in a glass elevator. The 2nd tier is 116 meters high, and the top tier is 276 meters in the air, all of Paris – indeed all of France – stretches out beneath you. You feel invincible!

See Gustave Eiffel's office with life-like waxwork figures, learn all about the Eiffel Tower's history and controversies, and be sure to enjoy the champagne bar! Afterward, enjoy a scenic cruise along the Seine, with beautiful views of historic Paris monuments.  
BOOK NOW
---
Enjoy exclusive access to the second tier of the Eiffel Tower with Seine Cruise

Learn about this iconic symbol of Paris from your English-speaking guide

Option to explore the top tier with interactive displays and panoramic views

See Gustave Eiffel's office with amazing life-like wax work figures

Enjoy the champagne bar and later, take a river cruise along the Seine
BOOK NOW
Exclusive private Tours and Experiences. Also offered in Spanish, French, Portuguese, Swedish and Russian
Our prices always include tickets and reservations fees (no waiting in lines!)
Our tour guides and staff are selected experts and speak perfect English
Easy to book and prepay your tours with our secure payment system
Eco-sustainable tourism, designed to respect and support local culture, art and traditions
---
Your tour begins at the base of the Eiffel Tower where your expert guide will escort you past the crowds, straight to the summit elevator. You'll glide up to the second tier, 116 meters high, or if you choose to add on the top tier option, 276 meters to the very top – with the city of Paris spread out below you. A truly thrilling experience!
The Eiffel Tower is the global symbol of Paris. With its romantic nightly light show, it has hosted innumerable proposals of marriage and witnessed the many triumphs and tragedies of the last century. It is a mighty iron lattice structure, towering above the city at a height of over 300 meters. It weighs a staggering 10,100 tons, is made with 18,038 pieces of iron, and is held together with 2.5 million rivets! Constructed in just two years by the engineering firm owned by Gustave Eiffel for the Paris World Fair of 1889 and to mark the centenary of the French Revolution, it was only meant to stand for 20 years. 133 years later she's still standing!
Explore the fascinating exhibitions and interactive displays at the summit, and view panoramic maps and images of the Tower as it originally looked in 1889. There is a beautiful reconstruction of Gustave Eiffel's office – with life-like waxwork figures of the man himself, with his daughter Claire meeting the American inventor Thomas Edison. There is also the champagne bar, to toast your daring ascent! Your guide will leave you at the Eiffel Tower to enjoy it for as long as you like and give you tickets and instructions for your scenic River Cruise along the Seine, which you can take at any time. Having seen Paris from above, this is a beautiful way to see the many historic monuments of Paris that line the river – such as the Louvre Palace and Notre Dame – up close.
BOOK NOW
---
Expert English speaking guide

Skip-the-line tickets to Eiffel Tower

Exclusive access to the Eiffel Tower second tier

Free time to enjoy Eiffel Tower at your leisure

River Seine Cruise tickets

Enjoy the city from above and below

Option to add-on top tier access

One-hour scenic Seine river cruise
BOOK NOW
---
LivTours' group size of max 6 participants is and always has been based on sustainable travel, and we are proud to be at the forefront of change and innovation in the industry.  LivTours is committed to providing travelers with truly sustainable tours with the lowest possible environmental impact, all while supporting the local industries and people of each unique destination. To learn more about how you can actively support sustainable tourism  and how LivTours is contributing, click here.
BOOK NOW
---
When you book a LivTours Private Tour or Experience, you are guaranteed a dedicated, expert guide that allows you the flexibility to start your tour at a time which is convenient for you, making planning easy. Our private tours ensure that you will get a tailored experience to meet all your needs so we go at your pace, perfect for families with younger children, elderly, or individuals with accessibility needs. Please be advised that all private tours begin at a base price starting at two people*. Prices are inclusive of entry tickets where applicable. *Some Ferrari private experiences are inclusive of one person only.
BOOK NOW
---
Make your day even more unique and comfortable by upgrading your tour with a customizable LivTours optional add on!
Eiffel Tower Top Tier Add-On
30 €
52.20 A$
27.90 £
35.40 $
One Way Transfer from Hotel
99 €
172.26 A$
92.07 £
116.82 $
BOOK NOW
---
By selecting Choose Dates Later / Buy as Gift at booking, any tour can be purchased without fixed dates. This is the perfect option if you want to purchase your tour as a gift for a loved one, or if you are in the pre-planning phase of your vacation. After booking, you will receive a Travel Voucher Code and full instructions on how to schedule your tours when ready. Once your travel plans are confirmed, you can easily use the Travel Voucher Code on the LivTours website to formally schedule your tours. You can find out more here.
BOOK NOW