Private Doge's Palace Tour
---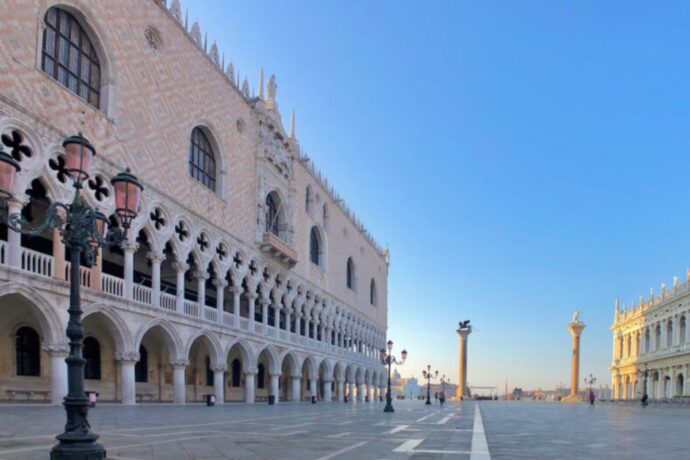 ---
Discover the beauty and history of the iconic Doge's Palace in Venice on this exclusive, private tour with an expert guide.
Constructed in the 14th century with many additions over several hundred years, the magnificent Doge's Palace was built to be a vast and majestic residence of Venice's ruler, the Doge, as well as the impressive seat of government. It was the epicenter of Venetian power for hundreds of years.
On this fascinating private tour, you'll wander its splendid halls and corridors, learn the history of the Republic of Venice, and about the extraordinary lives of her former rulers as you walk in the footsteps of the Doges.
BOOK NOW
---
Experience a private tour of the majestic Doge's Palace

See the hidden gems and highlights of the museum collection

Ascend the famous Scala dei Giganti

Learn the inner workings of Venetian politics as you enter the Grand Council chamber

Explore the prisons, Bridge of Sighs, the Doge's apartments, the Armory, and more!
BOOK NOW
Exclusive private Tours and Experiences. Also offered in Spanish, French, Portuguese, Swedish and Russian
Our prices always include tickets and reservations fees (no waiting in lines!)
Our tour guides and staff are selected experts and speak perfect English
Easy to book and prepay your tours with our secure payment system
Eco-sustainable tourism, designed to respect and support local culture, art and traditions
---
Explore the highlights and hidden gems of the Doges Palace on this exclusive privately guided tour. The building is a majestic medieval-Renaissance castle built to be the impressive and awe-inspiring center of power in Venice. For centuries, the Doge, or ruler of Venice lived within these grand galleries, chambers and corridors. It served as both the residence and seat of power.  
With your expert private guide, explore this vast palace-turned-museum and get a chance to see how the powerful Doges of Venice lived and ruled, learn how Venice operated as a Republic, and what life was like for the people of Venice for hundreds of years. 
Walk up the famous Scala dei Giganti and enter the council chamber: between the gigantic statues of Poseidon, god of the ocean – to represent Venice's topography and coastal power, and Mars, god of war to symbolize her military might. In between these two pagan gods you'll see a winged lion – to represent Saint Mark – the city's Christian patron saint.
The Great Council Chamber is one of the most amazing halls in the whole of Europe; completely covered in art! You'll find Tintoretto's Paradise among others paintings: ironically this was where prisoners were sentenced. Not such a paradise for everyone! It is also where the Senate met and agreed on policy and law, and where the new Doge was elected. You'll also see the famous Bridge of Sighs – which connected the palace to the prison. 
Next, explore the dreaded Chamber of Torment where you will hear about medieval methods of questioning… and torture. Discover the two different prisons – the Pozzi and the Piombi, one was wet and dark and grisly, the other drier and slightly more comfortable. The infamous Casanova did time in both prisons.
You'll see a massive collection of over 2000 pieces of weaponry in the Armory including swords, quivers, crossbows, halberds, and suits of armor. Learn about the importance of Italian condottieri – mercenary soldiers employed to defend Venice, throughout the Middle Ages.  
Wander through the Doge's private apartments, hear about the way of life of these revered elders and political leaders, and finally, admire the opulent Golden Staircase with its magnificent ceiling by Sansovino – a Florentine artist, rejected by Michelangelo, who came to Venice where… he clearly flourished!
BOOK NOW
---
Private tour guide

Skip the line tickets

Two hour walking tour

Highlights of the Doge's Palace

Tintoretto's Masterpieces

Fascinating Venetian history and intrigue
BOOK NOW
---
LivTours' group size of max 6 participants is and always has been based on sustainable travel, and we are proud to be at the forefront of change and innovation in the industry.  LivTours is committed to providing travelers with truly sustainable tours with the lowest possible environmental impact, all while supporting the local industries and people of each unique destination. To learn more about how you can actively support sustainable tourism  and how LivTours is contributing, click here.
BOOK NOW
---
When you book a LivTours Private Tour or Experience, you are guaranteed a dedicated, expert guide that allows you the flexibility to start your tour at a time which is convenient for you, making planning easy. Our private tours ensure that you will get a tailored experience to meet all your needs so we go at your pace, perfect for families with younger children, elderly, or individuals with accessibility needs. Please be advised that all private tours begin at a base price starting at two people*. Prices are inclusive of entry tickets where applicable. *Some Ferrari private experiences are inclusive of one person only.
BOOK NOW
---
Make your day even more unique and comfortable by upgrading your tour with a customizable LivTours optional add on!
Guide Pickup from Central Hotel (Transport Excluded)
55 €
95.70 A$
51.15 £
64.90 $
BOOK NOW
---
By selecting Choose Dates Later / Buy as Gift at booking, any tour can be purchased without fixed dates. This is the perfect option if you want to purchase your tour as a gift for a loved one, or if you are in the pre-planning phase of your vacation. After booking, you will receive a Travel Voucher Code and full instructions on how to schedule your tours when ready. Once your travel plans are confirmed, you can easily use the Travel Voucher Code on the LivTours website to formally schedule your tours. You can find out more here.
BOOK NOW