Private Doge's Palace Tour with Exclusive Access to Secret Rooms
---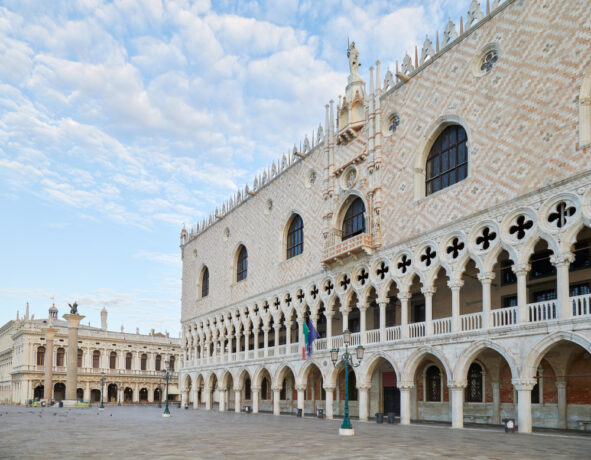 ---
On LivTour's Private Doge's Palace Secret Rooms Tour you will have a chance to admire, firsthand, the most important church in Venice, the imposingly beautiful Saint Mark's Basilica. Dive into this grand basilica that is covered in golden mosaics with LivTours exclusive access you will bypass the (often long) line. A local Venetian saying states that once you have heard the stories about the Basilica, you will know the stories of the city.
But not all the tour is spent in the Basilica, your expert guide will also lead you through the Doge's Palace.  This beautiful building set on the edge of the Grand Canal is home to some of the most ornately decorated rooms and has been home to 120 Doges – powerful local rulers of Venice.  In addition to the beautiful rooms, you will also explore behind the scenes as your LivTours guide takes you to the secret rooms with exclusive access where you will hear stories of Venice's dark past.
Come and let your private LivTours tour guide amaze you with stories through its history!
BOOK NOW
---
Gain access to the secret rooms of the Doge's Palace with your private guide

Admire the frescos and lavious decorations of the Doge's Palace with VIP access

Visit St. Mark's Basilica, the Golden Basilica, and revel in the intricate mosaics

Learn about the dark side of Venice's past with your guide's intriguing commentary

Walk through the Bridge of Sighs while admiring the views of the Grand Canal
BOOK NOW
Exclusive private Tours and Experiences. Also offered in Spanish, French, Portuguese, Swedish and Russian
Our prices always include tickets and reservations fees (no waiting in lines!)
Our tour guides and staff are selected experts and speak perfect English
Easy to book and prepay your tours with our secure payment system
Eco-sustainable tourism, designed to respect and support local culture, art and traditions
---
On your LivTours Private Doge's Palace Secret Rooms Tour you will start by visiting the impressively beautiful Saint Mark's Basilica with exclusive VIP access.  Once inside you will easily understand the basilica's nickname, "Baslilica d'Oro", (Basilica of gold)! Dating back to the 9th century, Saint Mark's Basilica has played a key role in the history of Venice. Cleverly connected to the Doge's Palace and was once the Doge's private chapel.
Slip through to the connected residence of the powerful rulers of Venice, the Doge's Palace, known in Italy as il Palazzo Ducale. LivTour's privileged access means you will skip the lines, making the most of every minute of your private tour. For over 700 years, this impressive palace has housed 120 powerful Doges, as well as the government offices, prison cells and the court. You will be mesmerized by the stories your guide will share with you as you stroll through the Doge's private, ornate apartments and impressive halls with their enormous paintings and frescoes. Walking through the corridors with your private LivTours guide you will appreciate the whole gamut of Venice's history, not only the romantic and polished side, but this tour also takes you behind the scenes, allowing you to learn about the fear the Palazzo Ducale used to represent.
Leaving other visitors behind, your private tour continues upstairs in the secret corridors and chambers.   These areas are restricted to groups no bigger than 25 people. In this secret part of the palace you will visit the cell of Casanova, the famous romantic writer who once was kept here for months before his successful escape, despite the high security of the prison. Wondering how he did it? Your private LivTours guide will give you all the answers. These horrifying stories do not end there, as you will then enter the torture chambers and the secret archives. You will have a chance to visit the Doge's gun room with an impressive collection of weapons, as well as a stop at the notorious Bridge of Sighs.  Admire the view and hear the story about how this passageway got its name.
BOOK NOW
---
Skip-the-line access to Doge's Palace

Doge's Palace Highlights Tour

Secret Rooms and Armories

Prison and Bridge of Sighs

St Mark's Square

St Mark's Basilica with skip-the-line
BOOK NOW
---
During the low season (November 3-March 31) it is not possible to reserve tickets to Saint Mark's Basilica and we can not skip the line. Due to the low number of visitors there are normally no lines during this period.
Children 6 years old and younger can not participate in this tour due to the nature of the secret passageways.
Large backpacks are not permitted
BOOK NOW
---
LivTours' group size of max 6 participants is and always has been based on sustainable travel, and we are proud to be at the forefront of change and innovation in the industry.  LivTours is committed to providing travelers with truly sustainable tours with the lowest possible environmental impact, all while supporting the local industries and people of each unique destination. To learn more about how you can actively support sustainable tourism  and how LivTours is contributing, click here.
BOOK NOW
---
When you book a LivTours Private Tour or Experience, you are guaranteed a dedicated, expert guide that allows you the flexibility to start your tour at a time which is convenient for you, making planning easy. Our private tours ensure that you will get a tailored experience to meet all your needs so we go at your pace, perfect for families with younger children, elderly, or individuals with accessibility needs. Please be advised that all private tours begin at a base price starting at two people*. Prices are inclusive of entry tickets where applicable. *Some Ferrari private experiences are inclusive of one person only.
BOOK NOW
---
Make your day even more unique and comfortable by upgrading your tour with a customizable LivTours optional add on!
Guide Pickup from Central Hotel (Transport Excluded)
55 €
95.70 A$
51.15 £
64.90 $
BOOK NOW
---
Doge's Palace Secret rooms in Venice
"This was my first experience with LivItaly, and it was fantastic! I checked out their website after reading their great reviews on Trip Advisor. We wanted to tour the Doge Palace's "Secret rooms" which is offered only as a private tour. For two persons, the private tour is pricey....but it was worth every penny!!!! One advantage to LivItaly is that you can check the calendar for availability and book their tours directly on their website. They are also very responsive to inquiries that can be placed via their website. We wanted a later start time, and they easily accommodated us. Pamela was our guide. She was on time, very professional, and also very entertaining! She had lots of interesting historical facts and anecdotes to share with us, and we learned all about the great escape by Casanova. She was fabulous! Truly amazing! My husband even commented "She really knows her stuff!" The tour included a visit to St Marc's Basilica in addition to the tour of the Doge's Palace and its Secret Rooms. There are not a lot of other tours that include the Secret Rooms at the Doge, and I could not find one with less than 29 persons. For this reason, we decided to do a private tour, and I am so happy that we decided to take this one! I will definitely book with this company again on future trips to Europe! Highly recommended!"
Frances W. - USA
---
Delightful
"My husband and I decided to do a tour of St.Marks and Doges Palace and Marie was our tour guide! She was so knowledgeable and Taught us a thorough explanation walking through the tour. She was so delightful to be around and listen to! I would recommend her and this tour company highly!"
Nicole Clair - USA
---
BOOK NOW
---
By selecting Choose Dates Later / Buy as Gift at booking, any tour can be purchased without fixed dates. This is the perfect option if you want to purchase your tour as a gift for a loved one, or if you are in the pre-planning phase of your vacation. After booking, you will receive a Travel Voucher Code and full instructions on how to schedule your tours when ready. Once your travel plans are confirmed, you can easily use the Travel Voucher Code on the LivTours website to formally schedule your tours. You can find out more here.
BOOK NOW