Private Cinque Terre Tour from La Spezia | Hike, Boat, Train & Sightsee
---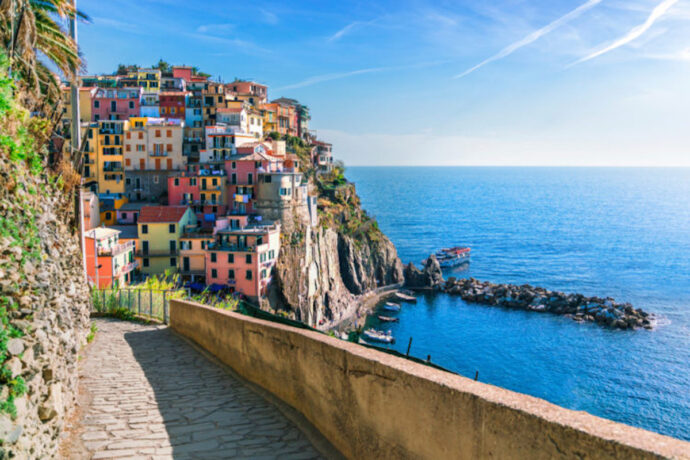 ---
LivTours' Cinque Terre Tour is a unique way to explore this charming stretch of the Italian coastline from top to bottom.  Composed of five towns or 'lands' was the origin of the name Cinque Terre – five lands. You will visit each of these colorful seaside towns on this comprehensive full day tour in the best way possible, by train, by ferry and on foot. With your LivTours expert guide by your side, you can focus on simply enjoying yourself without worrying about the logistics.
Riomaggiore is perhaps one of the most photographed, with its pastel houses beautifully nestled in the townscape as though carved out of the cliff side. Marvel at Manarola's picturesque swimming harbor and enjoy a short hike up to Corniglia, where you can see the surrounding vineyards and panoramic views. Visit Vernazza, with its church on the water and finally marvel at the town of Monterosso, where you will enjoy some free time and light lunch, soaking in all the beauty and charm you have seen. Experiencing all the best of Cinque Terre, you'll quickly understand why this part of the world was made a UNESCO World Heritage site!
Your LivTours guide knows how to explore Cinque Terre just as it should be, like a local. Come on a journey to experience the cliffside pastel hues of the towns dotting the coastline as their reflection dances on the Mediterranean!
BOOK NOW
---
Explore the beautiful Italian Riviera by visiting all five Cinque Terre seaside towns

Ferry, train and hike on this unique private tour to a UNESCO World Heritage Site

Savor a light lunch and enjoy some free time along your journey between towns

Soak up the scenery as your private guide tells you about past & present on the coast

Visit all five towns Riomaggiore, Manarola, Corniglia, Vernazza, & Monterosso al Mare
BOOK NOW
Exclusive private Tours and Experiences. Also offered in Spanish, French, Portuguese, Swedish and Russian
Our prices always include tickets and reservations fees (no waiting in lines!)
Our tour guides and staff are selected experts and speak perfect English
Easy to book and prepay your tours with our secure payment system
Eco-sustainable tourism, designed to respect and support local culture, art and traditions
---
Your LivTours Cinque Terre Tour starts at La Spezia Train Station where you will meet your expert guide.  The area's natural beauty will make you quickly realize you are on a vacation of a lifetime, so get your camera ready, this will surely be a day to remember.  Each of the five seaside towns of Cinque Terre has its own special charm and your LivTours expert guide will seamlessly take you from one to another.  Depending on the terrain and distance, you move from town to town by the best possible method – ferry, train, or hiking. What you will immediately notice about these Italian Riviera towns is their incredible and diverse landscapes with mountainsides cleverly terraced, like big steps cut into the side of the mountain face.   Without space to spare, you will see terraces with small olive groves and vineyards, as well as the pretty pastel towns perched up high or hidden in ravines along steep cliffs.
The seaside towns are small but full of details and worth a stroll as your LivTours guide points out the highlights. First up on the list is Riomaggiore which boasts a vibrant main street, a romantic street called Via dell'amore (Love Street), as well as, a 13th-century castle. Next up is the equally charming Manarola which is a picturesque town with a charming swimming harbor and a culture for wine drinking by the sea and they have more grapevines than any other village in Cinque Terre to prove it. The town of Corniglia is especially known for its breathtaking views of the coastline due to its high elevation. The only town not located directly on the beach, the only way to get there is by walking down the Scalinata Lardarina, a long winding staircase that takes you down to the sea. Vernazza, one of the more historic fishing villages in the area, is home to Cinque Terre's only proper harbor. The workout is worth seeing this colorful bell-tower town.  Lastly is Monterosso al Mare the only town in Cinque Terre that allows cars, but there is also plenty of nature and a beautiful path.
Come enjoy a day of town-hopping as you experience the towns in all their glory with an expert by your side!
BOOK NOW
---
Private tour guide at your complete disposal

All tickets & fees to attractions & transportation

Scenic views of the Cinque Terre

Free time to shop and eat
BOOK NOW
---
We recommend you wear comfortable clothing. Except on the hottest days of the year, it is wise to bring a light jacket or sweater if you are cold natured. Sunglasses, sunscreen and water are also advisable for a comfortable tour

Once train tickets are purchased, they are non-refundable and do not fall within the refund criteria of our cancellation policy. We cannot guarantee that all travelers will sit together, especially for last minute bookings.

From November 1st to April 1st there is no ferry service. If you book within this time frame please be aware you will only move by train and hiking.
Please note that all ferries are dependent on sea conditions. If there are bad conditions the ferries will not run. In this case, you will move by train and hiking.

Tours run rain or shine. We recommend coming prepared if rainy weather is expected.

The itinerary may change order depending on weather conditions such as rain and extreme heat.

The itinerary described above is a suggested order of the various experiences. These may vary according to your personal requests or preferred starting time. 
BOOK NOW
---
LivTours' group size of max 6 participants is and always has been based on sustainable travel, and we are proud to be at the forefront of change and innovation in the industry.  LivTours is committed to providing travelers with truly sustainable tours with the lowest possible environmental impact, all while supporting the local industries and people of each unique destination. To learn more about how you can actively support sustainable tourism  and how LivTours is contributing, click here.
BOOK NOW
---
When you book a LivTours Private Tour or Experience, you are guaranteed a dedicated, expert guide that allows you the flexibility to start your tour at a time which is convenient for you, making planning easy. Our private tours ensure that you will get a tailored experience to meet all your needs so we go at your pace, perfect for families with younger children, elderly, or individuals with accessibility needs. Please be advised that all private tours begin at a base price starting at two people*. Prices are inclusive of entry tickets where applicable. *Some Ferrari private experiences are inclusive of one person only.
BOOK NOW
---
Make your day even more unique and comfortable by upgrading your tour with a customizable LivTours optional add on!
Roundtrip Transfer from Livorno
675 €
1,174.50 A$
627.75 £
796.50 $
Roundtrip Transfer from Florence
850 €
1,479 A$
790.50 £
1,003 $
Roundtrip Transfer from Milan
1,050 €
1,827 A$
976.50 £
1,239 $
BOOK NOW
---
By selecting Choose Dates Later / Buy as Gift at booking, any tour can be purchased without fixed dates. This is the perfect option if you want to purchase your tour as a gift for a loved one, or if you are in the pre-planning phase of your vacation. After booking, you will receive a Travel Voucher Code and full instructions on how to schedule your tours when ready. Once your travel plans are confirmed, you can easily use the Travel Voucher Code on the LivTours website to formally schedule your tours. You can find out more here.
BOOK NOW