Private Catacombs Tour in Rome
---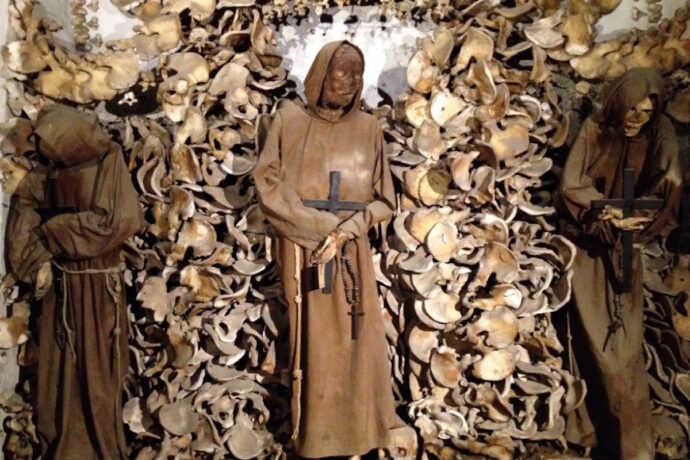 ---
LivTours Private Catacombs Tour in Rome explores the incredibly fascinating underground world of Rome! Rome was not built in a day and there is no better tour to show you this than this one.
This tour is an excellent way to learn about ancient history as you will explore secret Pagan temples, ancient Christian burial grounds, and three different holy sites. You will enjoy the VIP treatment with an expert tour guide and a luxury air-conditioned car.
Your Catacombs private tour takes you through nearly 2,000 years of history, comparing the lives of the Ancient Romans with the realities of later life under Medieval and Renaissance popes. Underneath the modern-day city of Rome lie the answers to all your questions about how Rome changed from Pagan to Christian.
On your private tour, you will visit three amazing sites and your expert private guide will share with you the secrets that connect the many layers of Rome. See history as you discover the three layers underground, each one going further back in time!
Let's talk about catacombs! These ancient burial chambers were a network of underground tunnels, some of which date back to the 2nd century AD, to bury the not so wealthy of the day. Land was at a premium and cremation was not widely accepted, hence the start of the catacombs.
Though you might classify catacombs as gruesome, the reality is actually quite different, the catacombs are like walking through an underground excavation site surrounded by history.
Take a trip back in time with an expert private guide and discover the Rome you never knew!
BOOK NOW
---
Enter the underground Catacombs of Rome with a private expert local guide

Discover Rome by visiting three different holy sites known around the world

Hear the history of the Capuchin Friars while visiting the eerie Capuchin Crypt

Listen to the stories of early Christian popes and martyrs buried in the catacombs

Enjoy traveling by chauffeured private car, allowing you to really enjoy the moment
BOOK NOW
Exclusive private Tours and Experiences. Also offered in Spanish, French, Portuguese, Swedish and Russian
Our prices always include tickets and reservations fees (no waiting in lines!)
Our tour guides and staff are selected experts and speak perfect English
Easy to book and prepay your tours with our secure payment system
Eco-sustainable tourism, designed to respect and support local culture, art and traditions
---
Your LivTours Private Catacombs Tour in Rome is an exclusive exploration that begins at the Basilica of San Clemente. Your expert private guide will show you the beautifully preserved Medieval mosaics and the awe-inspiring layers of perfectly preserved history below your feet. The catacombs of San Clemente take you deep underground back to the 2nd century AD when Christian worship sites and cult temples existed side by side. On this tour, you will learn about Medieval popes and secret Pagan rituals and admire artistic masterpieces from the 2nd century AD until the 15th century. Hear about mysterious religions and rituals from the past and even discover freshwater sources that lie deep in the earth!
After you have finished exploring the catacombs underneath San Clemente Basilica, your private tour of the catacombs continues with an exclusive private transfer, in an air-conditioned vehicle, to one of the most well known Christian burial grounds in Italy – the Catacombs of Rome! Your private guide will help you discover the hidden passageways of underground Rome which date back to 2000 years ago while bringing the sites to life with engaging anecdotes and history.
Make your way underground to this ancient Christian burial ground and explore the narrow tunnels filled with empty graves which serve as ongoing points of fascination for historians and archeologists. This private tour is perfect if you are interested in Roman history and religion, as well as being an excellent tour for families, as each of the sites is sure to leave a lasting impression!
Your expert private guide will take you past large tour groups to secret corners of the site in order to explain the important role of catacombs as well as the real reason behind the never-ending underground tunnels and niches.
Your private tour continues to the well known Capuchin Crypts. Located in the Capuchin Museums you will learn about the history of the Capuchin friars as your expert guide explains the customs and practices that set them apart from other Catholic orders during the Renaissance and beyond. Take a moment to appreciate a painting attributed to Caravaggio before continuing through to the slightly macabre, but incredibly beautiful and fascinating crypts. Your private tour takes one final stop, allowing you to admire artwork created out of the bones of 4,000 Capuchin monks.
Enjoy an exclusive experience by allowing us to take you back in time with an expert guide!
BOOK NOW
---
Fully guided experience

St Clement Church visit & tickets

Ancient catacomb visit & tickets

Taxi transfer between sites
BOOK NOW
---
The price includes a private driver between the three sites.

Places of worship have strict dress code requirements for entry. All participants are required to have shoulders and knees covered (no tank tops or short dresses) to enter.

There is no photography allowed in both sites visited on this tour.

Offered in: English, French, Spanish, Portuguese, and Italian. Please specify under "Additional notes" if you wish to book the tour in a language other than English.
BOOK NOW
---
LivTours' group size of max 6 participants is and always has been based on sustainable travel, and we are proud to be at the forefront of change and innovation in the industry.  LivTours is committed to providing travelers with truly sustainable tours with the lowest possible environmental impact, all while supporting the local industries and people of each unique destination. To learn more about how you can actively support sustainable tourism  and how LivTours is contributing, click here.
BOOK NOW
---
When you book a LivTours Private Tour or Experience, you are guaranteed a dedicated, expert guide that allows you the flexibility to start your tour at a time which is convenient for you, making planning easy. Our private tours ensure that you will get a tailored experience to meet all your needs so we go at your pace, perfect for families with younger children, elderly, or individuals with accessibility needs. Please be advised that all private tours begin at a base price starting at two people*. Prices are inclusive of entry tickets where applicable. *Some Ferrari private experiences are inclusive of one person only.
BOOK NOW
---
Make your day even more unique and comfortable by upgrading your tour with a customizable LivTours optional add on!
One Way Pick-Up Transfer Service
75 €
130.50 A$
69.75 £
88.50 $
BOOK NOW
---
Memorable and Insightful
"We had a fantastic tour of the Catacombs with Andy! He clearly has a deep knowledge and love of Rome and its amazing history. As this was our first time visiting Rome it was incredibly insightful to hear more about the rich history. It was truly an enjoyable history lesson and Andy made the experience memorable."
Dan
---
Very knowledgeable and friendly guide
"Federica was a pleasure as our tour guide. She was very knowledgeable and friendly. I look forward to having her again when we come back to Rome in the near future. "
Lisa
---
Amazing tour
"Took this tour with Melanie. Could not have asked for a better guide! The crypts were impressive and the underground work and tunneling of the catacombs was amazing. Melanie provided the history which made what we were seeing even more incredible AND we were able to visit areas closed to the general public. Would highly recommend this tour."
Mike M. - USA
---
BOOK NOW
---
By selecting Choose Dates Later / Buy as Gift at booking, any tour can be purchased without fixed dates. This is the perfect option if you want to purchase your tour as a gift for a loved one, or if you are in the pre-planning phase of your vacation. After booking, you will receive a Travel Voucher Code and full instructions on how to schedule your tours when ready. Once your travel plans are confirmed, you can easily use the Travel Voucher Code on the LivTours website to formally schedule your tours. You can find out more here.
BOOK NOW