Private Casa Mila Tour Barcelona | Iconic Gaudí Experience
---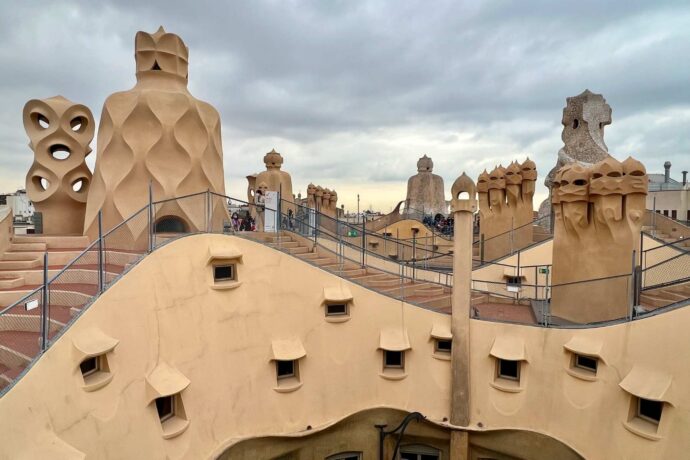 ---
Explore the magical Casa Mila in Barcelona with your expert, English-speaking private guide. Antonio Gaudi's unique architectural masterpiece is nicknamed 'La Pedrera' – or the stone quarry – because of its impressive rough-hewn exterior. Built around two courtyards over nine floors, it boasts amazing views from the eccentric Warrior rooftop, and unique, quirky Gaudi eccentricities such as the Whale Attic, rounded walls everywhere, beautiful murals, and nature-inspired Butterfly and Flower themed courtyards. It was declared a UNESCO World Heritage Site in 1984, and following an extensive restoration project was opened to the public in 1996.
BOOK NOW
---
Explore the magical Casa Mila with an expert private English speaking guide

Enjoy skip-the-line access to Casa Mila designed by Antonio Gaudi

Admire the unique exterior that gives the building its nickname La Pedrera

Explore the stunning flower and butterfly courtyards

Adventure up to the astonishing Whale Attic & incredible Warrior Rooftop
BOOK NOW
Exclusive private Tours and Experiences. Also offered in Spanish, French, Portuguese, Swedish and Russian
Our prices always include tickets and reservations fees (no waiting in lines!)
Our tour guides and staff are selected experts and speak perfect English
Easy to book and prepay your tours with our secure payment system
Eco-sustainable tourism, designed to respect and support local culture, art and traditions
---
Meet your expert English-speaking guide outside Casa Mila, and enjoy skip-the-line entrance for your private tour of the last private residence designed by Barcelona's beloved architect, Antonio Gaudi. First admire the incredible self-supporting facade of the building, which gives it the nickname La Pedrera – or 'quarry'. It is more like a sculptural wave, rising 30 meters high with iron railings molded into abstract sculptures resembling seaweed. The Casa Mila was built between 1906-1912 for the Mila family to live in and rent out other apartments on the exclusively fashionable Passeig de Gracia. This was the most important avenue in Barcelona, popular with the aspirational bourgeoisie, and with the city's finest theatres, iconic buildings, cinemas, expensive shops, and exclusive restaurants and cafes.
Enter Casa Mila and begin your exploration of this exquisite building filled with bright colors and Modernist eccentricities typical of Gaudi. Your tour covers 4,500 square meters over five floors. You'll explore the beautiful Flower and Butterfly Courtyards that provide light to the whole building. You'll wander up the iconic staircases, admiring the rounded walls and bright artistic murals. See the tenant's apartment and immerse yourself in early twentieth-century daily life, with restored rooms and furniture of the era.
Explore the extraordinary Whale Attic – so called for its whale-bone-like structure with 270 catenary arches. Enjoy the in-depth Guadi exhibition here, to learn all about his incredible contributions to Barcelona, before stepping out onto the piece de resistance: the Warrior Rooftop, with its amazing statues, nicknamed the warriors, and spectacular 360-degree views of the city. With so many displays and exhibitions, your tour ends inside the Casa Mila, so you can continue to explore this fascinating and interactive museum space at your leisure.
BOOK NOW
---
Expert English speaking guide

Skip the line entrance tickets to Casa Mila

Fully guided private tour of Casa Mila, La Pedrera

The Warrior Rooftop

Whale Attic

The Tenants Apartments

Flower and Butterfly Courtyards
BOOK NOW
---
LivTours' group size of max 6 participants is and always has been based on sustainable travel, and we are proud to be at the forefront of change and innovation in the industry.  LivTours is committed to providing travelers with truly sustainable tours with the lowest possible environmental impact, all while supporting the local industries and people of each unique destination. To learn more about how you can actively support sustainable tourism  and how LivTours is contributing, click here.
BOOK NOW
---
When you book a LivTours Private Tour or Experience, you are guaranteed a dedicated, expert guide that allows you the flexibility to start your tour at a time which is convenient for you, making planning easy. Our private tours ensure that you will get a tailored experience to meet all your needs so we go at your pace, perfect for families with younger children, elderly, or individuals with accessibility needs. Please be advised that all private tours begin at a base price starting at two people*. Prices are inclusive of entry tickets where applicable. *Some Ferrari private experiences are inclusive of one person only.
BOOK NOW
---
Make your day even more unique and comfortable by upgrading your tour with a customizable LivTours optional add on!
90 €
156.60 A$
83.70 £
106.20 $
BOOK NOW
---
The perfect guide to learn about Gaudi and Casa Mila
"Valencia did a fantastic job!!! It was very easy to understand her, she was constantly ready to answer our questions, and she gave us great recommendations of places to eat and other activities to do in Barcelona. "
Hannah - United States
---
BOOK NOW
---
By selecting Choose Dates Later / Buy as Gift at booking, any tour can be purchased without fixed dates. This is the perfect option if you want to purchase your tour as a gift for a loved one, or if you are in the pre-planning phase of your vacation. After booking, you will receive a Travel Voucher Code and full instructions on how to schedule your tours when ready. Once your travel plans are confirmed, you can easily use the Travel Voucher Code on the LivTours website to formally schedule your tours. You can find out more here.
BOOK NOW