Private Capri Shore Excursion | All Inclusive Experience
---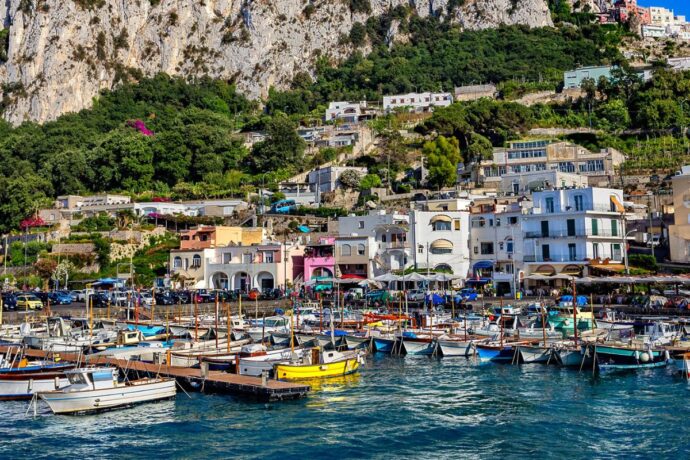 ---
LivTours Capri Shore Excursion from Naples or Sorrento port is a relaxing all-inclusive private experience that lets you visit luxurious Capri in style. Accompanied by your private local guide you will take in the stunning scenery, visit the most gorgeous sites and learn about the history of this unique island. Capri is known as the most luxurious and upmarket of all the Mediterranean islands, and this tour will show you first-hand why!

Your private guide will ensure your day runs seamlessly, as well as share with you the history of how the island has been beloved by everyone from the ancient Roman Emperors to celebrities of the modern day. With options to visit the two towns on the island, AnaCapri and Carpi, take a ski-lift up to the islands peak for incredible views out over Capri and the bay of Naples, swim in the crystalline blue waters, take a boat to visit the grottos, and even take free time to enjoy some shopping, your guide will help plan the perfect itinerary for your day.

After spending these previous hours on Capri, you will understand why this international island has attracted glamour and VIPs through the ages.
BOOK NOW
---
Enjoy a private tour of the Mediterranean's most luxurious island with port pick up

Soak up the striking views of the Amalfi Coast as you travel to and from Capri island

Visit the magnificent Blue Grottoes

Ride in an open-topped taxi and ski-lift to the top of the island & enjoy views

Take free time to shop or wander the quaint laneways of this beautiful island
BOOK NOW
Exclusive private Tours and Experiences. Also offered in Spanish, French, Portuguese, Swedish and Russian
Our prices always include tickets and reservations fees (no waiting in lines!)
Our tour guides and staff are selected experts and speak perfect English
Easy to book and prepay your tours with our secure payment system
Eco-sustainable tourism, designed to respect and support local culture, art and traditions
---
Your LivTours Capri Tour Excursion starts with your guide meeting you directly at your cruise ship in the port of Naples or Sorrento. Your local guide will be all prepared with ferry tickets that will allow you to catch the first ferry of the day. Once you arrive on the island, you and your private guide will step onto another shared boat, this time smaller and more intimate, and enjoy a ride to the stunning and unique Blue Grottoes. If weather and tide permits, you can stop for a bit of adventure and enter the grottoes. You will be mesmerized by the crystal blue water and make memories to last a lifetime. If the weather doesn't allow you to enter the grottoes then you will take a spin around the island with the motor boat instead. Either, or, you are in for a fantastic experience!

Back on dry land, your Capri shore excursion continues in an open-top taxi as you ascend up the island to explore the beautiful town of Anacapri. Once in Anacapri, take the ski-lift to the very top of the island and be prepared to be left breathless and enjoy a delicious lunch on the island (lunch not included).

After a quick taxi ride, you'll then arrive at the glitzy glamorous part of the island, Capri town. This is where the rich and famous have come to shop, dine and party for decades, and it's elegance and style is almost palpable. Your private guide will lead you on a tour of the towns highlights, before strolling down to the Augustus Gardens which holds a stunning view of the Instagram worthy Faraglioni rocks below. As you wander back into town to take some free time for shopping and browsing, why not stop for a refreshing lemon slush, made fresh from the lemons grown on the island.
Your tour will end with a ferry ride back to the port, and your guide will take you once again to your cruise ship which awaits you.
BOOK NOW
---
Guide pickup directly from your cruise ship

Private tour guide for the whole day

Skip-the-line access to all attractions & activies

Round-trip transfer on public high speed-ferry

Shared motor boat ride to the Blue Grottoes

Blue grottoes (weather permitting)

Gardens of Augusts

Open-top taxi ride

Finicular ride

Free-time to shop and eat (lunch not included)
BOOK NOW
---
Offered in: English, French, Spanish, Portuguese, and Italian. Please specify under "Additional notes" if you wish to book the tour in a language other than English.

The blue grotto is only accessible if weather and tide permit.
Customer care will contact you after booking to confirm which port you will be docked in, as well as ship information for pickup.
BOOK NOW
---
LivTours' group size of max 6 participants is and always has been based on sustainable travel, and we are proud to be at the forefront of change and innovation in the industry.  LivTours is committed to providing travelers with truly sustainable tours with the lowest possible environmental impact, all while supporting the local industries and people of each unique destination. To learn more about how you can actively support sustainable tourism  and how LivTours is contributing, click here.
BOOK NOW
---
When you book a LivTours Private Tour or Experience, you are guaranteed a dedicated, expert guide that allows you the flexibility to start your tour at a time which is convenient for you, making planning easy. Our private tours ensure that you will get a tailored experience to meet all your needs so we go at your pace, perfect for families with younger children, elderly, or individuals with accessibility needs. Please be advised that all private tours begin at a base price starting at two people*. Prices are inclusive of entry tickets where applicable. *Some Ferrari private experiences are inclusive of one person only.
BOOK NOW
---
Couldn't have been better
"The island of Capri is one of those places we had always wanted to see so when we saw that LivItaly offered an all inclusive tour which we could do on our cruise' stop in Naples, it just seemed like the perfect combination. And it really was a perfect day! Marie was our guide, our friend, our food and shopping advisor, our everything! There are lots of tourists in Capri so having someone to help you navigate the place, see the best things, show you the best restaurants and just be a warm and gracious friend-for-a-day, made the experience the very best. Thanks Marie and thanks LivItaly!"
Jerome - USA
---
BOOK NOW
---
By selecting Choose Dates Later / Buy as Gift at booking, any tour can be purchased without fixed dates. This is the perfect option if you want to purchase your tour as a gift for a loved one, or if you are in the pre-planning phase of your vacation. After booking, you will receive a Travel Voucher Code and full instructions on how to schedule your tours when ready. Once your travel plans are confirmed, you can easily use the Travel Voucher Code on the LivTours website to formally schedule your tours. You can find out more here.
BOOK NOW