Private Capri Island Tour | Full day Experience
---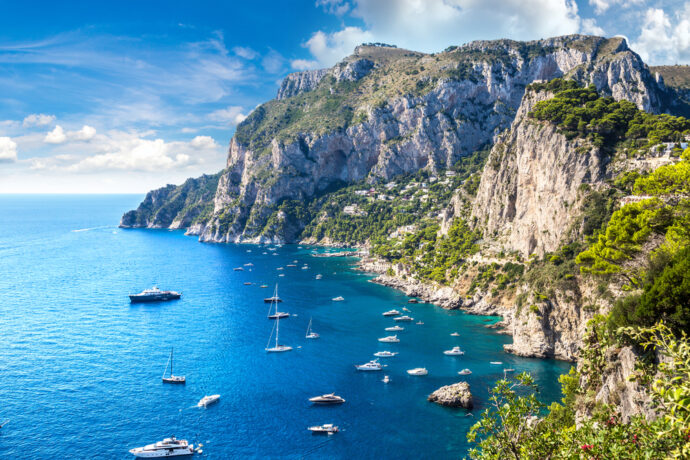 ---
LivTours Capri Island Tour is a unique private experience filled with sun, food, boat ride, and history! This is a flagship tour for LivTours just off the Gulf of Naples and Sorrento and offers the perfect day trip to give you great views of the rugged coastline, picture perfect views mixed with culture, sun, and sea. The whole of the Coast is known for its famous artisans, music, food, and drink including the well-known limoncello.
Traveling by ferry from Sorrento you will arrive in Capri in almost no time as the views of both the Sorrento Peninsula and the Gulf of Naples drift into the background. Rich in history and beauty, your guide will take you on a boat tour (shared with others) around the island, the only and best way to see this rocky Mediterranean island and its many grottoes. On dry land, you will have time to do some shopping, stroll the streets of colorful buildings, or enjoy lunch before going to the highest point of the island via ski lift. Your expert guide at your side will make sure you enjoy the very best of Capri on this full-day tour.
BOOK NOW
---
Enjoy a private day exploring the island of Capri by land and by water

Visit the famous blue grottos, one of Capri's most famous sites, weather permitting

Fall in love with gorgeous Capri and head to the top of the island with the ski-lift

Walk a leisurely stroll around Capri stopping to do some shopping or have a cafe

Sip on a cold limoncello and learn why it is such a popular drink in southern Italy
BOOK NOW
Exclusive private Tours and Experiences. Also offered in Spanish, French, Portuguese, Swedish and Russian
Our prices always include tickets and reservations fees (no waiting in lines!)
Our tour guides and staff are selected experts and speak perfect English
Easy to book and prepay your tours with our secure payment system
Eco-sustainable tourism, designed to respect and support local culture, art and traditions
---
Your LivTours Capri Island Tour starts in Sorrento where you will hop on a ferry to Capri; famed for being the most exclusive and upmarket island in the Mediterranean. Your local guide has tickets ready for you, ensuring that you will board the first ferry to the beautiful Island of Capri.  Upon arrival, you will enjoy a shared boat ride to the Blue Grottoes and get a chance to around see more of the landscape from sea, weather permitting, you will visit the grottoes.

Once back in the port of Capri, your private guide will whisk you through to the town with a typical open-top taxi. Once at the top you will marvel at the views and from the famous piazzetta (you might come across some VIPs!!) you will commence a short private walking tour of the town all the way to the Gardens of Augustus through fancy shops, 5-star hotels, beautiful alleyways, local artisan shops and much more. From the gardens your guide will give you the time to enjoy the view to the Faraglioni and leave you with suggestions for lunch (not included in the price of the tour) and some free time activities. Who could want more on a vacation dedicated to you, nature, food, and of course a bit of limoncello!
Your private guide will ensure prompt return down to the afternoon ferry with skip-the-line access to the Finiculare that bring you straight down to the Marina. Sit back, relax and enjoy the ride back to Sorrento while you are storing memories of this beautiful day tour.
BOOK NOW
---
Full day Private Tour Guide

Round-trip fast Ferry rides

Shared Boat ride to the Blue Grottoes (weather)

Blue Grottoes tickets and visit (weather)

Open-top taxi ride

Walking tour of the town

Gardens of Augustus

Free time for lunch and shopping

Finiculare ride
BOOK NOW
---
This tour is offered in English, French, Spanish, Portuguese, and Italian. Please specify under "Additional notes" if you wish to book the tour in a language other than English.

The blue grotto is only accessible if weather and tide permit.
BOOK NOW
---
LivTours' group size of max 6 participants is and always has been based on sustainable travel, and we are proud to be at the forefront of change and innovation in the industry.  LivTours is committed to providing travelers with truly sustainable tours with the lowest possible environmental impact, all while supporting the local industries and people of each unique destination. To learn more about how you can actively support sustainable tourism  and how LivTours is contributing, click here.
BOOK NOW
---
When you book a LivTours Private Tour or Experience, you are guaranteed a dedicated, expert guide that allows you the flexibility to start your tour at a time which is convenient for you, making planning easy. Our private tours ensure that you will get a tailored experience to meet all your needs so we go at your pace, perfect for families with younger children, elderly, or individuals with accessibility needs. Please be advised that all private tours begin at a base price starting at two people*. Prices are inclusive of entry tickets where applicable. *Some Ferrari private experiences are inclusive of one person only.
BOOK NOW
---
Make your day even more unique and comfortable by upgrading your tour with a customizable LivTours optional add on!
Roundtrip Transfer from Sorrento Hotel to Sorrento Marina
150 €
261 A$
139.50 £
177 $
Roundtrip Transfer from Amalfi Hotel to Sorrento Marina
340 €
591.60 A$
316.20 £
401.20 $
Roundtrip Transfer from Naples Hotel to Sorrento Marina
350 €
609 A$
325.50 £
413 $
BOOK NOW
---
A perfect tour
"We'd always heard about the beautiful island of Capri and were very curious to see it. We found LivItaly's full day tour the perfect answer to our needs. We were expertly guided around the crowds and transported (on land and water) in complete comfort. The guide Maria was very knowledgeable and friendly and paced the tour to our specific requests and interests. Thanks to LivItaly and Maria, we have gone home with wonderful memories and beautiful photos of our day on Capri."
Hugh and Mary - USA
---
Wonderful tour of Capri
"This is the best way to visit the island of Capri! The hostess met us in Sorrento and got us on the ferry to Capri. After a boat ride around the island and an enchanting visit to the Blue Grotto, we were driven up to the top of the island and shown all around. Our guide was exquisite as was the lunch she took us to. It was a well paced tour and we were very happy to have someone to help us see and experience all that Capri has to offer. Strongly recommended!"
Stephen - UK
---
BOOK NOW
---
By selecting Choose Dates Later / Buy as Gift at booking, any tour can be purchased without fixed dates. This is the perfect option if you want to purchase your tour as a gift for a loved one, or if you are in the pre-planning phase of your vacation. After booking, you will receive a Travel Voucher Code and full instructions on how to schedule your tours when ready. Once your travel plans are confirmed, you can easily use the Travel Voucher Code on the LivTours website to formally schedule your tours. You can find out more here.
BOOK NOW