Private Boat Tour of Barcelona | VIP Sailing Experience
---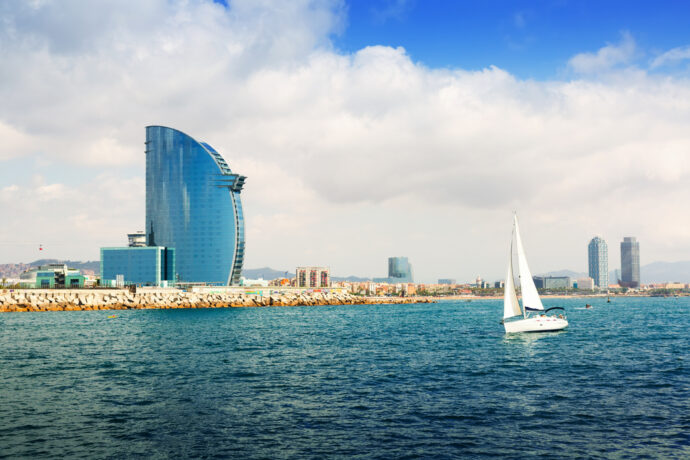 ---
LivTours Private Boat Tour of Barcelona is an exclusive experience with your own boat and skipper. Imagine the wind whipping through your hair and the warm sun on your legs as you admire the great views of Barcelona or drop anchor and take a dip in the crystal clear waters!
Your certified skipper will lead you on an unforgettable experience on the shimmering waters of the Mediterranean. Make yourself comfortable on this luxury outing where you will enjoy exclusive privacy while sipping on a glass of chilled cava – Spain's sparkling wine and nibbling on local tapas. Dive into the crystal clear waters to cool off or go for an exploratory snorkel.
This one of a kind maritime adventure is your chance to take a break from the hustle and bustle of one of the Mediterranean's most cosmopolitan cities as you glide through the blue waters without a care in the world. Your skipper, who speaks excellent English, will be with you during your entire sail. Should you wish to learn some of the basic techniques of sailing, he is happy to accommodate you.
BOOK NOW
---
Enjoy a unique experience that takes you out of the hustle and bustle of the city

Admire the amazing view of Barcelona from the comfort of a private sailboat

Appreciate the crystal clear water of the Mediterranean, drop anchor and take a dip

Savor local flavors with a glass of cava and local tapas during your sailing trip

Relax on this private experience as you glide across the water with your own skipper
BOOK NOW
Exclusive private Tours and Experiences. Also offered in Spanish, French, Portuguese, Swedish and Russian
Our prices always include tickets and reservations fees (no waiting in lines!)
Our tour guides and staff are selected experts and speak perfect English
Easy to book and prepay your tours with our secure payment system
Eco-sustainable tourism, designed to respect and support local culture, art and traditions
---
Your LivTours Private Boat Tour of Barcelona starts with your skipper meeting you at the Olympic Port a little before your scheduled departure and will accompany you to the correct dock. Once onboard, your private skipper will set sail as you sit back, enjoy the views of Barcelona slipping into the background as you take to the high seas while sipping a glass of cava. This is the perfect way to slip into complete relaxation with the sea breeze in your hair and the warm sun on your face. In no time at all, you will be admiring one of the most unique perspectives of Barcelona that most visitors, or locals, do not get a chance to enjoy.
Relax to the gentle rhythm and flow of the sailboat on the water, take a few snapshots of the skyline and horizon to share your experience with friends back home, or enjoy a bit of sunbathing on the deck of your own private boat!
A few of the sites you will get to see as you sail away are the Mapfre Tower, Hotel Arts, and the home of Barcelona's main supercomputer, the Mare Nostrum building which is a modern marvel in architecture.
Ready for some adventure? Your private skipper knows the best swimming spots on the Barcelona coast. Your skipper will drop anchor and give you time to dive into the cool turquoise waters of the Mediterranean for a refreshing dip. With over 700 species of fish and over 20 species of marine mammals, why not grab a snorkel mask and get acquainted with some of them!
If laying back and enjoying the ride is not enough (or too much!) for you, the skipper is happy to have you actively participate in sailing this 10 meter by 3-meter regatta sailboat by teaching you how to set sail, the rules of the road, wind direction, and, most ​importantly, steering.
As you glide along the coastline in your private boat, your expert skipper will point out points of interest along Barcelona's urban landscape, the importance of the sea in everyday life, as well as other amusing anecdotes.
BOOK NOW
---
Bi-lingual Skipper

10 meter regatta sailboat

Sailing tips, if interested

Snacks & Drinks on board

Snorkeling equipment and towels

Swimming opportunities
BOOK NOW
---
We never sail if it is too dangerous or uncomfortable (choppy waves) for you to enjoy your time on the water.
It is advised to bring layers – even in the summer – as it can get chilly on the water, as well as plenty of sunscreen, and a swimsuit.
Plan on arriving at the port at least 15 minutes in advance of your sailing time.
BOOK NOW
---
LivTours' group size of max 6 participants is and always has been based on sustainable travel, and we are proud to be at the forefront of change and innovation in the industry.  LivTours is committed to providing travelers with truly sustainable tours with the lowest possible environmental impact, all while supporting the local industries and people of each unique destination. To learn more about how you can actively support sustainable tourism  and how LivTours is contributing, click here.
BOOK NOW
---
When you book a LivTours Private Tour or Experience, you are guaranteed a dedicated, expert guide that allows you the flexibility to start your tour at a time which is convenient for you, making planning easy. Our private tours ensure that you will get a tailored experience to meet all your needs so we go at your pace, perfect for families with younger children, elderly, or individuals with accessibility needs. Please be advised that all private tours begin at a base price starting at two people*. Prices are inclusive of entry tickets where applicable. *Some Ferrari private experiences are inclusive of one person only.
BOOK NOW
---
Make your day even more unique and comfortable by upgrading your tour with a customizable LivTours optional add on!
90 €
156.60 A$
83.70 £
106.20 $
BOOK NOW
---
5 star experience
"If you enjoy sailing and water sports, this is the tour for you! Barcelona is beautiful seen from the ocean. The tour is well organized, the accommodations very comfortable, the guide extremely nice and well prepared. Definitely a 5 star rating!"
Fred Flynn - USA
---
Beautiful day, fun time!
"When we saw the description of this tour, we could not resist! We love sailing and seeing Barcelona from the water, with all the special VIP service and attention, made this day one of the best on our entire trip. Highly recommend."
Florence - USA
---
deserves more than 5 stars
"We had alot of fun on this tour and would give it more than 5 stars, if it were possible. Will definitely recommend!"
Jackie - Canada
---
BOOK NOW
---
By selecting Choose Dates Later / Buy as Gift at booking, any tour can be purchased without fixed dates. This is the perfect option if you want to purchase your tour as a gift for a loved one, or if you are in the pre-planning phase of your vacation. After booking, you will receive a Travel Voucher Code and full instructions on how to schedule your tours when ready. Once your travel plans are confirmed, you can easily use the Travel Voucher Code on the LivTours website to formally schedule your tours. You can find out more here.
BOOK NOW