Private Barcelona Shore Excursion | Full Day Experience
---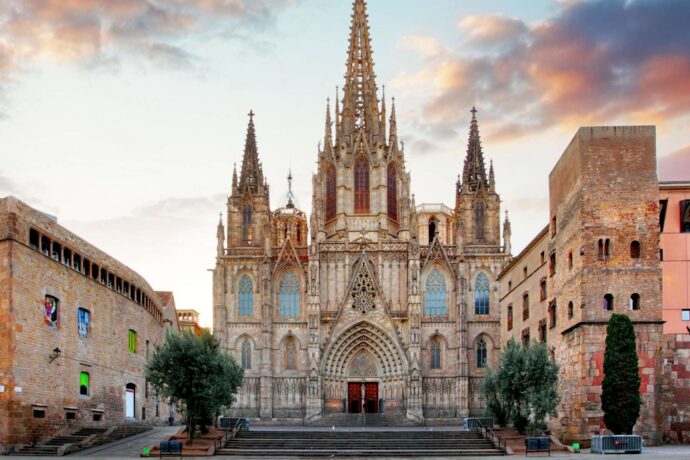 ---
Experience the very best of Barcelona in a day on this privately guided tour of all the major highlights of this gorgeous city on the sea. You'll visit the iconic Gaudi designed church, the Sagrada Familia, and explore the beautiful Gothic quarter with its medieval architecture and vibrant atmosphere.
Private chauffeur transfer to and from the port, skip the line tickets, and taxi expenses are included to ensure you make the most of your day in beautiful Barcelona. 
BOOK NOW
---
Enjoy the expertise and personal attention of your private guide

Explore the atmospheric Gothic Quarter with entrance to the cathedral

Wander around the iconic Sagrada Familia, Gaudi's UNESCO listed masterpiece

Visit Hospital de Sant Pau—an exemplar of Catalonian modernist architecture

Learn all about the life of Gaudi and the history of Barcelona

Enjoy all inclusive transport and entrance tickets all day
BOOK NOW
Exclusive private Tours and Experiences. Also offered in Spanish, French, Portuguese, Swedish and Russian
Our prices always include tickets and reservations fees (no waiting in lines!)
Our tour guides and staff are selected experts and speak perfect English
Easy to book and prepay your tours with our secure payment system
Eco-sustainable tourism, designed to respect and support local culture, art and traditions
---
Make the most of your day in Barcelona with this beautifully crafted full-day private tour – inclusive of all transport and skip-the-line tickets to several iconic and UNESCO World Heritage venues. Your chauffeur will pick you up at the port and drop you off in the Gothic Quarter where you will meet your guide. Your day begins with a walking tour of the charming Gothic Quarter – a maze of cobbled medieval streets lined with trendy bars, busking musicians, artisanal leather and jewelry boutiques, flower stalls, and street food vendors. You'll see the Roman ruins of the Temple of Augustus and also visit the magnificent Gothic Cathedral. Take the elevator up to the terrace for incredible views of the Gothic Quarter; go down to the crypt and explore the cathedral's cloister, where 13 geese live among the palm trees. 
Taxi to your next stop: the former Hospital de Sant Pau, now a UNESCO World Heritage site and singularly unique example of modernist Catalan architecture. One of the largest art nouveau structures in the world, this complex spans dozens of rooms, halls, and courtyards and originally functioned as a hospital. Constructed between 1901 and 1930, the building remained an active hospital until 2009, when a new hospital was built. Restored and reopened in 2014, the Hospital de Sant Pau is now a must-see stop on any Barcelona visit.
After exploring Sant Pau, your guide will offer some recommendations for lunch (cost not included), before taking you into your second UNESCO-listed site of the day: the Sagrada Familia, the most famous (unfinished) basilica designed by Barcelona's beloved architect Antonio Gaudi. As your senses try to absorb all the colors and sculptures, your guide will tell you the many stories of this special place, and take you to Gaudi's tomb in the church's crypt.
After taking in all the Sagrada Familia's wonders, you'll be able to relax as you're chauffeured back to the port.
BOOK NOW
---
Luxury chauffeur port pickup and drop off

English-speaking private guide

Guided tour of Gothic Quarter

Entrance tickets to Cathedral

Free time for lunch

Entrance tickets to Sagrada Familia

Entrance tickets to Hospital de Sant Pau
BOOK NOW
---
LivTours' group size of max 6 participants is and always has been based on sustainable travel, and we are proud to be at the forefront of change and innovation in the industry.  LivTours is committed to providing travelers with truly sustainable tours with the lowest possible environmental impact, all while supporting the local industries and people of each unique destination. To learn more about how you can actively support sustainable tourism  and how LivTours is contributing, click here.
BOOK NOW
---
When you book a LivTours Private Tour or Experience, you are guaranteed a dedicated, expert guide that allows you the flexibility to start your tour at a time which is convenient for you, making planning easy. Our private tours ensure that you will get a tailored experience to meet all your needs so we go at your pace, perfect for families with younger children, elderly, or individuals with accessibility needs. Please be advised that all private tours begin at a base price starting at two people*. Prices are inclusive of entry tickets where applicable. *Some Ferrari private experiences are inclusive of one person only.
BOOK NOW
---
Make your day even more unique and comfortable by upgrading your tour with a customizable LivTours optional add on!
Full Day Chauffeur Barcelona
460 €
800.40 A$
427.80 £
542.80 $
BOOK NOW
---
By selecting Choose Dates Later / Buy as Gift at booking, any tour can be purchased without fixed dates. This is the perfect option if you want to purchase your tour as a gift for a loved one, or if you are in the pre-planning phase of your vacation. After booking, you will receive a Travel Voucher Code and full instructions on how to schedule your tours when ready. Once your travel plans are confirmed, you can easily use the Travel Voucher Code on the LivTours website to formally schedule your tours. You can find out more here.
BOOK NOW