Private Alcazar Tour with Seville Cathedral & Giralda Tower Climb
---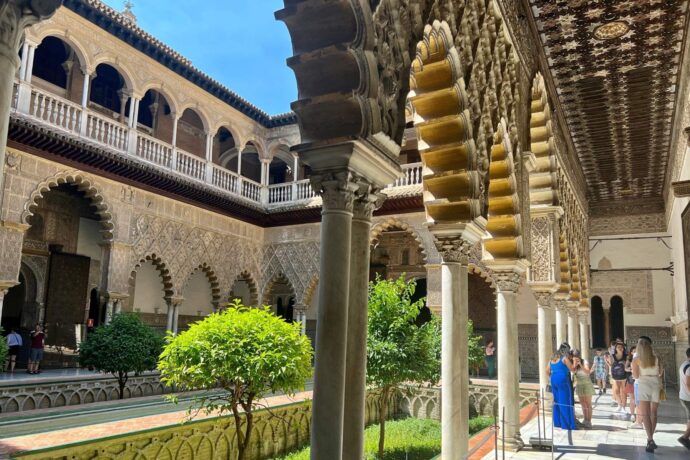 ---
Discover the best of historic Seville, the beautiful capital of Andalusia in Southern Spain. On this three hour private walking tour of the historic and charming Santa Cruz district, departing from your hotel, you'll visit two UNESCO World Heritage Sites: the beautiful royal palace complex, Alcazar Real and Seville's vast Gothic Cathedral, with the 105 metre tall Giraldo Tower.
Soak up the relaxed ambience of the cobbled streets of Santa Cruz and learn the impressive 1000 year history of the Moorish turned Christian palace and its adjoining cathedral, built on top of the original Muslim fortress and Mosque. No tour to Seville is complete without visiting the oldest working royal palace in Europe and the world's largest gothic cathedral – that also happens to be the burial place of Christopher Columbus!   
BOOK NOW
---
Enjoy the attention of your expert English speaking private guide.

Discover the best of historic Seville on this three hour private tour.

Enjoy priority access to the Alcázar, the oldest working royal palace.

Visit the vast gothic Cathedral and Giraldo Tower with skip the line tickets.

Stroll the charming streets, and soak up the relaxed atmosphere of Santa Cruz.
BOOK NOW
Exclusive private Tours and Experiences. Also offered in Spanish, French, Portuguese, Swedish and Russian
Our prices always include tickets and reservations fees (no waiting in lines!)
Our tour guides and staff are selected experts and speak perfect English
Easy to book and prepay your tours with our secure payment system
Eco-sustainable tourism, designed to respect and support local culture, art and traditions
---
Enjoy a fully guided three hour tour of the historic Santa Cruz district of Seville, departing directly from your hotel! Your guide will meet you in your hotel lobby and take you through the Alcazar and Cathedral with priority access – both designated UNESCO World Heritage sites. 
Begin with a scenic tour of the charming neighbourhood of Santa Cruz, a wonderful maze of cobbled streets, where you can soak up the relaxed atmosphere of sunny Seville.  Wander along lanes lined with crafts and souvenir shops, delicious restaurants, tapas and wine bars, with lots of live music and Flamenco! Santa Cruz is also home to the famous Alcazar, the incredible Renaissance-Moorish royal palace and Seville's magnificent Gothic cathedral. Your tour includes skip the line tickets to both these amazing attractions: 
The Alcazar complex has over 1000 years of history and is the oldest working palace in Europe. The Spanish royals often use the upper apartments when visiting.  Scenes of Game of Thrones series 5 and 6 were filmed in the castle and the beautiful gardens with the many water features. The Castle was built first as a Moorish fortress in the 11th century, and later rebuilt by the Christian King Peter in 1248. Today you will see its eclectic mix of architectural styles including Gothic, Mudejar and Renaissance. A truly special experience to wander through its shady courtyards and hallowed halls. 
The majestic Seville Cathedral adjoins the royal complex and was created to demonstrate the wealth and power of Seville during the Renaissance. It is the largest Gothic cathedral in the world, and was constructed between 1401 and 1506 on top of the pre-existing mosque. You'll explore the vast interior, famous for its long nave, and many chapels. It is the burial place of many Spanish royals – and many famous Spanish heroes, not least the (Italian) explorer Christopher Columbus! Then take a leisurely climb to the top of Giraldo Tower (105 metres tall, which was formerly the minaret of the mosque) which was designated a UNESCO World Heritage site in 1997. Get up close with the massive bells at the top, and enjoy a fantastic view of the city with your guide. Your tour ends inside the cathedral.
BOOK NOW
---
Private tour guide with hotel pick-up

Tickets and Tour of Seville Cathedral.

Giralda Tower access and climb.

Tickets and tour of Alcazar.

Guided tour of Santa Cruz district.
BOOK NOW
---
LivTours' group size of max 6 participants is and always has been based on sustainable travel, and we are proud to be at the forefront of change and innovation in the industry.  LivTours is committed to providing travelers with truly sustainable tours with the lowest possible environmental impact, all while supporting the local industries and people of each unique destination. To learn more about how you can actively support sustainable tourism  and how LivTours is contributing, click here.
BOOK NOW
---
When you book a LivTours Private Tour or Experience, you are guaranteed a dedicated, expert guide that allows you the flexibility to start your tour at a time which is convenient for you, making planning easy. Our private tours ensure that you will get a tailored experience to meet all your needs so we go at your pace, perfect for families with younger children, elderly, or individuals with accessibility needs. Please be advised that all private tours begin at a base price starting at two people*. Prices are inclusive of entry tickets where applicable. *Some Ferrari private experiences are inclusive of one person only.
BOOK NOW
---
By selecting Choose Dates Later / Buy as Gift at booking, any tour can be purchased without fixed dates. This is the perfect option if you want to purchase your tour as a gift for a loved one, or if you are in the pre-planning phase of your vacation. After booking, you will receive a Travel Voucher Code and full instructions on how to schedule your tours when ready. Once your travel plans are confirmed, you can easily use the Travel Voucher Code on the LivTours website to formally schedule your tours. You can find out more here.
BOOK NOW