Private Pompeii and Naples Tour from Rome by Train
---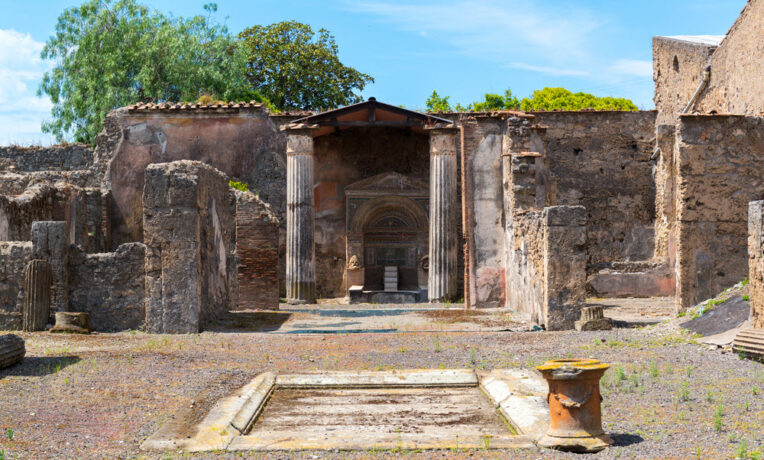 ---
LivTours' Pompeii and Naples Tour from Rome is an excellent day trip from Rome.  Your LivTours' greeter will meet you at the central Rome Termini Train Station with your tickets and guidance on what to expect upon arrival.
Once onboard, sit back and relax in Premium Class, enjoying a high-speed ride to Naples, arriving in just over an hour, you will meet your private guide who will accompany you the rest of the day.  You will hop on a local train that travels past Mount Vesuvius to the Pompeii ruins. Pompeii is a journey into the past to 79 AD and your private guide will be happy to tailor the visit to your interests. Traveling back to Naples you will have time to explore some of the city on foot and admire sites like The Royal Palace along the way. Enjoy an authentic Neapolitan pizza, and then enjoy a coastal stroll with wonderful views as the perfect end to your time in Naples. Take the high-speed train back, arriving in Rome in the early evening. A special day out down South with a private guide with you, this is a stress-free experience for you to enjoy!
BOOK NOW
---
Travel in premium class in a high speed train on this private full day tour

Explore ancient Roman ruins of Pompeii and discover the vibrant city of Naples

Learn what daily life was like in Pompeii until Mt Vesuvius erupted in 79AD

Stop for an authentic Neapolitan Pizza in the city where pizza was invented

Stroll along the promenade of the spectacular Gulf of Naples and admire Mt Vesuvius
BOOK NOW
Exclusive private Tours and Experiences. Also offered in Spanish, French, Portuguese, Swedish and Russian
Our prices always include tickets and reservations fees (no waiting in lines!)
Our tour guides and staff are selected experts and speak perfect English
Easy to book and prepay your tours with our secure payment system
Eco-sustainable tourism, designed to respect and support local culture, art and traditions
---
Your LivTours Pompeii and Naples Tour from Rome is a private day trip via high speed train starting in Rome's Termini Train Station where you will meet a LivTours greeter. Your greeter will have your train tickets and prepare you for your day.
Your Premium Class seating allows you to enjoy snacks and wi-fi during your one hour journey to Naples. You will be traveling at a maximum speed of 185 miles/hr, so you will be arriving in Naples Central Station in just over an hour!
Your LivTours local guide will meet you upon your arrival to Naples and will accompany you on a local train, the Circumvesuviana, to the famous Pompeii ruins, with Mount Vesuvius getting closer. Arriving in  Pompeii, you will head right to the ruins where you will enjoy exclusive access, avoiding the often long line. Your guide will take you on a journey through this incredible ancient city, weaving through its ruins, visiting different parts of the city like the Pompeii Forum, Houses and Baths. Discover the many still-standing structures, mosaics and frescoes, remaining here even after it was buried in 4-6 meters of ash and rock after the eruption.
Once you have finished investigating Pompeii, you will travel back by train to Naples. You will have a chance to admire the juxtaposition of beauty of this spirited city, strolling down old narrow streets with graffiti ridden walls, washing lines and locals going about their business and then suddenly find yourself surrounded by elegant architecture and impressive buildings like The Royal Palace. This is, of course, the birthplace of pizza, and so your next stop will be for a delicious Neapolitan pizza at a local spot. Savor every last bite, before making your way to the promenade for a walk along the seafront with magnificent views!
Naples enjoys about 1.5 miles of pedestrianized seafront that runs along the coast.  You will enjoy wonderful views of the bay of Naples, the Island of Capri and Mount Vesuvius in the near distance. Along the path are also two lovely waterfront castles, parks, villas, restaurants and bars. The gorgeous sunset lighting makes this path particularly pleasant at dusk and you will find many locals here at the end of the workday.
Your guide will accompany you back to the train station after your seaside stroll to catch your high-speed train back to Rome. You will arrive back by early evening.
Want even more time in this vibrant city? No problem. First Class guests on Italo Railway are also given the option of changing their train ticket time, so if you would like to leave a bit later (or even earlier), you can take advantage of this flexibility to best optimize your tour day. Please be aware that you will have to change your ticket at the Italo desk at the train station before your original departure time, and change is dependent on the availability of seats. We strongly advise you to request your change as early in the day as possible.
BOOK NOW
---
Round-trip Fast Train Business Class tickets

Meet & Greet service in Rome

Full day Chaperone from Naples train station

2 hrs Private Tour guide of Pompeii

Pizza lunch by the sea in Naples

All taxi and local train fees
BOOK NOW
---
Once train tickets are purchased, they are non-refundable and do not fall within the refund criteria of our cancellation policy.
We cannot guarantee that all travelers will sit together, especially for last-minute bookings.

Comfortable walking shoes recommended.

Offered in: English, French, Spanish, Portuguese, and Italian. Please specify under "Additional notes" if you wish to book the tour in a language other than English.
BOOK NOW
---
LivTours' group size of max 6 participants is and always has been based on sustainable travel, and we are proud to be at the forefront of change and innovation in the industry.  LivTours is committed to providing travelers with truly sustainable tours with the lowest possible environmental impact, all while supporting the local industries and people of each unique destination. To learn more about how you can actively support sustainable tourism  and how LivTours is contributing, click here.
BOOK NOW
---
When you book a LivTours Private Tour or Experience, you are guaranteed a dedicated, expert guide that allows you the flexibility to start your tour at a time which is convenient for you, making planning easy. Our private tours ensure that you will get a tailored experience to meet all your needs so we go at your pace, perfect for families with younger children, elderly, or individuals with accessibility needs. Please be advised that all private tours begin at a base price starting at two people*. Prices are inclusive of entry tickets where applicable. *Some Ferrari private experiences are inclusive of one person only.
BOOK NOW
---
Make your day even more unique and comfortable by upgrading your tour with a customizable LivTours optional add on!
One Way Pick-Up Transfer Service
85 €
147.90 A$
79.05 £
100.30 $
BOOK NOW
---
Unforgettable Experience
"I did the private tour with a guide, Marianna, and my husband. The city of Pompeii was amazing and so interesting. Marianna really made the city come to life by pointing out so many details that we would have never even notices with out her. The remains of one of the victims in a plaster cast was heartbreaking. After Pompeii, we went to Naples for a tour and a waterfront lunch. It was a great day and probably the highlight of our trip to Italy."
Sue H - United States
---
Wonderful! Book it!
"AMAZING!!! Can't say enough good things about the all-day tour from Rome to Pompeii. Our family wanted to do a trip from Rome to Pompeii, but we did not want to have to wake up too early. We tried to look into going on our own, but most trains were sold out and it was very complicated, so we looked at LivTours! We met with a driver who safely drove us 3 hours in a van. He dropped us off with our guide, Emma, who taught us so much and answered all of our questions. After the tour we went to have lunch on the water in Naples. Then 3 more hrs in the van back to Rome. Super easy. It was a long day, but stress-free and comfortable. Pricey, but very worth it!"
Maggie C - United States
---
Great tour from Rome - by train.
"This was awesome! I highly recommend this tour! Going into it, I did not know how long the day was going to be but it was perfect. I lived it and so did my 2 teenage boys. LivTours made sure the entire travel day went smoothly. We met a guide at the Rome train station who gave us our tickets and showed us to the train. When we arrived in Naples we met up with our guide for the day who took us to PompeiiI think this way was much easier than a 3 hour car ride. Our guide was also great. She knew so much information and she was very kind and easy to get along with. We went to lunch in Naples with a gorgeous view. I feel like LivTours know how to do tours the right way. They have small groups (of 6!) if you don't do a private tour. The guides are all locals from the area so we were able to learn so much from them. "
Cam - United States
---
BOOK NOW
---
By selecting Choose Dates Later / Buy as Gift at booking, any tour can be purchased without fixed dates. This is the perfect option if you want to purchase your tour as a gift for a loved one, or if you are in the pre-planning phase of your vacation. After booking, you will receive a Travel Voucher Code and full instructions on how to schedule your tours when ready. Once your travel plans are confirmed, you can easily use the Travel Voucher Code on the LivTours website to formally schedule your tours. You can find out more here.
BOOK NOW