Paris in a Day Tour with River Cruise | Semi-Private Experience
---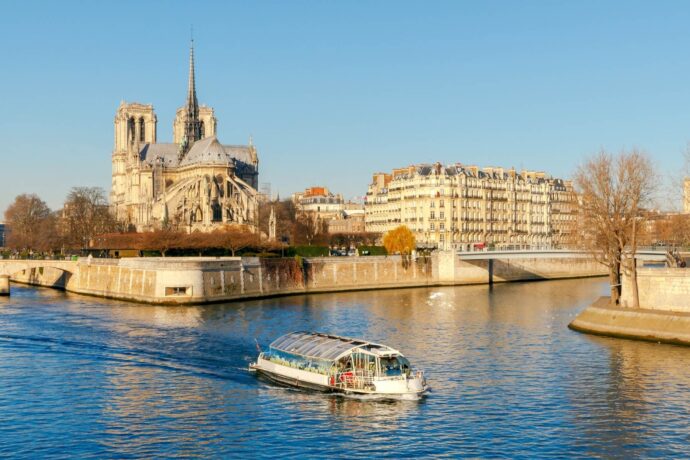 ---
LivTours Paris in a Day Tour with River Cruise is a fantastic way to see the highlights of Paris if you are limited on time in the City of Lights. This semi-private experience is led by an expert local guide and a group of up to six travelers. Taking you from the Sacré-Cœur Basilica at the highest point in the city, through the artistic neighbourhood of Montmartre, which was home to many famous artists such as Renoir and Picasso, as well as being the home of cabaret venues is just the start of this comprehensive full-day tour.
Including skipping the line entrance tickets to the Louvre Museum, a walking tour of the Ile de la Cite (the island in the Seine where Notre Dame is located) tickets for a relaxing cruise along the river to Gustave Eiffel's most famous construction, the Eiffel Tower. This is the most comprehensive day tour in Paris!
BOOK NOW
---
Enjoy skip the line tickets to Louvre museum private, 5 star guided experience

Stroll past historic apartments where Picasso, Renoir, and Van Gogh once lived

Stand in front of the world's most popular portrait: Leonardo Da Vinci's Mona Lisa

Feel the romance in the air as you cruise the River Seine on the Paris in a Day Tour

Take photos near the most iconic Paris sights – the Eiffel Tower & Sacré-Cœur
BOOK NOW
Semi-Private tours and experiences are guaranteed six participants max.
Our prices always include tickets and reservations fees (no waiting in lines!)
Our tour guides and staff are selected experts and speak perfect English
Easy to book and prepay your tours with our secure payment system
Eco-sustainable tourism, designed to respect and support local culture, art and traditions
---
Your LivTours Paris in a Day Tour begins when you meet your guide outside the legendary Moulin Rouge windmill.  This semi-private tour consists of an expert local guide and up to five other travelers aside from yourself.  With a reduced group size you have direct contact with your guide so you can easily ask questions, maneuver often, crowded venues more easily, and meet like-minded travelers.
The Moulin Rouge is certainly one of the most iconic buildings in Paris. Your guide will explain the history of this cabaret venue opened in 1889, the same year Paris hosted the Universal Exposition.  This incredible time in history when the camera, telephone, electricity, and the Wright Brothers were flying, was a time of great change in Europe, and a tour of Montmartre with a history steeped in the great artist of the time is like a walk back in time. The Moulin Rouge was a symbol of the changing times that were not only precluded to inventions but in society as well.  The Moulin Rouge was built just at the edge of the racy Montmartre neighborhood allowing gentlemen of the upper classes to see a cabaret show easily.
Just behind the Moulin Rouge, the whole atmosphere changes from glitzy Time Square to charming cobblestone streets reminiscent of French villages. In fact, until recent times, Montmartre was a village separate to Paris, which is what attracted young artists like Renoir, Van Gogh, Picasso, and writers like Ernest Hemmingway to this area at the turn of the 19th to 20th centuries. Being outside Paris, meant cheaper rent, more space, and the amazing light from its position sitting above the city of Paris. Your expert local guide will show you some of the lesser-known features of the neighborhood, like the historic vineyard that still produces wine every year, which is known throughout France for its Harvesting Festival that is held in the fall.
On your tour of Montemartre, you will see the former homes of artists such as Van Gogh, Renoir, and Picasso. And, a stop at the oldest cabaret venue in the city, Au Lapin Agile is a must. Not only did greats like Edith Piaf perform here, but the venue is also featured in paintings by the likes of Picasso and Utrillo. This neighborhood is still home to a thriving artist community, so do not be surprised if your guide points out contemporary painters or musicians during your tour. These artists can often be seen entertaining guests in the cafe called Place du Tertre which featured as a key setting in the film Amelie.
Your tour continues to Montmartre's highest point, where you can enjoy the most unforgettable views of the Paris skyline.  Set on top of this hill is another iconic building, the Sacré-Cœur Basilica. Located at the highest point in the city, the all-white basilica is often referred to as the meringue by locals, was built at the end of the 1800s, and sits at the top of Paris' most risque neighborhoods.
LOUVRE
Next, your expert guide will accompany you and your fellow travelers to the infamous Louvre Museum. With LivTours priority access entrance tickets, you will skip the often long lines entering a world-class museum that holds over 35,000 pieces of art. Your guide will make sure you see the most important highlights giving you a comprehensive visit without overwhelming you. You will see marvelous Greek sculptures, like Venus de Milo to dramatic Delacroix paintings, your guide will take you to all of the Louvre's most inspiring masterpieces, including Leonardo da Vinci's Mona Lisa.
ILE DE LA CITE
After finishing your visit at the Louvre, it's time to enjoy free time for a leisurely Parisian lunch. Your guide will recommend some fantastic local places based on your personal preferences (please note, lunch is not included in the price of the tour). Then, it's time to meet with your guide once more and set out on foot to visit one of two islands located in the middle of the Seine River. The bigger of the two islands is called the Île de la Cité by the locals. Strolling through Place Dauphine, one of the most elegant squares in Paris will bring back memories for Woody Allen fans as this was featured in his film Midnight in Paris. Your guide will explain the more than a thousand year history of this square.
You'll then pass by Sainte Chapelle, a glorious church some call the Sistine Chapel of Paris, and hear a few of the darker tales of Paris' past as you explore the former prison of Paris (from the outside). Traveling back in time, your guide will explain the bloody days of the French Revolution, painting a picture of Marie Antoinette's last days before meeting her fate under the guillotine.
Next, it is on to see one of the most famous monuments in Paris, their beloved Notre Dame Cathedral. Though temporarily closed due to the fire that engulfed the roof and attic in 2019, you are now able to get close to the Cathedral's main façade which was untouched by the fire.  Your guide will help you discover the intricate carvings in the Gothic arches of the doorways, explain the architecture and bring you up to date on its reconstruction.
SEINE RIVER CRUISE TICKETS
As your tour comes to a close, your guide will hand you tickets for a wonderful Seine River cruise which you can enjoy at your leisure. The river cruise will take you right past the Eiffel Tower and countless other monuments such as the Conciergerie, Hôtel National des Invalides, Notre Dame and more.
You can choose to take the Seine river cruise at any time that is convenient for you, on the day of the tour or the next, however we highly recommend enjoying at sunset!
BOOK NOW
---
Montmartre Morning Tour

Metro Ride & Tickets

Louvre Tour with skip-the-line tickets

Free time for lunch (not included)

Ile de la Cite Tour

Seine River Cruise tickets

Tour Eiffel photo op from the river
BOOK NOW
---
LivTours' group size of max 6 participants is and always has been based on sustainable travel, and we are proud to be at the forefront of change and innovation in the industry.  LivTours is committed to providing travelers with truly sustainable tours with the lowest possible environmental impact, all while supporting the local industries and people of each unique destination. To learn more about how you can actively support sustainable tourism  and how LivTours is contributing, click here.
BOOK NOW
---
All LivTours Semi-Private Group Tours are limited to 6 guests per tour guide. Our commitment to maintaining our uniquely tiny group sizes can sometimes be a little tricky, mathematically speaking. For example, we want to ensure that traveling families and friends can tour together so on rare occasions we may add one or two guests in order to not split groups. On that same note, you may also find yourself on tour with less than six people! We thank you for your understanding and flexibility.
BOOK NOW
---
Make your day even more unique and comfortable by upgrading your tour with a customizable LivTours optional add on!
Tickets to Eiffel Tower: 2nd tier
35 €
60.90 A$
32.55 £
41.30 $
BOOK NOW
---
Paris in a day tour
"Daniel was a fantastic guide. We saw all the highlights of Paris in a day. I was very happy that we had a tour guide for the Louvre. Definitely worth the money! "
Tony - USA
---
Best tour ever taken
"We had brought the family to DisneyLand Paris but, of course, wanted to show the kids the city as well. The Paris in a day tour with LivParis (LivTours) was our choice and everyone in the family thoroughly enjoyed it. We saw the highlights of the city, visited the Louvre, walked around various areas to get a better feeling for the character of the neighborhood, even saw the city from the river during the short (but fun) river cruise. Our guide Richard was brilliant and connected with the kids right from the beginning of the tour. He kept them engaged with facts and stories and asked them lots of questions to keep them interested and entertained. This was surely one of the best tours we have ever taken."
Victor - UK
---
Best guide we've ever had
"If you have a day to dedicate, this Paris in a day tour is very comprehensive, relaxed and enjoyable. We were in a group with just another couple so interaction with them and with the guide was very easy. The guide, Ferit, was one of the best we have ever had. So intelligent but not at all stuffy or stand-off-ish. He obviously enjoys what he does and takes pride in making our experiences the best possible. He certainly succeeded! Thanks Ferit and LivParis!"
Brandy - USA
---
BOOK NOW
---
By selecting Choose Dates Later / Buy as Gift at booking, any tour can be purchased without fixed dates. This is the perfect option if you want to purchase your tour as a gift for a loved one, or if you are in the pre-planning phase of your vacation. After booking, you will receive a Travel Voucher Code and full instructions on how to schedule your tours when ready. Once your travel plans are confirmed, you can easily use the Travel Voucher Code on the LivTours website to formally schedule your tours. You can find out more here.
BOOK NOW