Private Food Tour of Naples from Rome
---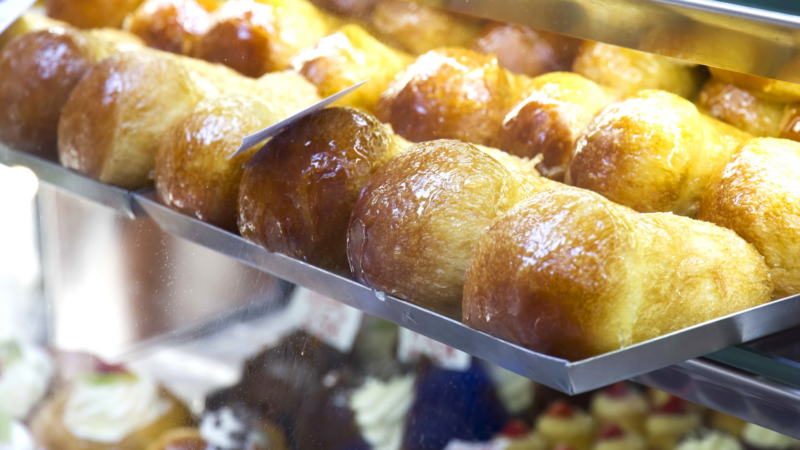 ---
NEW TOUR 2022 – An exciting day trip from Rome that will take you through the heart of one of Europe's oldest cities. Walk ancient streets, see royal palaces, churches, castles and tasting the original Naples pizza, babà and other delicious Naples food as you go.
BOOK NOW
---
Try the original pizza in the city where it was invented!

Taste some of Naples delicious Street Food

Try desserts that will satisfy even the sweetest tooth!

Explore the world beneath the city streets

Learn about Naples' rich history

Have lunch with stunning views of Vesuvius and Capri across the Bay of Naples
BOOK NOW
Exclusive private Tours and Experiences. Also offered in Spanish, French, Portuguese, Swedish and Russian
Our prices always include tickets and reservations fees (no waiting in lines!)
Our tour guides and staff are selected experts and speak perfect English
Easy to book and prepay your tours with our secure payment system
Eco-sustainable tourism, designed to respect and support local culture, art and traditions
---
Arrive hungry for your Naples food tour with a local expert and a day tasting some of the most delicious food in Italy!
Your day trip to Naples starts at Termini Station in Rome, where a LivTours greeter will be waiting for you with your train tickets.  For the next hour, sit back and relax with a coffee and snack in Business Class comfort, watching the beautiful Italian countryside speeds by outside.  When you arrive in the heart of Naples,  your personal LivTours guide will be waiting to start your private food tour of one of Italy's most ancient cities.
Your first stop will be a delicious Neapolitan breakfast of warm, ricotta-stuffed sfogliatella and coffee – as the people of Naples will tell you, the local water, rich in minerals from the volcanic rocks that surround it, makes the best coffee in the world!
Your guide will tell you more about the fascinating history of Naples as you walk along the wide boulevards of the 19th century Royal capital into the narrow streets of the ancient Greek city of Neápolis. In the historic center of Naples, discover one of Naples' many hidden secrets when you take an underground tour 40m below the city to an extensive system of tunnels that were started by the Greeks. Learn how people worked here in the darkness to bring clean water to the city and how the caverns were used by the citizens of Naples who sheltered here when the city was bombed during WWII.
Naples can be an assault on the senses for the first time visitor, but your expert guide will make sure you aren't overloaded by information as you walk along the historic Via dei Tribunali, stopping at the food stalls to taste some of the city's most popular snacks.
At lunch, you'll discover a completely different side of Naples. From the maze of ancient alleys, your guide will whisk you down to the port, where you will enjoy a traditional Naples pizza overlooking the stunning Bay of Naples, with Vesuvius dominating the landscape on the other side.
In the afternoon take a leisurely stroll through the beautiful streets of Royal Naples. You might not know that Naples was once one of the most important cities in Europe, second only to Paris, when it was ruled by the Spanish Bourbons. You'll see the Royal Palace in the monumental Piazza del Plebiscito, the world's first opera house and the church of San Francesco di Paola, a Neo-Classical Pantheon complete with a 53m high dome! Before heading back to Rome, don't miss the famous Babà.  These sweet, rum-soaked cakes might not have been invented here, but they have become as Neapolitan as Maradona!
At the end of your day in Naples, your guide will see you onto the high-speed train where you'll have time to think about all the incredible things you have seen and learnt today, and in just over an hour you'll be back in Rome.
BOOK NOW
---
Pizza and Beer

Sfogliatella

Babà

Coffee

Typical Naples Street Food

Underground Naples

Royal Naples
BOOK NOW
---
The passages and caverns of the underground tour are wide, open and well-lit. The stairs from the street are not steep but there is no elevator.
If you have any mobility issues or food intolerances, please contact our team to discuss adapting the tour before you book.
BOOK NOW
---
When you book a LivTours Private Tour or Experience, you are guaranteed a dedicated, expert guide that allows you the flexibility to start your tour at a time which is convenient for you, making planning easy. Our private tours ensure that you will get a tailored experience to meet all your needs so we go at your pace, perfect for families with younger children, elderly, or individuals with accessibility needs. Please be advised that all private tours begin at a base price starting at two people*. Prices are inclusive of entry tickets where applicable.
*Our Tuscan motorcycle tour and some Ferrari private experiences are inclusive of one person only.
BOOK NOW
---
Make your day even more unique and comfortable by upgrading your tour with a customizable LivTours optional add on!
BOOK NOW
---
Must show Vaccination or Negative test for Italy & France Tours
For all France and Italy tours that include an indoor activity, a museum or an archeological park visit, it is now National Law in both countries, to present a covid-19 vaccination card OR negative covid-19 test result from the past 48 hrs accompanied by your personal ID to the local authorities for all adults over the age of 12. Lack of ability to present such documentation may result in loss of tour and funds lifting LivTours from all responsibilities.
---
BOOK NOW
---
By selecting BUY AS A GIFT, you can purchase this tour as a gift for someone you care for. You will receive a gift card voucher that then can be redeemed by the person/people who will enjoy the tour.Date and Time are values that cannot be selected at the moment. You will in fact receive a gift card voucher with instructions on how to redeem the tour and then select date and time.You can create a shopping cart with multiple tours as gift cards. You may not compose a shopping cart of gift cards and actual tours with date and time.This option can also be used as an opportunity to book a tour open-dated for yourself, in case you are still in the pre-planning phase of your trip.For more information please read here.
BOOK NOW