Milan Duomo Express Tour with Terrace Access | Semi-Private
---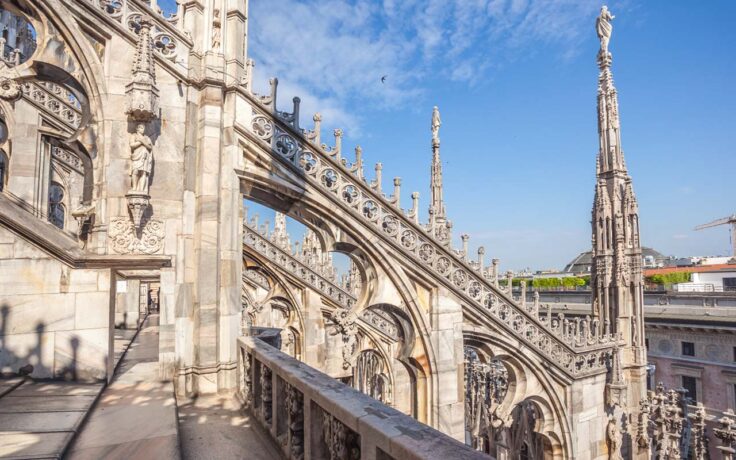 ---
Enjoy a fully guided tour of Milan's iconic Duomo in an exclusive small group of no more than 6 people. With your expert English speaking guide, and LivTours skip-the-line tickets, you'll head straight in to explore the vast cathedral, where Napoleon's coronation took place. Begun in 1386 it was not completed until 1800. Afterwards you'll part ways with your guide and take the elevator up to the stunning terrace, where you'll be able to wander among the turrets, spires and pinnacles of the Duomo admiring spectacular panoramic views over the city of Milan and towards the snow-capped Alps. This is truly an experience not to be missed!
BOOK NOW
---
Enjoy the small group size of no more than 6 people.

Explore Milan's Duomo, with an expert English speaking guide.

Enjoy LivTours priority entrance to the Duomo and Terrace elevator.

Take the elevator to the Terrace for amazing views of Milan and the Alps.

Walk through the gothic spires and pinnacles of the Duomo.
BOOK NOW
Semi-Private tours and experiences are guaranteed six participants max.
Our prices always include tickets and reservations fees (no waiting in lines!)
Our tour guides and staff are selected experts and speak perfect English
Easy to book and prepay your tours with our secure payment system
Eco-sustainable tourism, designed to respect and support local culture, art and traditions
---
The Duomo is the most famous symbol of Milan. With its Gothic spires and pinnacles, stunning views, and vast echoing interior, it is one of the largest cathedrals in the world. It is famous for housing a holy relic: a nail from the Cross, and it is where the coronation of Napoleon took place amidst much pomp and pageantry in 1805. The Duomo's first stone was laid in 1386 and it was completed by 1800 – although works on it are still carried out today, over 700 years later! 
Your exclusive, small group tour of no more than 6 people, begins with meeting your expert, English-speaking guide outside the cathedral for an explanation of the Gothic exterior. You'll then enter with LivTours priority access, skipping the line.  Inside, you'll explore the awe-inspiring architecture, with its massive pillars and spacious naves. You'll learn all about the history of the Duomo – how new canals had to be dug to bring marble from Candoglia to Milan, decode the medieval symbolism, and hear about famous spectacles that took place here. 
The central nave is flanked by two aisles on either side, and the building is held up by 52 mighty pillars. Hundreds of architects, artists and sculptors have worked on the Duomo over hundreds of years: It can boast more statues than any other cathedral in the world with around 3,400. Your guide will show you the most important highlights like the statue of St Bartholomew, and easily missed treasures like an ancient sundial. 
Afterwards, you will part ways with your guide at the elevator and ride up to the terrace to explore at your leisure. See the famous gold statue of the Madonnina (the little Madonna – although at 4 meters tall she is pretty big!) and walk amidst the spires. Admire the exquisitely breathtaking views over the city and towards the snow capped Alps.
BOOK NOW
---
Small group size of 6 people max

Expert English speaking guide

Skip the line tickets to enter the Duomo

Guided tour of the Duomo's interior

Priority access to the Terrace elevator

Free time to explore the Terrace
BOOK NOW
---
LivTours' group size of max 6 participants is and always has been based on sustainable travel, and we are proud to be at the forefront of change and innovation in the industry.  LivTours is committed to providing travelers with truly sustainable tours with the lowest possible environmental impact, all while supporting the local industries and people of each unique destination. To learn more about how you can actively support sustainable tourism  and how LivTours is contributing, click here.
BOOK NOW
---
All LivTours Semi-Private Group Tours are limited to 6 guests per tour guide. Our commitment to maintaining our uniquely tiny group sizes can sometimes be a little tricky, mathematically speaking. For example, we want to ensure that traveling families and friends can tour together so on rare occasions we may add one or two guests in order to not split groups. On that same note, you may also find yourself on tour with less than six people! We thank you for your understanding and flexibility.
BOOK NOW
---
By selecting Choose Dates Later / Buy as Gift at booking, any tour can be purchased without fixed dates. This is the perfect option if you want to purchase your tour as a gift for a loved one, or if you are in the pre-planning phase of your vacation. After booking, you will receive a Travel Voucher Code and full instructions on how to schedule your tours when ready. Once your travel plans are confirmed, you can easily use the Travel Voucher Code on the LivTours website to formally schedule your tours. You can find out more here.
BOOK NOW