Louvre Private Tour
---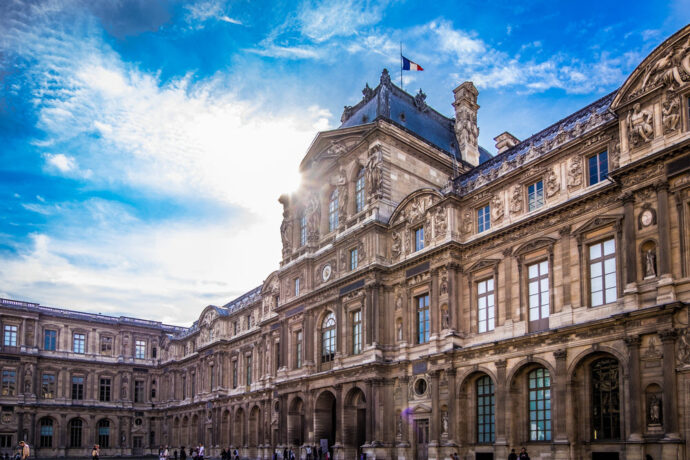 ---
With a collection of over 35,000 works on display, Paris' Louvre is the largest, most influential, and most visited art museum in the world. Although it's impossible to do the Louvre justice in just one day, LivTours Louvre Private Tour will grant you intimate access to all of the highlights. From marvellous Greek sculptures like Venus de Milo to dramatic Delacroix paintings, your guide will take you to all of the Louvre's most inspiring masterpieces. Boasted as the world's most admired museum, the Louvre is also the largest art museum in the world, which makes it fundamental to navigate the highlights with an expert by your side.
Your LivTours Louvre Private Tour will take you to all of the most iconic paintings and sculptures housed in two of this massive museum's three wings. To help you make the most out of your visit, your guide will highlight the most influential works from a wide range of periods including Ancient Greece, Ancient Egypt, the Renaissance, Neoclassicism and Romanticism. In addition to learning about the different artists and artworks, you will also hear how this 12th-century fortress and palace eventually became France's greatest museum.
BOOK NOW
---
Navigate this renowned museum's masterpieces with an expert private local guide

See unforgettable masterpieces by artists like Da Vinci, Canova, and Delacroix

Listen to stories from your guide about Venus de Milo & The Great Sphinx of Tanis

Get an idea of the rich history of the Louvre as a fortress and a royal palace

Stand in front of one of the most famous paintings in the world - the Mona Lisa
BOOK NOW
Exclusive private Tours and Experiences. Also offered in Spanish, French, Portuguese, Swedish and Russian
Our prices always include tickets and reservations fees (no waiting in lines!)
Our tour guides and staff are selected experts and speak perfect English
Easy to book and prepay your tours with our secure payment system
Eco-sustainable tourism, designed to respect and support local culture, art and traditions
---
Your LivTours Louvre Private Tour will take you to the Ancient Egypt collections, take a close look at the sleek granite Great Sphinx of Tanis. Discovered in an Egyptian temple in the 1800s, this sphinx is considered to be the biggest and best-preserved in any Western museum.
Once you are through visiting Egypt, it's time to explore two of Ancient Greece's globally recognizable sculptures – the armless Venus de Milo and the headless Winged Victory of Samothrace. Although both of the goddesses are missing a few parts, they are universally considered some of the best-surviving original Hellenistic sculptures. Just a short walk from Venus de Milo you will get a chance to see some impressive Italian sculptures including Michelangelo's powerful Rebellious Slave & Dying Slave as well as Canova's passionate Cupid & Psyche.
Before beholding Da Vinci's Mona Lisa, you will take a tour of some of the Louvre's other eye-catching canvasses. This portion of the tour will include stops by Paolo Veronese's Wedding Feast of Cana, Jacques-Louis David's Coronation of Napoleon, and icons of French Romanticism like Delacroix's Liberty Leading the People and Théodore Géricault's Raft of Medusa.
Leonardo da Vinci's Mona Lisa
Of all the thousands of paintings housed in the Louvre, Da Vinci's Mona Lisa remains the most popular and enigmatic work. Supposedly the portrait of a 16th-century Italian noblewoman, this painting has bewitched billions over the years and inspired countless songs, films, and novels. Your LivTour guide will shed light on how this painting became one of the most well-known works of art in the world, one worth a visit.
BOOK NOW
---
Entrance tickets to Louvre museum

Ancient Egypt collections

Great Sphinx of Tanis

Ancient Greece collection

Venus de Milo

Winged Victory of Samothrace

Michelangelo's Slave sculptures

Canova's Cupid & Psyche

Da Vinci's Mona Lisa

Veronese's Wedding Feast of Cana

Jacques-Louis David's Coronation of Napoleon

Delacroix's Liberty Leading the People

Théodore Géricault's Raft of Medusa

Fully guided experience
BOOK NOW
---
Offered in: English, French, Spanish, Portuguese, and Italian. Please specify under "Additional notes" if you wish to book the tour in a language other than English.

Due to these unprecedented times and ongoing safety and regulation changes, some sites may have limited accessibility if the venue can not guarantee social distancing which may lead to unforeseen tour modifications. Thank you for your understanding.

LivTours' is and always has been based on sustainable travel and especially in these new times, we are proud to be at the forefront of innovation, change, and challenges that are presented to us during this post-pandemic time. At the moment, due to Covid-19 safety regulations, museums and sites visited on this tour require wearing a mask while on site. Please bring one for every participant over 6 years of age.
BOOK NOW
---
When you book a LivTours Private Tour or Experience, you are guaranteed a dedicated, expert guide that allows you the flexibility to start your tour at a time which is convenient for you, making planning easy. Our private tours ensure that you will get a tailored experience to meet all your needs so we go at your pace, perfect for families with younger children, elderly, or individuals with accessibility needs. Please be advised that all private tours begin at a base price starting at two people. Prices are inclusive of entry tickets where applicable.
BOOK NOW
---
Make your day even more unique and comfortable by upgrading your tour with a customizable LivTours optional add on!
Pickup Service from Paris Central hotel
BOOK NOW
---
Wonderful Louvre tour
"This is a beautiful gallery! I'm sure however that we would have gotten VERY lost if it hadn't been for LivTours. Our guide took so good care of us and helped us navigate this overwhelming place in an enjoyable and stress-free way. We will definitely book other tours with this company!"
Doloras - Belgium
---
A must-do!
"I have been to the Louvre before but this was my first time with a guide and I honestly feel this was the best museum experience I have ever had. I learned so much and the guide highlighted so many things that I had overlooked on past visits. I really recommend visiting the Louvre this way, whether it is your first time or a repeat visit!"
EvanP - USA
---
BOOK NOW