Ile de la Cite Paris Walking Tour | Semi-Private
---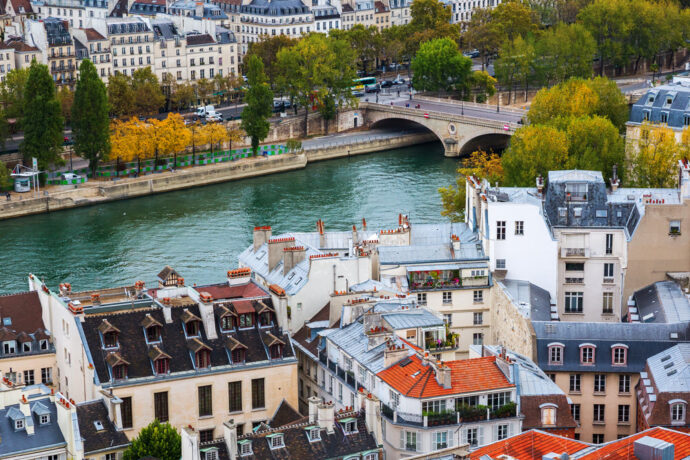 ---
LivTours Ile de la Cite Paris Walking Tour is a semi-private experience that takes place on an island right in the center of the River Seine, the birthplace of Paris and home to its beloved Notre Dame of Paris Cathedral. The island, known as Ile de la Cite,  is one of two natural islands as the Seine River flows through Paris. This tour takes you through this history-rich district that hosts gorgeous Gothic churches and historic buildings.
On this engaging tour, you will discover the history of Ile de la Cite, which was originally home to Roman settlers, how it hosted a palace, and the many subsequent purposes it has served, including a hideaway from enemy attack. However, from 1869 onwards, this once populated island can only officially be called home by less than 1,000 people. You will be intrigued by your guide's engaging explanations as you explore the center of Paris.
Come take a walk back in time on Paris' most historic island!
BOOK NOW
---
Interactive experience and expert guide on this semi-private tour with max 6 people

Listen to the shocking tales of Marie Antoinette's final days in prison

Enjoy the luxurious and romantic Place Dauphine, set just next to the Seine River

Discover the fascinating history of Celtic tribes who settled in Île de la Cité

Explore the current restoration of the Notre Dame and its proceeding 1,000 years
BOOK NOW
Semi-Private tours and experiences are guaranteed six participants max.
Our prices always include tickets and reservations fees (no waiting in lines!)
Our tour guides and staff are selected experts and speak perfect English
Easy to book and prepay your tours with our secure payment system
Eco-sustainable tourism, designed to respect and support local culture, art and traditions
---
Your LivTours Ile de la Cite Paris Walking Tour starts at the statue of Louis XIV located in front of the recognizable IM Pei Glass pyramid entrance to the Louvre. Once you and your semi-private group of no more than six travelers have met your guide, you will begin the tour with a stroll along the Seine River to Pont Neuf. You will find out why the bridge called the New Bridge is actually the oldest stone bridge in Paris! At just a glance you will have an idea of what makes this one of the most charming cities in the world. Crossing one section of the bridge puts you firmly in the Île de la Cité's peaceful Place Dauphine. Movie buffs will recognize this square from Woody Allen's Midnight in Paris. Though this square may be familiar for its more modern accomplishments, it holds an essential place in history. The second oldest square in Paris, dating back to 1600, its construction was initiated by King Henry IV and named after his crowned prince son Louis XIII, the Dauphin of France.
Your LivTours expert guide will explain the varied history of this natural island in the center of Paris and before you know it, you will soon find yourself at your next stop, the Sainte Chapelle.  The French equivalent to Rome's Sistine Chapel, it was built in the 13th century by Louis XIV and this chapel was originally created to house the famous holy relics including the famed Crown of Thorns. It was venerated in the 4th century, as the actual thorny crown that Jesus wore on the way to his crucifixion.
Your semi-private tour continues to one of the most beloved spots of Paris, the Medieval masterpiece known as the Notre Dame Cathedral. Parisians are still shocked by the devastating 2019 fire, but they are working tirelessly to rebuild this masterpiece for future generations. Notre Dame is temporarily closed to the public, but you can still learn about this architectural wonder and take stunning photos. When touring around this history-rich cathedral, take extra time to appreciate its innovative use of the flying buttresses. These outdoor arches were revolutionary and helped architects accommodate the soaring interior heights associated with High French Gothic. Learn about Notre Dame's intricate frame and the current efforts in restoring it and find out what future renovations, so you know exactly when to plan your next trip to Paris!
Your tour continues onto Île Saint-Louis, another, yet much smaller, natural island in the center of Paris with picture-perfect homes and balconies looking out onto the Seine River. Your tour ends at the charming Pont Marie in the trendy Marais District where you can enjoy the rest of your day boutique shopping, gallery browsing, or enjoying a French lunch!
BOOK NOW
---
The glass pyramid

Walk by Seine river

Place Dauphine

Conciergerie

Notre Dame Cathedral (from outside)

Île Saint-Louis

Pont Marie in Le Marais
BOOK NOW
---
All LivTours Semi-Private Group Tours are limited to 6 guests per tour guide. Our commitment to maintaining our uniquely tiny group sizes can sometimes be a little tricky, mathematically speaking. For example, we want to ensure that traveling families and friends can tour together so on rare occasions we may add one or two guests in order to not split groups. On that same note, you may also find yourself on tour with less than six people! We thank you for your understanding and flexibility.
BOOK NOW
---
Make your day even more unique and comfortable by upgrading your tour with a customizable LivTours optional add on!
Tickets to Eiffel Tower: 2nd tier
Add Seine River Cruise Tickets
BOOK NOW
---
5 star walking tour
"This was not our first time to Paris but we decided to book this tour in order to better understand the history of the city and this particular area, since it is very representative of parisian life. We found the tour to be fascinating and our guide was extremely well-prepared and charming. The pace was just right and the small group policy, which this company maintains, made the entire experience very enjoyable. We will recommend to all."
Bernard - UK
---
Really enjoyable tour
"My husband and I really enjoyed this walking tour on the Ile de la Cite island. There's so much to see and so much history represented in this area of the city. Our guide told great stories and kept us entertained throughout the tour. There were only 6 of us in the group so it was very intimate and nice. It was everything we hoped it would be."
Frieda - Netherlands
---
Awesome walking tour
"We were in a group of 6 for this walking tour on the Ile de la Cite island. Our guide Josie was knowledgeable and friendly and her funny stories made Paris history come alive. Our 2 teenagers loved her style and couldn't stop talking about all that they had learned and how much they enjoyed the tour. It was a great experience for all of us and we will share our recommendation with everyone we know coming to Paris!"
Randy - USA
---
BOOK NOW
---
By selecting Choose Dates Later / Buy as Gift at booking, any tour can be purchased without fixed dates. This is the perfect option if you want to purchase your tour as a gift for a loved one, or if you are in the pre-planning phase of your vacation. After booking, you will receive a Travel Voucher Code and full instructions on how to schedule your tours when ready. Once your travel plans are confirmed, you can easily use the Travel Voucher Code on the LivTours website to formally schedule your tours. You can find out more here.
BOOK NOW