Highlights of Seville Private Full Day Tour
---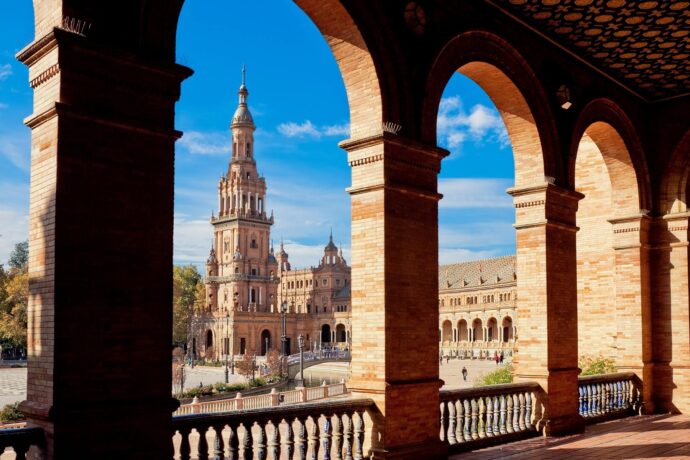 ---
Savour the sights of Seville on this full day private walking tour of the beautiful, sunny capital of Andalusia. Depart with your guide from your hotel and stroll along Seville's charming and historic streets with a Baroque church around every corner, admire the city's famous mix of magnificent Mudejar, Gothic and Renaissance architecture, see the ancient Roman ruins and Moorish walls as you learn the fascinating history of this important city.
Seville is home to three UNESCO World Heritage sites, two of which you'll see on the tour: the beautiful Alcázar complex and the largest Gothic Cathedral in the world. You'll also hear about Seville's mouthwatering food scene, fabulous Flamenco and delicious vino! Enjoy the tranquil leafy parks, spectacular plazas and lively shopping streets of this majestic city. 
BOOK NOW
---
Enjoy the attention of your expert English speaking private guide.

Discover the best of Seville on this full day private tour of the city.

Enjoy priority access to the Alcázar, the Cathedral and Casa de Pilatos.

Stroll the charming historic streets, and soak up the relaxed atmosphere.

Stop to admire the majestic Plaza de Espana with its famous moat and fountain.
BOOK NOW
Exclusive private Tours and Experiences. Also offered in Spanish, French, Portuguese, Swedish and Russian
Our prices always include tickets and reservations fees (no waiting in lines!)
Our tour guides and staff are selected experts and speak perfect English
Easy to book and prepay your tours with our secure payment system
Eco-sustainable tourism, designed to respect and support local culture, art and traditions
---
Discover the very best of Seville – the beautiful capital of Andalusia in southern Spain with your expert private guide on this full day private walking tour. Depart from your hotel where your expert guide will meet you and begin with a scenic tour of the charming, historic area of Santa Cruz. A veritable maze of colourful cobbled streets, lined with crafts and souvenir shops. It is also home to the famous UNESCO monuments: Alcazar, the incredible Renaissance-Moorish royal palace and Seville's magnificent Gothic cathedral. Your tour includes skip the line tickets to both these amazing attractions: 
The Alcazar complex has over 1000 years of history and is the oldest working palace in Europe. The Spanish royals still use the upper apartments and several scenes of Game of Thrones were filmed in the castle and the beautiful gardens. It was built first as a Moorish fortress in the 11th century, and taken over by the Christian King Peter in 1248 to be rebuilt in different architectural styles including Gothic, Mudejar and Renaissance.
Next you'll visit the adjoining majestic Seville Cathedral. This is the largest Gothic cathedral in the world, built between 1401 and 1506 on top of the pre-existing mosque. Along with the giant Giraldo Tower (105 metres tall, formerly the minaret of the mosque) it too was designated a UNESCO World Heritage site. Built to demonstrate the wealth and power of Seville, several Spanish royals are buried there and so is Christopher Columbus!  
After a break and free time for lunch (not included) spend the afternoon exploring the other cultural highlights of Seville: The neo-classical Old Tobacco Factory – made famous by Carmen (of the opera) known for rolling cigars between her thighs! The extraordinary Plaza de Espana; with its famous palatial buildings situated around a moat and spectacular fountain. Many scenes from Lawrence of Arabia and Star Wars Episode II were filmed here.
Enjoy a guided tour of La Casa de Pilatos, a 15th century palace, famous for its azulejo – traditional glazed coloured tiles. This beautiful museum has a fantastic collection of art and Greco-Roman statues. The Setas de Sevilla ("Mushrooms of Seville" finished in 2011) provides a sharply modern contrast to the other sites! Lastly, explore the famous shopping street Calle Sierpes, before ending your tour outside the impressive Ayuntamiento de Sevilla building. 
BOOK NOW
---
Private tour guide with hotel pick-up

Full day guided tour.

Tickets and Tour of Seville Cathedral.

Tickets and tour of Alcazar.

Guided tour of Santa Cruz district.

Break for lunch (not included).

Casa de Pilatos tickets and tour.

Walking tour of Seville highlights.
BOOK NOW
---
LivTours' group size of max 6 participants is and always has been based on sustainable travel, and we are proud to be at the forefront of change and innovation in the industry.  LivTours is committed to providing travelers with truly sustainable tours with the lowest possible environmental impact, all while supporting the local industries and people of each unique destination. To learn more about how you can actively support sustainable tourism  and how LivTours is contributing, click here.
BOOK NOW
---
When you book a LivTours Private Tour or Experience, you are guaranteed a dedicated, expert guide that allows you the flexibility to start your tour at a time which is convenient for you, making planning easy. Our private tours ensure that you will get a tailored experience to meet all your needs so we go at your pace, perfect for families with younger children, elderly, or individuals with accessibility needs. Please be advised that all private tours begin at a base price starting at two people*. Prices are inclusive of entry tickets where applicable. *Some Ferrari private experiences are inclusive of one person only.
BOOK NOW
---
By selecting Choose Dates Later / Buy as Gift at booking, any tour can be purchased without fixed dates. This is the perfect option if you want to purchase your tour as a gift for a loved one, or if you are in the pre-planning phase of your vacation. After booking, you will receive a Travel Voucher Code and full instructions on how to schedule your tours when ready. Once your travel plans are confirmed, you can easily use the Travel Voucher Code on the LivTours website to formally schedule your tours. You can find out more here.
BOOK NOW