Highlights of Sagrada Familia Tour | Private Experience
---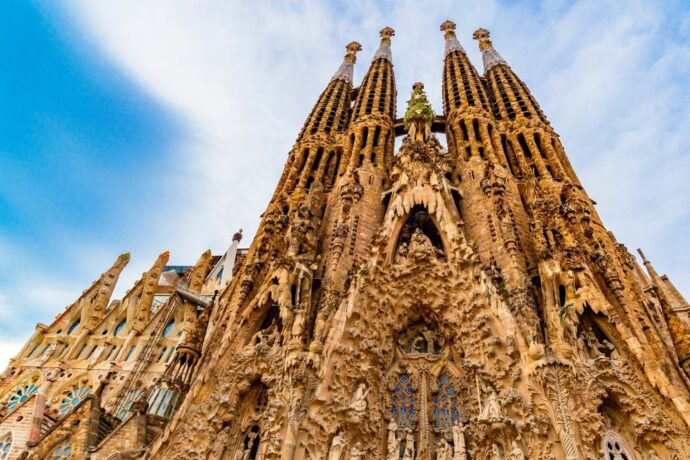 ---
LivTours Highlights of Sagrada Familia Tour | Private Experience brings the best of this outstanding world-renowned monument to you with early entrance tickets allowing you to soak up this marvelous wonder without the crowds. Your top-rated, enthusiastic and knowledgeable guide will take you on a journey through the wonders of this truly unique Catholic basilica pointing out to you the most important elements and allowing you plenty of time to take photographs.
You will meet your guide enjoying the outstanding façades and hear the history of this project that was started in the 1870s by a small bookshop keeper and brought to reality by Barcelona's most eccentric architect, Antonio Gaudi.
BOOK NOW
---
Relish skip the line access entrance to Gaudi's masterpiece of la Sagrada Familia

Experience a fully interactive private tour

Marvel at the architectural details of la Sagrada Familia with your expert guide

Soak in the stunning views of Sagrada Familias facade from a little known terrace

Discover Spain's most visited monument in this enthrowing 2 hour tour
BOOK NOW
Exclusive private Tours and Experiences. Also offered in Spanish, French, Portuguese, Swedish and Russian
Our prices always include tickets and reservations fees (no waiting in lines!)
Our tour guides and staff are selected experts and speak perfect English
Easy to book and prepay your tours with our secure payment system
Eco-sustainable tourism, designed to respect and support local culture, art and traditions
---
Your Private Sagrada Familia Guided Tour begins with a meet and greet just next to the basilica and while you and your guide get acquainted, you will be able to take advantage of the unobstructed view of Gaudi's creation in the morning light, by snapping a few keepsake photos. Throughout the tour, you will learn about the history behind this rare architectural wonder, Gaudi's life, and his inspirations.
Wanting to share the story of the Bible with his fellow citizens, Gaudi made the bold move of depicting the story on the façades with stone figures. The side facing the east, with over 300 animals and people,  depicts the Birth of Christ and his 33 years of life on Earth. The opposite façade shows the 12 Stations of the Cross and his ascension into Heaven. While the southern facing façade, yet to be decorated, will show the Final Judgment and the Glory of God. Your guide will take the time to share with you the details and meaning behind the decoration, inspired by Gaudi's deep faith. You will learn these and many other interesting and curious facts only with your LivTours expert tour guide.
Then, it's time to enjoy skip the line entrance tickets and head inside the Sagrada Familia. Inside, you will explore the basilica's awe-inspiring interior with its soaring ceilings. Be prepared to be entranced by the expressive architecture of Gaudi which was designed to simulate a forest, a place of nature where Gaudi felt closest to God. See the incredible morning light beaming through the colorful stained glass windows and feel the atmosphere of the enchanted forest made of stone! Your guide will ensure you get a full appreciation of all of the stories and tales of Sagrada Familia, giving you ample time to ask questions and dive into the history and character of Guadi and his wondrous work!
BOOK NOW
---
Skip-the-line access to Sagrada Familia

Introductory speech of the history and exterior

Sagrada Familia doors and main floor

Sagrada Familia's altar
BOOK NOW
---
When you book a LivTours Private Tour or Experience, you are guaranteed a dedicated, expert guide that allows you the flexibility to start your tour at a time which is convenient for you, making planning easy. Our private tours ensure that you will get a tailored experience to meet all your needs so we go at your pace, perfect for families with younger children, elderly, or individuals with accessibility needs. Please be advised that all private tours begin at a base price starting at two people*. Prices are inclusive of entry tickets where applicable.*Our Tuscan motorcycle tour and some Ferrari private experiences are inclusive of one person only.
BOOK NOW
---
Make your day even more unique and comfortable by upgrading your tour with a customizable LivTours optional add on!
Add Sagrada Familia Tower Tickets
BOOK NOW
---
By selecting Choose Dates Later / Buy as Gift at booking, any tour can be purchased without fixed dates. This is the perfect option if you want to purchase your tour as a gift for a loved one, or if you are in the pre-planning phase of your vacation. After booking, you will receive a Travel Voucher Code and full instructions on how to schedule your tours when ready. Once your travel plans are confirmed, you can easily use the Travel Voucher Code on the LivTours website to formally schedule your tours. You can find out more here.
BOOK NOW