Harry Potter Studio London | Private Chauffeured Visit
---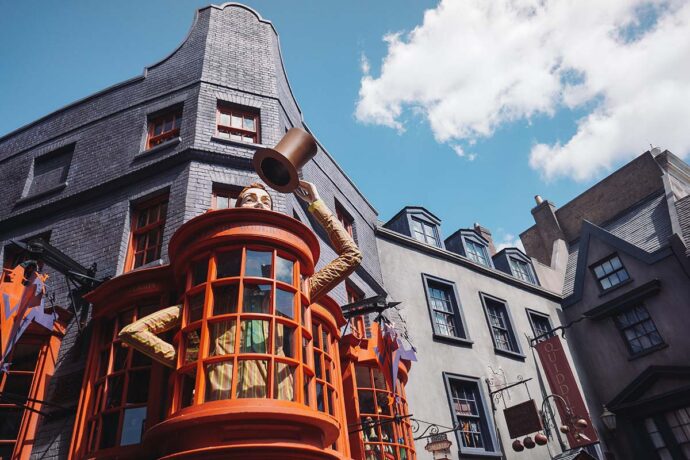 ---
Discover the real-life magic behind the wizarding world of Harry Potter Studio London, with your LivTours private chauffeured visit to the Warner Bros studios on a full-day experience. Avoid the strange and often unpredictable Muggle transport system of London and embark on a luxury chauffeured adventure to the magical world of Harry Potter, taking you all the way there and back to your hotel. No need for night buses, or elusive train platforms, your driver will escort you straight to the studios for an unforgettable experience.
Immerse yourself in fantasy with a behind-the-scenes look at the making of Harry Potter in the interactive and fully guided trip around the studios that brought to life the beloved books through film. Visit real-life locations, film sets and see props and costumes, and learn to ride a broomstick. From the Great Hall, Hagrid's Hut, Diagonally, the Forbidden Forest, Gryffindor common room to so much more, explore every part of Hogwarts and the iconic locations featured in the beloved movies. After experiencing the magic your private driver will escort you back to your hotel to unwind or head on out for a drink at the Leaky Cauldron. For witches wizards Potterheads and muggles alike this tour is the perfect way to see all the most famous Harry Potter locations.
BOOK NOW
---
Travel in luxury with your private chauffeured ride to the Harry Potter studios

Dive into the wizarding world on a real visit to Hogwarts and other locations

Follow your favourite characters and embark on an adventure like no other

Interact with props, learn about set secrets and take incredible photos

Secure entrance tickets that are often sold-out many months in advance

Make memories of a lifetime at this incredibly interactive and immersive set
BOOK NOW
Exclusive private Tours and Experiences. Also offered in Spanish, French, Portuguese, Swedish and Russian
Our prices always include tickets and reservations fees (no waiting in lines!)
Our tour guides and staff are selected experts and speak perfect English
Easy to book and prepay your tours with our secure payment system
Eco-sustainable tourism, designed to respect and support local culture, art and traditions
---
Start your Livtours private chauffeured visit to Harry Potter Studio London in style with your very own private ride. Your driver whisks you away to the extraordinary Warner Bros Studios with ease, avoiding public transport, inconvenient changes on the trains, and shuttle buses. Sit back, relax, and get ready for the mystical adventure that awaits you as you comfortably wave goodbye to London for the day and venture a little outside the city to Warner Bros Studios. Leave London behind as you step inside a world like no other and immerse yourself in the mystical and enchanting realm of Harry Potter.
The stories that delighted a nation and then the world were lovingly brought to life on screen here in this very studio, get up close and dive into the real-life locations as you've never before seen them, interact with your surroundings and props that transport you straight into the movies. Your tour of Warner Brother Studios will start you in the most hallowed of locations, the gigantic and iconic Great Hall of Hogwarts. Find yourself reliving some of the most exciting, frightening, and comforting moments of the films. From great feasts to dark and foreboding school announcements. Follow in the footsteps of Harry, Hermione, and Ron as they fall in and out of trouble around the beautiful and mythical school grounds. It's not just term time locations, wander the cobbled streets of Diagonally see the splendor of Gringotts, or choose your wand at Olivanders. Ensure you don't miss a thing with your Livtours' visit to the fantastical place.
With the studio changing seasonally, from Halloween to Christmas the Wizarding World is brought to life with interactive experiences, learning about the special effects, secrets on set, and how the imagination of JK Rowling was taken from page to screen to bewitch the world.
BOOK NOW
---
Private English speaking chauffeur

Hotel pickup and drop off

Diagon Alley set

The Great Hall

Platform 9 ¾

Gringotts Wizarding Bank

The Forbidden Forest

Behind the Seams

Potions Classroom

Professor Dumbledore's Office

Buckbeak

Aragog

The Basilisk

Time to explore souvenir shops
BOOK NOW
---
LivTours' group size of max 6 participants is and always has been based on sustainable travel, and we are proud to be at the forefront of change and innovation in the industry.  LivTours is committed to providing travelers with truly sustainable tours with the lowest possible environmental impact, all while supporting the local industries and people of each unique destination. To learn more about how you can actively support sustainable tourism  and how LivTours is contributing, click here.
BOOK NOW
---
When you book a LivTours Private Tour or Experience, you are guaranteed a dedicated, expert guide that allows you the flexibility to start your tour at a time which is convenient for you, making planning easy. Our private tours ensure that you will get a tailored experience to meet all your needs so we go at your pace, perfect for families with younger children, elderly, or individuals with accessibility needs. Please be advised that all private tours begin at a base price starting at two people*. Prices are inclusive of entry tickets where applicable. *Some Ferrari private experiences are inclusive of one person only.
BOOK NOW
---
Best way to see the HP studio
"We booked this private escorted visit to Harry Potter because with 3 kids, it just seemed so much easier. We were so glad that we did because we could enjoy the visit to the Studios a whole lot more. It's actually a fun place and if you're a Harry Potter fan -- as we all are -- it's a "must see"! Having the private driver take us directly from our hotel to the studios and then back again was a heaven-sent!! Thank you LivTours!"
Chelsea - France
---
Harry Potter Studio
"Great family experience! We are all HP fans so couldn't miss the chance to see the studio. So glad we had our own private driver instead of trying to take public transportation. Made the whole experience so much more enjoyable."
Lesley - USA
---
H.P. studio visit
"We were picked up at our hotel and taken in a comfortable limousine to the Harry Potter Studios just outside of London. Our driver was very friendly and gave us many tips on where to be and when so that we could get the very most out of our visit. It was very nice not to have to worry about where to go or how to get there and just to sit back and let someone else take care of all of the details. This definitely deserves 5 stars!"
Victor - Hong Kong
---
BOOK NOW
---
By selecting Choose Dates Later / Buy as Gift at booking, any tour can be purchased without fixed dates. This is the perfect option if you want to purchase your tour as a gift for a loved one, or if you are in the pre-planning phase of your vacation. After booking, you will receive a Travel Voucher Code and full instructions on how to schedule your tours when ready. Once your travel plans are confirmed, you can easily use the Travel Voucher Code on the LivTours website to formally schedule your tours. You can find out more here.
BOOK NOW