Florence Artisan Tour | Traditional local Artisan Experience
---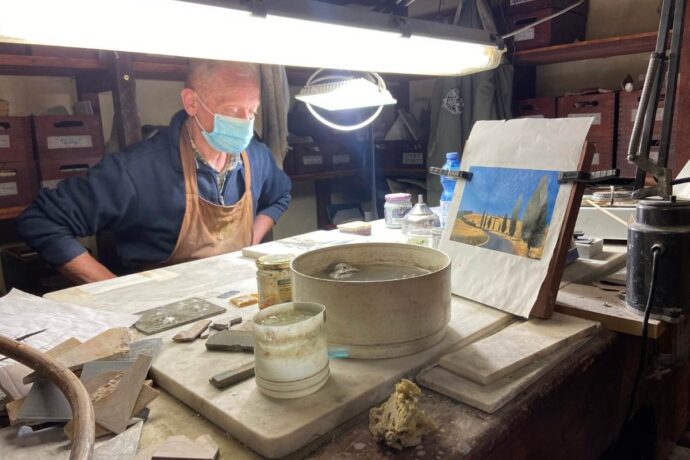 ---
Meet the artisans of Florence on this alternative private tour of the city.  Our local expert will take you to visit three workshops where you'll discover the men and women keeping traditional century-old practices alive.
BOOK NOW
---
Meet Florentine artisans

Watch a demonstration of traditional marbling techniques

Visit a family of leather workers

Discover the art of 'painting in stone'
BOOK NOW
Exclusive private Tours and Experiences. Also offered in Spanish, French, Portuguese, Swedish and Russian
Our prices always include tickets and reservations fees (no waiting in lines!)
Our tour guides and staff are selected experts and speak perfect English
Easy to book and prepay your tours with our secure payment system
Eco-sustainable tourism, designed to respect and support local culture, art and traditions
---
Your private Florence Artisan Tour starts at the famous Ponte Vecchio, a historic home to the city's jewelers. Crossing the bridge, you'll arrive in Oltrarno. This quieter part of Florence is known for its craftsmanship and laboratories, now fighting to survive as mass tourism makes it hard for traditional arts to compete with cheap souvenirs.
Hand decorated paper
The first stop on the tour is a famous paper workshop where they create beautifully marbled paper patterns. The art started with Florentine bookbinders in the 17th century.  Soon special patterns developed, like the peacock feather design that is still popular in Florence today. In the workshop, you'll watch the artists create patterns with traditional tools. Your tour will continue with a visit to a family of Florence artisans.
Family-owned leather workshop
Florence is famous for the quality of its leather products and many people come here to visit the leather market. Oltrarno has been home to leather workers since the 14th century and although most producers have now moved out of the city, a few workshops have survived. You'll visit a family-owned leather workshop where the mother designs and crafts purses by hand, the son produces luxury pet supplies, and the daughter makes unique, beaded jewelry and learns about their craft.
Florentine mosaic making
On the final stop on this tour, you'll meet the artists of a mosaic laboratory. The art of mosaic was popular throughout the ancient Roman world, but Florence created its version under the Medici when the stoneworkers used pieces of different colored marbles to dramatic effect on the walls of buildings like the Medici Chapel. You'll meet the craftspeople who carry on this tradition and watch them take rough pieces of stone and turn them into stunning works of art.
If you want to explore Oltrarno some more, your guide will give you some great suggestions for where to go and the best places to eat.
BOOK NOW
---
An expert local guide

Paper marbling demonstration

Meet a family of leather workers

Florentine Mosaic and Stone work Laboratory
BOOK NOW
---
LivTours' group size of max 6 participants is and always has been based on sustainable travel, and we are proud to be at the forefront of change and innovation in the industry.  LivTours is committed to providing travelers with truly sustainable tours with the lowest possible environmental impact, all while supporting the local industries and people of each unique destination. To learn more about how you can actively support sustainable tourism  and how LivTours is contributing, click here.
BOOK NOW
---
When you book a LivTours Private Tour or Experience, you are guaranteed a dedicated, expert guide that allows you the flexibility to start your tour at a time which is convenient for you, making planning easy. Our private tours ensure that you will get a tailored experience to meet all your needs so we go at your pace, perfect for families with younger children, elderly, or individuals with accessibility needs. Please be advised that all private tours begin at a base price starting at two people*. Prices are inclusive of entry tickets where applicable. *Some Ferrari private experiences are inclusive of one person only.
BOOK NOW
---
Make your day even more unique and comfortable by upgrading your tour with a customizable LivTours optional add on!
95 €
165.30 A$
88.35 £
112.10 $
Florentine Paper Design Workshop
70 €
121.80 A$
65.10 £
82.60 $
BOOK NOW
---
Go with Carolina
"Carolina, our tour guide, made the tour very fun and interesting by explaining different things about the city and introducing us to three different artisans. It was amazing to see the stone masons make portraits and landscapes with colored stone. We were able to take part in creating marbled paper and we met an artisan who makes gorgeous items with leather! I would definitely recommend Carolina and this tour with LivTours! "
Deb Z - United States
---
Great multi-event experience with LivTours!
"During the tour, we visited a leather working shop, a paper decorating shop, and a mosaic shop. The artisans were very kind about taking the time to teach us and help us learn about their craft. Our guide Rafaela was with us all day and she was full of information and very kind. We had my 10-month old nephew and my 7-year old daughter with us, and the tour was perfect for them too!"
Vincent O - United States
---
Florentine artisan crafts
"During this tour we were able to learn about 'stone painting' and Florentine mosaics. We also had the opportunity to see the different processes and all of the stages that were being demonstrated by the artisan craftsmen"
Sarah L - United Kingdom
---
BOOK NOW
---
By selecting Choose Dates Later / Buy as Gift at booking, any tour can be purchased without fixed dates. This is the perfect option if you want to purchase your tour as a gift for a loved one, or if you are in the pre-planning phase of your vacation. After booking, you will receive a Travel Voucher Code and full instructions on how to schedule your tours when ready. Once your travel plans are confirmed, you can easily use the Travel Voucher Code on the LivTours website to formally schedule your tours. You can find out more here.
BOOK NOW